HOUSE MUSIC 2023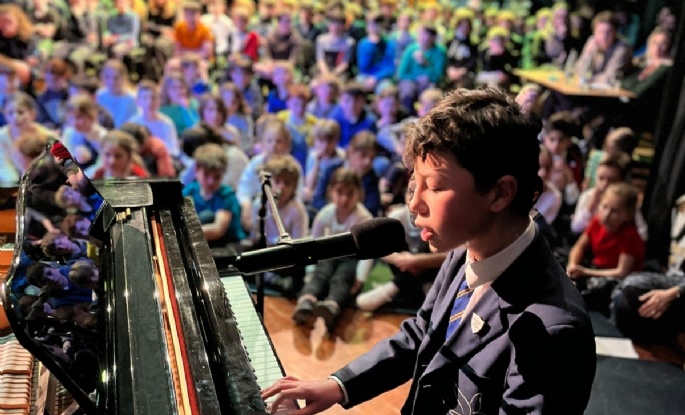 The first full House Music since 2020 was amazing!
Our annual House Music Finals, always held in early March on a Friday afternoon in the PA Hall and involving the whole of Prep and Senior School, were as wonderful as we had hoped. With the return of the popular House Song competition, it was the first finals since 2020 that could involve the whole school, and there was a palpable sense of excitement in the air on the Friday morning. With the finalists' concert first, followed by the House Song competition and then a performance from our guest judge Isaac Stuart the afternoon was filled with music, laughter and joyful group singing! With over 100 entries into the solo and group competition, it was a tricky process to whittle the entrants down to just a handful per category, and Isaac found it incredibly hard to judge between the finalists. However, there has to be a winner so congratulations to Florence A who won the Beginners category, Lola C and Herb M who were tied for first place in the Intermediate category and to Harley B who won the Advanced category.
Controversially this year Isaac could not separate two of the Houses in the House Song category, so it was joint first place for Hawk and Kestrel, and then the overall winners of the whole competition were Buzzard. Huge congratulations to all the winners.
Please click below for all the photos:
https://www.dukeofkentschool.org.uk/gallery/?pid=3&gcatid=2&albumid=79