SCHOOL CAROL SERVICE 2022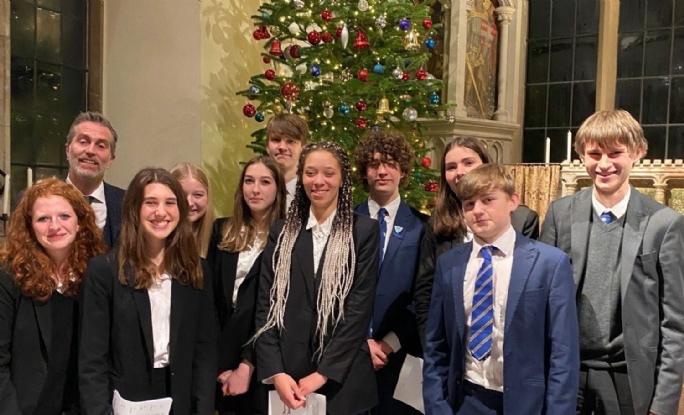 A lovely evening of traditional carols and readings in St Nicolas Church, Cranleigh.
Our traditional school Carol Service was held once again at the pretty St Nicolas Church in Cranleigh, with a full audience for the first time in three long years! A Christmas feeling was certainly in the air as a light frost gently dusted the grass around the church and hats, scarves and gloves were adorned by the merry congregation. Led by ex-singing teacher at the school Rev. Tim Clifford Hill, with an address by one of our parents Claire Oxborough, it was a wonderful and entertaining evening of carols, prayers and extra-special lighting effects!
We are proud to report our choirs were spectacular! Our young Year 2 singers nailed their Nativity song. (With no rehearsal!), the Junior Chamber Choir brought some serious emotion to the party with their rendition of 'When A Child is Born', The Years 7 and 8 choir sang in beautiful harmony for their lovely version of the modern carol 'Born on Christmas Day' and the Years 9 to 11 choir hit all the right the notes in their 4-part harmony version of 'Angels from the Realms of Glory'.
Congratulations are due to Eddie C in Year 7 for his gorgeous solo verse in 'Once in Royal David's City' and to James B in Year 9 for his heavenly solo in 'O' Little Town of Bethlehem'. Our readers were also fab - George F in Year 2, Millie W in Year 5, Charlie N and Maddie I in Year 11 and the Year 6 House Captains Harry L, Arthur H and Penny A who led the prayers.
Well done to our wonderful Brass group, Tildy C, Eddie C, Henry S and George S, led by Mr Nash, entertained us with entrance carols as people came into the church.
Special mention must also be made of Ruby W in Year 5 who stepped in with five minutes' notice to sing a solo line in the Junior Chamber Choir piece as poor Lola was ill. Well done Ruby!
Many thanks to the amazing music staff who played and conducted on the night: Mr Rye, Mr Forrester, Miss Barnes, Mr Kaye and Mr Nash.