THE ADDAMS FAMILY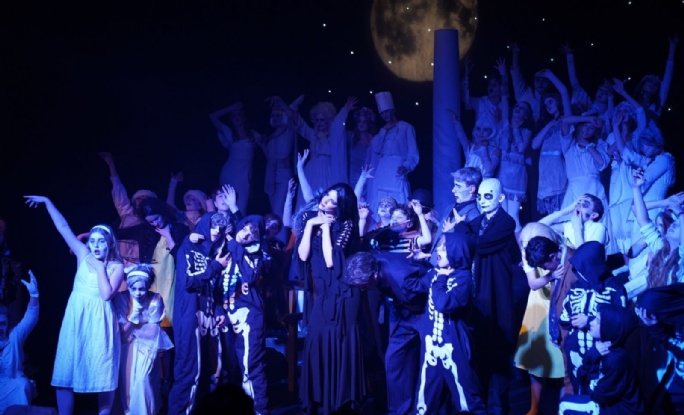 The Senior production of 'The Addams Family' was a spectacular success!
What an amazing week it was for the Senior Performing Arts Department! A cast and crew of 85 pupils, 6 teachers and 7 visiting professional musicians created three memorable evenings that saw audiences wowed, spooked, haunted and richly entertained in our production of 'The Addams Family'. It has been quite the journey for these pupils, from the workshop days at the end of the Summer Holidays through to the last minute Friday afternoon rehearsal on the day of the show.
Putting on a full scale musical in 10 weeks is a huge ask, but once again the cast did us so proud, raising their game when it mattered and pulling three amazing performances out of the bag, despite illness, school commitments and external pressures. The principal roles were portrayed with professionalism and panache, giving the audience plenty to laugh about with their superb comic delivery, the ensemble song and dance routines were joyful and full of energy and the huge chorus of ghostly ancestors gave their all in every moment of this entertaining and memorable show. The set, the costumes, the makeup, the lighting - we could go on for pages about how wonderful it looked and what an amazing job everyone did, but the audience saw that for themselves and raised the roof with their ovation at the end. 'Lurch' sized thanks are due to the amazing staff team but the biggest thanks of all is to the pupils involved - we are so very proud of you, and you deserve all the plaudits you are receiving.
Please click here to see all the photos:
https://www.dukeofkentschool.org.uk/gallery/?pid=3&gcatid=2&albumid=72