Weekly Bulletin 07/02/2020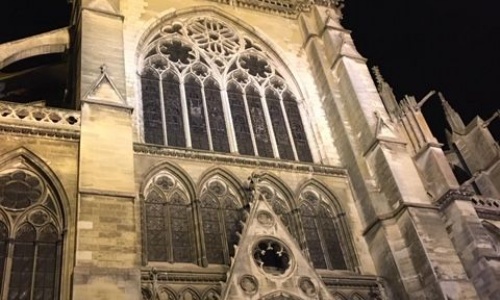 The School looked gorgeous this morning as we welcomed over 70 visitors to our Open Morning. Our Head Boy, James and Head Girl, Minnie spoke beautifully about what makes the School so special and how much they have enjoyed their time here. All visiting parents were most complimentary about the Year 11 tour guides who were enthusiastic and animated throughout. According to one pupil, the parents were given the "deluxe" tour today! I would like to acknowledge all Duke of Kent School staff, the PADoK team and Governors as everyone was involved in some way today. We are all very proud of our School and that shone through.
Mrs Knox
The French Exchange
France 1 (1)
France 1 (2)
France 1 (3)
France 1 (4)
France 1 (5)
France 2 (1)
France 2 (2)
France 2 (6)
France 2 (7)
France 3 (1)
France 3 (3)
France 4 (2)
France 4 (4)
France 4 (5)
France 4 (6)
France 5 (1)
France 5 (2)
France 5 (3)
France 5 (4)
France 6 (1)
France 6 (2)
France 6 (3)
France 6 (4)
Show next 11 of 11 remaining images
Proud does not begin to cover how I feel towards the nine pioneering Year 9s and 10s (Reuben D, Ben D, Issy F, Molly G, Ben H-F, Lucy M, Layla S, Lily W-D and Aoife W) who embarked on Duke of Kent School's first ever French Exchange last week. Going to stay with a family you have never met before, who don't speak your first language and who come from a different culture is a gargantuan challenge, to which every single one of them rose.
The nerves were palpable as we arrived at Meaux station, but the warmth with which the French hosts from Lycée Bossuet greeted their English partners instantly reassured Mr Macdonald and me and made our students feel so welcome. All of them were shown the most extraordinary hospitality over the first weekend, being taken shopping for food they like, going to the cinema, being given a tour of Paris by night and even going to Disneyland!!! Everyone was bursting with stories when they were reunited at French school on Monday morning. Our pupils were put to work in English lessons and enjoyed the buzz of a French lycée, as well as the independence of being in a town school where they could pop to the café with their new-found friends at the end of the day; a real novelty which Peaslake Village Stores just can't quite equal!
On Tuesday, we had a chilly wait in the queue for Versailles, but the famous Hall of Mirrors was definitely worth the wait. Packed lunches were compared to see "whose host family loved them the most"! School finishes early on Wednesdays in France, and the French students had an exam in the morning so we were treated to breakfast at school before a viewing of a French film, "Les Visiteurs", which entertained us all greatly. We then enjoyed a mooch around Meaux together before returning to school at lunch time and enjoying a well-earned rest in the afternoon (or going shopping in some cases!). On Thursday, we headed into a rather rainy Paris and visited Notre Dame, learning about the effects of the fire and how the building is being reconstructed…or eating crêpes, pains au chocolat and ice-cream as if they were going out of fashion, depending on particular areas of interest! Fortuitously, the rain stopped just in time for our bike tour of Paris with our fun and knowledgeable guide, Johnny. We visited the Eiffel Tower, École Militaire, Bastille, Grand Palais, Pont Alexandre III and Louvre on two wheels, learning some fascinating history and anecdotes along the way. Our pupils asked some great questions and really engaged with the experience.
Our last day arrived all too quickly, with several of the students saying they wished they could stay! After fond farewells at school, the history teacher from the Lycée Bossuet gave us a fascinating guided tour of Meaux and made us notice things we never would have, like the Roman roads and a tiny marksman carved into one of the cathedral pillars by a disgruntled worker some time in the 12th or 13th century! Our guide seemed to know everyone in the town from the shopkeepers to the mayor, and so we were privileged to be given VIP access to the town hall, where we were shown birth records from the 15th century by the archivist. Reuben wondered if Madame Fellous might be in there…! After a final trip to the fromagerie and pâtisserie, we made our way home to be met by well-deserved cheers at Dorking Deepdene station!
Naturally, as a French teacher, I was euphorically happy to hear Ben D proclaim, "What's weird is, I can really feel my French getting better" halfway through the week and, at the end, Ben H-F declaring, "I feel like now, if I were plonked in the middle of France, I would be able to cope", as well as accidental little French expressions slipping out on the train on the way home, but language proficiency is far from being the only thing the children learnt last week. These nine students have overcome paralysing nerves, matured and grown socially, learnt to overcome challenges, to embrace new cultures and experiences, manage themselves independently and communicate effectively. Please do ask the students about their experiences; I am sure they will be glad to share them with you. We are looking forward to welcoming 20 French students and two teachers from the Lycée Bossuet in March and many thanks in advance to the various host families, and Mrs Knox for hosting the teachers. Last, but not least, THANK YOU to Mr Macdonald for his calm, warm and unfailingly good-natured support throughout the week.
Miss Francis
SATRO Problem Solving Challenge
0 - IMG_0031
00 - IMG_0027
00 - IMG_0033
Another very successful SATRO Problem Solving Competition. On Wednesday 5th we took two teams to Tomlinscote School to take part in the SATRO Problem Solving Challenge. Well done to Freddie B, Casper C, Zoe L, Josh McG, Iris R and Will W form Year 9 and to Milly B, Arthur B, Tom S, Zara H, Alice S and Oisin W who collectively came first in their heats in the Competition. We now go to the final on 26th March at ACS Cobham International School. Due to other heats still taking place I am unable to tell you what the students did, however they were exceptional. During the course of the event, a judge approached me and complimented us on how both teams produced detailed designs, then split themselves into smaller units to construct individual parts of the project that came together as one well thought out solution.
Mr Usher
Careers Assembly
Careers
On Monday morning, Duke of Kent School had a special guest speaker for assembly on football refereeing, Tim Robinson. He came in and talk to us about his career and how key skills gained in refereeing can link to our every day life. Tim is currently a level 1 select group 2 referee who officiates in the Championship and recently officiated his first Premier League game. Tim is also a VAR referee in the Premier League and has been the VAR official in several Premier League games this season. A very intriguing assembly in which all the pupils and staff members thoroughly enjoyed. Thank you to Tim for having taken time out of his busy schedule and for his brilliant presentation.
Mr Cabanes
vet
Last Friday Mrs Simpson delivered an assembly to our senior students about what it is to be a vet. Mrs Simpson works now part time at Rowly House Vets in Cranleigh but explained to us all about her journey from University of Bristol to Cornwall to Royal Veterinary School (London) through breaks for travelling and family to Head vet.
She described a typical day and the types of appointments that she would see in a normal week. She also described the best bits and the worst bits. Interestingly, one of the worst bits being dealing with the general public and dealing with social media!
To become a vet you will need A'levels in Biology and Chemistry plus lots of practical experience working with different types of animals in different situations. Once you have finished your degree you are almost guaranteed a well-paid job as vets are in short supply currently.
If this interests you please feel free to discuss this or other career interest with your Head of Careers (Mrs LaCroix).
Mrs LaCroix
Sports Performers of the Week
Ben
Elliot
Performers (1)
Performers (2)
Elliot S: Well done to Elliot for his amazing tackling in the rugby game against Belmont School. Elliot showed brilliant determination and a good tackling technique proved to cause the opposition several problems in attack. Amazing work Elliot and keep up the good work!
Ben Ely: Well done to Ben E for his brilliant hockey performance in the match on Wednesday. Fantastic dribbling and a good overall performance in midfield proved to be a great asset to the team. Good passing and intelligent play to drop back and defend when out of possession caused the opposition problems during the game. Congratulations Ben, keep up the good work.
The U11 and U10 Girls Netball Teams: For playing an excellent 'high 5' netball matches on Wednesday afternoon. The girls played extremely well in all positions to get a great win for their teams! Well done to everyone who played and making it a great afternoon of matches!
The U14 B Netball Team: Well done for a fantastic afternoon on Tuesday where the U14 B team won their 'high 5' netball match against St Edmund's. The girls played fantastically scoring lots of goals and working well as a team to come out with a win! Well done girls!
The PE Department
A Few Match Reports from This Week
Cross Country: ISA London South Regional Senior Event
Cross Country - ISA (1)
Cross Country - ISA (2)
Cross Country - ISA (3)
Cross Country - ISA (4)
Cross Country - ISA (5)
Cross Country - ISA (6)
Cross Country - ISA (7)
Cross Country - ISA (8)
Last Friday we were very privileged to host the ISA London South regional cross country meeting. This event attracted schools from the coast up to areas of London. The meeting is a qualifying event for the National Championships which will this year be held at Worksop in March. The top ten runners from each race will represent London South at this event.
The course provided a real challenge for all of the runners and the wet conditions made keeping a good pace quite difficult. However, the standard of running, sheer determination and effort from the competitors was amazing to witness.
Duke of Kent School entered all of the events and each pupil worked very hard to make the top ten. Extremely well done to all who took part and particular congratulations go to our medalists and national finalists:
Year 7 & 8
Girls
Year 7 & 8
Boys
Year 9 & 10 Girls
Year 9 & 10 Boys
Year 11-13 Girls
Year 9-11
Boys
Emily B 2nd
Tom H 1st
Celine C 4th
Tom S 5th
Minnie C 1st
Harry B 3rd
Violetta P 3rd
Rufus B 6th
Hannah S 6th
Arthur B 6th
Izzy P 2nd
James C 4th
Luca H 7th
Zoe L 7th
Jonathan H 9th
jasmine B 3rd
Sam I 5th
Alex S 9th
Eva M 8th
Fynn W 10th
Ben P 6th
Jack B 10th
Kora W 10th
Mr Herbert
Netball: U16 v. St Edmund's
Netball (1)
On Tuesday our U16's played St. Edmund's at home. There were some very strong players from St. Edmund's and they managed to get their eye in with their shooting straight away and managed to get a 5-3 lead in the first quarter. The girls' had a team talk and had a focus of driving onto the ball and moving towards the ball to avoid the over head passes. Minnie C and Sophie D worked well together working like a clock driving forwards but keeping the post manned ready the ball coming in and putting up a shot. By hlaf time the score 14-9 to St. Edmund's. Jasmine B and Izzy P worked hard in the third quarter going for every tip, interception and block that they could and were always on the edge of the goal third as an option to the attackers. Fleur B and Josie M worked will in attack and managed to keep bringing the ball down the court to try and get a goal. In the final quarter the score started at 20-16 to St. Edmund's but Duke of Kent School were determined and focused and every player on the court worked to the full potential and managed to take the lead and finish the game with a fantastic 24-22 win. Well done to the whole team.
Miss Vernon
Netball: U15 B v. St. Edmund's
Netball (2)
On Tuesday, the U15 B's made their way to St Edmund's for a fairly chilly netball match. Blaming the cold hands, the girls had a slightly slower start than the opposition, who were quick off the block and ahead of us after the first quarter by two goals. However, now they had got their blood flowing, we found our rhythm and some delightful teamwork ensued. Daisy M and Eva P settled into their shooting, finding the net from all around the semi circle and we managed to sneak ahead 11-9 by half time. The third quarter remain close, with both teams fighting hard for every ball. Saffron H-C proved you do not need to be taller than your opponent to defend, making some fantastic leaps and interceptions to deny them shots on goal, and Lily W-C got ahead of her opponent on numerous occasions to cut out a pass. This strong defending kept us two goals ahead with the third quarter finishing 18-16. All the girls were starting to tire in the final quarter (or, in the case of Zara H, looking forward to teas.) However, Daisy K and Zara H kept up their relentless running and dodging to provide options to bring the ball down the pitch to our shooters, and when Laura A wasn't making friends with her opponents, she produced some fine interceptions and really made a difference to to the game. The final score was a fair 23-23 and it was lovely to hear the St Edmund's umpire echo my thoughts and comment on what a lovely game it was and how all the girls played with such good sportsmanship. Well done all!
Mrs Vermeulen
Netball: U14 B v. St. Edmund's
On the 4th of February the under 14 B's played against St Edmund's. It was a tough game with very strong teams. Our girls played exceptionally well and managed to win 11-6. Emily B was a strong team captain, and the girl of the game; she was playing goalkeeper. Iris R and Lucy M were our shooters and managed to secure the win. Emma B and Emma M rotated in a centre position and aided the team brilliantly. The team also had help from the under 14 A's who included Hannah S, Celine C and Zoë L. We would like to thank Miss Vickers from supporting the team.
Emily B, Year 9
Netball: U14 A v. St Edmund's
On Tuesday afternoon, the Year 9s were in great spirits and raring to go for their netball match against St Edmund's. Izzy B was back in GS after her ankle injury and so she encouraged the team to make a good start to the match. It began with end to end play with both teams showing their skills in mid court. The score was 9-6 to the Duke of Kent School U14A team after the first quarter. The girls had an animated and inspirational team talk as they begun to come up with some tactics to help them extend their lead. Well - the tactics worked a dream! Somehow, Duke of Kent School managed to extend their lead to 23-11 after the second quarter! A wonderful team effort, the girls then had a go at mixing their positions around and managed to maintain their strong lead. A great win for the U14 A and a wonderful example of effective team work, communication and tactics! Well done girls.
Miss Vickers
Hockey: U13 & U12 v. Pennthorpe
On Wednesday afternoon, the U13 and U12 girls welcomed Pennthorpe to the Wilson's Pitch for a game of hockey. Both teams warmed up well and the goalies prepared with the team firing shots at them, both Pippa S and Natasha B played brilliantly in goal! The U13s played really well, they managed to link up their passes beautifully and the highlight was an EPIC goal from Poppy K as she blasted the ball into the top right corner of the goal! The team showed excellent effort throughout the match and said the match went too fast! The score finished 3-1 to Pennthorpe. Meanwhile, the U12 team were working equally hard on the other half of the pitch, the team started brilliantly with a break away goal from Alex K putting the team in the lead! Pennthorpe came back strong and with an injury to one of the Duke of Kent School players, the girls struggled to keep up the pace with no sub option. Well done to all the girls involved for demonstrating a wonderfully positive attitude towards the game and showing excellent behaviour throughout the afternoon.
Miss Vickers
Netball: U11 A v. Pennthorpe
Photo 05-02-2020, 15 02 44
Photo 05-02-2020, 15 03 44
Photo 05-02-2020, 15 07 42
Photo 05-02-2020, 15 09 01
Photo 05-02-2020, 15 09 17 (1)
With the promise of some of some winter sunshine the U11s headed down to Pennthorpe School full of excitement for their second netball match of the year. The team stated off very competitively from the start with some fabulous passes down the court, enabling Saiorse W to easily pop two goals in the net. The girls continued into the second quarter with the super attacking play continuing with a great goal from Jess I and super shot from Isla B - right from the edge of the circle! After half time it was Emma F's turn to score a goal and we also conceded one from Pennthorpe. The final quarter saw two new goals scorerers: Daisy R and Belles H with some super defensive play from Emma and Jess. The girls played so well together as a team and they all had a go at trying out some new positions. Well done all!
Miss Shelton
Netball: U11 B v. Pennthorpe
The U11's B team played their best game yet against Penthorpe, with Edie H, Lucy P and Rose S scoring three impressive goals to win their first match of the academic year! The girls showed real determination and improved upon their game every quarter. Eva P-R ability to find space around the court was impressive. Edie H was chosen as Girl of the Game by the opposing team. A huge congratulations to them all.
Miss Higman
Rugby: U15/16 v. Box Hill School
The U15/16s travelled to Box Hill on Tuesday to test their skills in 7-a-side games. It was tough going at the start with Fred V having to make some saves but Duke of Kent School started to settle into the match. James C and Matthew C both tested the opposition keeper who stood up to the challenge. Unfortunately the result didn't go our way but from the start of the match to the end the boys showed good determination throughout and an improvement in their skills.
Mr Green
Hockey: U13 v. Box Hill School
Against a very well drilled Box Hill side, Duke of Kent School's U13's acquitted themselves superbly from the outset. Despite not having a great deal of possession in the first half, the boys played very much as a team, retaining their discipline and shape to make the opposition work hard for their goals. Trailing 0-5 at the break, they could easily have allowed their heads and enthusiasm to drop, but to their credit they applied themselves with renewed energy at the start of the second half. With Ozzie H, Ben E and Toby C standing tall and tackling tenaciously in defence, and Kai G growing in confidence with every save, Harry A, Will P and Max K were able to put together some excellent fluid passing moves to turn defence into attack. Whilst the excellent Box Hill keeper denied Charlie N's goal-bound efforts on numerous occasions, the boys' perseverance was eventually rewarded with a flurry of three hard-earned goals. The final 3-6 scoreline was a fair reflection of our guests' superior skills, but the Duke of Kent School boys matched their opponents in effort and desire at every stage of the match and should feel very proud of their contribution to a great game. Well done, boys - much progress made!
Mr Wright
Rugby: U12 v. Cottesmore
On Wednesday the U12s Rugby team travelled to Cottesmore in high spirits. Luca H led the team well on the pitch was some brilliant tackling and aggresive running with the ball. This was backed up well by good rucking and strong tackling from Casper C and Rufus B. Duke of Kent School battled well throughout the match but unforunately Cottesmore were too strong in the end. The boys involved should be pleased with their performance as they have shown great development from last year with all getting involved. Try scorers: Felix R, Luca H and Rufus B.
Mr Green
Rugby: U11 v Cottesmore
Ok, let's get the score out of the way - Cottesmore 65 : Duke of Kent 5. However, this did not tell the story of the match.
Before the game the boys were enthusiastic and buzzing to get out and play - discussing kicking tactics and getting down in the mud to perfect their rucking. In the briefing before the game, they were told that kicking would not be part of the game to allow the game to flow more, disappointed, the team's heads did not go down, they wanted to start! There were smiles left, right and centre from the boys, even as Cottesmore's lead increased - the U11s were enjoying their rugby, geeing each other along and talking tactics to ensure they could get some points on the board.
After half time Cottesmore scored their tenth try without reply - this is normally the time when the referee might call time on the game and the coach came and asked me if we should stop - I said I would ask the boys. The response that came made me prouder than ever to be a teacher at Duke of Kent School - 'Why would we want to stop playing sir - we need to improve and get better and we can't to that if we stop.' 'Yeah sir, we're doing alright' 'Yeah, this is the best match I've played in!'. The attitude, aptitude and effort from every one of the team was exceptional from the first kick to the final whistle. And after the brief pause to see if they wanted to continue…Cottesmore kicked the ball, Oscar H caught it, jinked left, jinked right, beat one man, beat two, sprinted 40 yards and scored the try of the game. The elation and joy from the whole team was infectious and put the boys, and myself, in an even better mood! The best loss ever!
Mr Southee