Weekly Bulletin 14/02/2020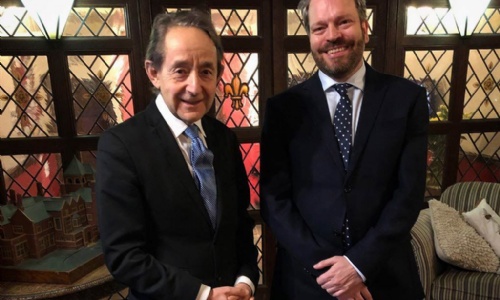 What an absolute treat this week as we welcomed Sir Anthony Seldon to our School. From the moment he walked through the front door to the minute he left, he inspired, entertained and delighted us all. Each person took something incredibly special from the event. Also, thank you to the many parents who participated in our Careers day this week sharing details of their different fields of work with Years 8 and 9. I wish you all a very happy and relaxing half term break.
Mrs Knox
Anthony Seldon
IMG_0992
IMG_0995
IMG_1003
IMG_1011
IMG_1015
IMG_1016
On Wednesday 16th February, Duke of Kent School was lucky enough to have Sir Anthony visit who delivered an inspirational and life affirming talk to parents, pupils and staff about the how the happiness and wellbeing of our children is central to their success at school and beyond.
Sir Anthony has a reputation for being an iconoclastic leader, a radical reformer and a ruthlessly ambitious man with a flair for publicity. A very different impression was created by the small, softly spoken, gentleman with floppy hair who engaged his audience completely, with his unique brand of eccentric charisma and evident passion for education and the welfare of young people. The audience was exhorted to appreciate the importance of silence and stillness, of seeing what's there in the mind. Young people (and adults), he argued, need to be given guidance on how to be 'happy' and to discover how to manage their minds, their bodies, their emotions and their relationships. It was a message to educators and parents alike, that if young people are to become the best they can be, they need our love, care, attention and respect as the unique and special individuals that they are.
After a moment of stillness and reflection, when the entire audience closed their eyes and engaged in a mindfulness of breathing exercise, Anthony warmed up and took aim at the policy makers whose guiding principles have been, by their very nature, so deeply damaging to our young people. He argued that over many years they have been the victims of an ideology which is so profoundly wrong and detrimental to their wellbeing. That ideology, he contended, was that the only way that pupils, teachers and schools are judged and ranked is by their exam results. He pointed to the example of Aristotle who stated that schools have a duel role, to teach students about the best that mankind has thought and created, and to teach good character and values to help them live lives that are meaningful and good.
Sir Anthony finished by commenting on the outstanding work being done by staff at Duke of Kent School, with their focus on the development of the whole child and their positioning of the wellbeing of their pupils at the heart of everything they do. Happiness does not have to be sacrificed in pursuit of exam success if, as Howard Gardner stated, we ask 'How is a child intelligent?' not 'How intelligent is a child?'
Mr Seeley
ISA Arts Awards
ISA Award
We are delighted to announce that Josie M and Sophie D in Year 11 are the winners of the ISA Musical Theatre Key Stage 4 National Competition. Josie and Sophie entered with their beautiful rendition of the duet 'What About Love?' from the musical The Colour Purple; with over 140 entries across four categories the pair have done incredibly well to be named winners of their category. Thank you to Miss Barnes for her brilliant coaching and of course huge congratulations and well done to the girls!
Mr Rye
UN Children's Festival at Greenfield School
IMG_1780
I
IMG_5694
IMG_1777
IMG_1769
IMG_1768
IMG_1778
IMG_1781
On Tuesday, a delegation of pupils represented Duke of Kent School at the second annual UN Children's Festival, organised by Greenfield School in Woking. The event focuses on the UN's 17 Sustainable Development Goals, with each participating school giving a presentation on one of them. Duke of Kent's chosen goal was number 12: Responsible Production and Consumption - the topic for project work undertaken by some of the Prep pupils over the Christmas holidays. Chester B, Matilda R, Daisy N, Quentin J and William M had worked very hard in break times over this term to prepare an engaging, entertaining and thought-provoking talk, which they delivered with charisma and confidence. Other delegates commented on how impressed they were that Duke of Kent School has a Sustainability Committee, and that we have stopped using single-use plastic bottles for trips. The day finished with a Children's Parliament, during which all the visiting pupils had the chance to share their views on gender equality in an energetic and enlightening debate. Well done to all the pupils who shone, and sincere thanks to Mrs Nicholson for her time in helping the children prepare.
Mr Wright
Senior Council Meeting
During last Friday's student council meeting the year group representatives expressed their delight at the current standard of snack options and inquired about how we could make sure the various salad options were available throughout the lunch serving period rather than being monopolised by those attending lunch first (with thoughts and suggestions being fed back to the catering team). A new scrubbing brush was requested (and supplied) for the Senior Common Room and spare sanitary products were requested for all Senior Girls changing rooms (as well as always being available from the school nurse). We also discussed the possibility of making the Astroturf more available for use at lunchtimes and squash being available (as well as water) in the dining hall. These ideas will be discussed further with results being reported back at the next student council meeting.
Mr Wilson
Year 10 and 11 Music trip to see Wicked
Wicked
Wicked-Poster
On Wednesday the GCSE Music pupils from Years 10 and 11 went to a matinee performance of the hit West End musical 'Wicked'. As part of the GCSE curriculum it is hugely important that the children get to see the musical in its intended setting. This enables them to put all that they are learning into context and enhance their understanding of the techniques and devices used by the composer. They also get to have a lovely time at the theatre!
As always the pupils were mature and sensible on the journey through London and behaved excellently in the theatre. Thanks are due to them for this and of course to Mr Kaye for his assistance on the trip.
Mr Rye
Drama Workshop - The Crucible
drama 3
drama 4
DRama GCSE 2
On Thursday night the year 10 GCSE Drama pupils took part in a workshop performance to their parents and friends of selected scenes from the play 'The Crucible' by Arthur Miller. The play is a classic and challenging piece of theatre to watch and perform and, with minimal rehearsal time (including cast changes and cancelled rehearsals due to the recent storm) the pupil produced a compelling and believable interpretation.
The cast used multi-role, changing from one character to another over the course of an hour and a half using only minimal props, lighting and music. Relying on their acting ability to communicate atmosphere and tension the performances were thoughtful and considered. This was the first time the pupils have had to put something like this together and it was an incredibly useful, enlightening and entertaining exercise. Well done to all of them. Thank you to Mrs Punter for mock assessing the pupils, Miss Boor and Miss Barnes for help on the day and of course Mrs Honey for directing and teaching with such inspiration!
Mr Rye
Sports Performers of the Weeks
Luca
U13 Girls
Luca H: Well done to Luca H for his brilliant performance in the hockey match against Handcross Park School. A great work ethic and fantastic tackles at crucial points in the game was impressive and proved to be a huge asset to the team. Well done Luca, a good performance and keep up the good work!
Amber C, Tilly C and Millie W-D: Well done girls for playing fantastically well in their hockey match in Wednesday afternoon. These three played well together working as a team up front managing to score 5 goals between them. Well done girls!
The PE Department
A few match reports from this week
Boys' Hockey: U16 v. Moon Hall College
U16 Hockey
On Tuesday saw the Senior boys play their 2nd match of the term. Duke of Kent School got off to a bright start with Dan J finding himself with room in the 'D' and calmly scoring. Duke of Kent School continued to show dominance in the game with good pressing to win the ball in midfield and link up play. This allowed James C to score 2 goals picking up the ball in midfield and driving into the 'D' and putting it past the goalkeeper. Second half Duke of Kent School carried on in the same way keeping the ball and linking up in the final third but unfortunately couldn't complete the final pass. This allowed Moon Hall College to get back into the game with 2 goals to make it a nervous last few minutes. However, Duke of Kent School managed to hold on and win the game 3-2. Well done to the all boys as they listened well and improved their link up play throughout the match. Thanks to Mr H for fantastic umpiring in the game.
Mr Green
Rugby: U11 v. Kingswood House School
On Wednesday saw Duke of Kent School U11s play in a triangular fixture vs Kingswood House School. In their first game Duke of Kent School showed strong tackling and good support play when rucking and being on the shoulder of their teammate. It was great to see the confidence building in the boys with everyone putting in a tackle. Unfortunately tiredness set in for the second game which allowed Kingswood House to have more possession of the ball and they exploited the space they found on the pitch. Well done to all the boys involved as they are showing an improvement in their skills throughout the term and more confidence when tackling in their matches.
Mr Green
Netball: U16 v. King Edward's, Witley
U16 Kind Edward's Game
On Tuesday afternoon, the U16 netball team travelled to King Edward's Witley for a thriller game! We arrived in good time so captain Izzy P could run a warm up for the team. After a quick team talk, the girls were ready to go and they came out with great energy in the first quarter. It was clear it was going to be a close game with quality being shown from both teams. After multiple turnovers and interceptions in the mid court from Issy F and Alice S, the score was 4-2 after the first quarter. Duke of Kent School stepped in their shooting game in the second quarter with Sophie D and Minnie C showing great accuracy and precision under pressure. Going into the third quarter, Duke of Kent School had extended their lead over King Edward's to 11-5 but it was far from over as the King Ed girls came back fighting hard and closed the gap to just 2 behind Duke of Kent School. In the final quarter, it all came together with Izzy B and Izzy P working like an absolute dream together in defence. Meanwhile, Milly B and Fleur B were working tirelessly in the mid court to create more opportunities for the shooters. The U16s showed great determination and courage to hold on to the win, the score finished 19-15 to Duke of Kent School - amazing stuff girls!
Miss Vickers
Girls Hockey: U15 v. Frensham Heights

The year 10 girls traveled to Frensham heights on Tuesday afternoon for a tough but fantastic hockey match. The girls played well as a team despite being a player down, they set up ready to play the match they knew they would have to work hard in. Daisy K and Daisy M worked well in defence tackling outside the D keeping the ball away from the goal. Saffron H-C did a great job as goal keeper saving many shots on goal making sure they did not score. Frensham Heights scored the first three goals within the first half which made the girls realise they had to communicate during the game and make sure each player was being marked. Millie L started the second half strong by scoring a fantastic goal and making some excellent runs towards the goal. Two more close shots were made with the help of Poppy S and Laura S. All the girls played a great game! Well done girls!
Miss Spence

Girls' Hockey: U13 v. St Edmund's

On Wednesday afternoon the year 8 girls welcomed St Edmund's to play on Wilson's Pitch in a triangular, this consisted of two games against their A and B teams. The girls knew they would have a tough match against the A's but they stepped up and played well putting all their effort into it, by the end of the first half all the girls were feeling tired due to running hard trying to get the ball back from the opposition. Each girls made some fantastic tackles winning the ball getting it to our midfields. Tilly C, Amber C and Millie W-D made some excellent runs up the pitch using lots of skills to get around defenders. The second match against the B's was still a tough game but as the girls were in the zone from the previous match they came out hard and managed to score early on. Again some great runs made by the midfields and forwards with goals coming out at the end of it. Ruby K did a great job of holding down the midfield line, she would stop the opposition from getting a break and making sure the ball stayed in our attacking D. Jas K and Sophie S did an amazing job in defence making sure the players were tackled outside the D and marked tightly when it came to free passes, they intercepted many balls and made some great runs driving it up the line. Natasha B was fantastic in goal stopping many shots making some fantastic saves. Well done to everyone who played making it such a great afternoon!
Girls' Hockey: U12 v. St. Edmund's
The U12's Hockey team played two strong games against St Edmund's A and B teams. The girls showed real determination in the first match against the A's but unfortunately lost 2-0 in the second half. During their second game against the B Team, the girls were down 1-0 in the first half. However, not letting this dampen their spirits, the girls geared themselves up with a team talk at half-time and ran confidently back on the pitch to play the second half. Frankie M scored an outstanding goal from the edge of the D making the final score 1-1. Well done to the girls!
Miss Higman