Weekly Bulletin 01/07/2019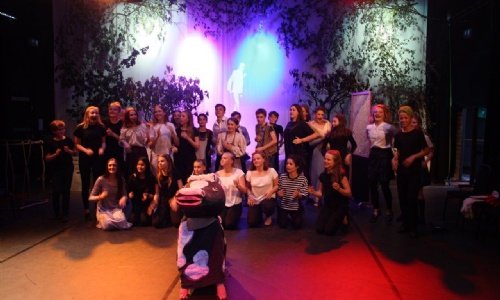 The BBQ lunch and the arrival of the ice cream van were absolute highlights for the students and staff this week as we all joined together to celebrate the end of a very busy term. It was so joyful watching the children and staff enjoying delicious food and chatting animatedly in the warm sunshine. In our final assembly this afternoon, we said farewell to Mr Rory Burwood and Ms Megan Godfrey as they move on to the next stage of their careers. Also, thank you to Mrs Tillie Williams from our Learning Development Department. You will all be missed! I look forward to Parents' Day tomorrow as we celebrate the achievements of all of the pupils and the tremendous effort they have put into their learning this year. It will be a wonderful way to end the school year.
Mrs Knox
Year 11 Leavers' Concert and Dinner
On Monday evening, the Year 11s were celebrated further with the Leavers' Concert and Dinner. The musicians were incredible as usual and the concert was a fitting tribute to this year group and all the work that Mr Rye a has done. Songs for Ava, Tyla and Toby, some Chopin from Dugald and a self-composed harp piece from Constance were some of the highlights along with Dexter's piano, Luca on the bass, Louis on the guitar, Adam on drums. Well done to you guys. There followed a fabulous dinner for the 11s, their parents and staff, culminating in some speeches to celebrate an amazing year group. Thanks to Jason and the team in the kitchen and for Jane Hopwood for putting so much care into making the evening so fun.
Mr Macdonald
Sorrento
Last week saw the annual Year 11 trip to the Amalfi Coast, in Italy. The students had a guided tour of Pompeii, went to the summit of Vesuvius, had an amazing coastal walk – the 'Walk of the Gods' – and had plenty of opportunity to swim in the hotel pool and in the sea. On the final day we all had enormous pizzas that we made in the famous Pizza University of Vico Equense! I was a wonderful trip, a source of many good memories for our leavers for years to come and a fitting end to their Duke of Kent School careers.
Mr Macdonald
Grimm Fairy Tales
On Friday 28th June the PA Hall was transformed into a magical, fairytale world for our Years 8 and 9 production of Grimm's Fairytales. A cast of thirty brought the dark and hilarious world of the Brothers Grimm to life, in 'the round' with the audience sat on three sides of the performance space, and wonderful costumes, scenery and lighting adding to the spectacle. Directed and designed by Mrs Honey and with choreography by Lisa Lee, the audience met Hansel and Gretel, The Musicians of Bremmen, Ashputtel (Cinderella), Red Cap (Little Red Riding Hood), Snow White and the bizarre donkey (don't ask!) from The Magic Table. This was a real challenge for the children, with difficult lines to learn, strange characters to inhabit and even trees on wheels to negotiate, but, as always, our pupils rose to it and pulled off another wonderful performance. Huge congratulations to all involved and special thanks to Mrs Honey, Lisa Lee, Mrs Kerr and Mrs Punter for all their hard work.
Mr Rye
Year 10 Silver DofE
On Tuesday of this week, 22 intrepid Year 10 students headed out across the South Downs on their Silver DofE Qualifying Expedition. It has to be said that the weather (thankfully) was a massive improvement compared to that of their practice expedition a few weeks ago. The sun shone as the four groups left the starting point at Ditchling Beacon and hiked across to the day 1 campsite at 'Small Dole'. The recently cut grass at our overnight stop caused some issues for the hayfever sufferers amongst us however Mr Lodge was always on hand with his 'mobile pharmacy'! Despite
a long walk, many of the students still had energy to burn and so began the attempts to create a 'human pyramid' with varying levels of success!
On day 2 the students were awoken by our (not so distant) neighbours mooing (yes they were cows) at sunrise. Breakfast was cooked, tents disassembled and bags were packed away ready for another day of orienteering. Day 2 involved a lot of elevation as the groups had to get onto the downs and in the hot sun it was quite a slog however, they all powered through admirably and made it to 'Washington Camp' in great time. Washington Camp was more 'luxurious' than our previous site as it boasted hot showers which were welcomed by all given the temperatures of the day. The evening involved cooking meals, a final and triumphant attempt at the human pyramid, and toasting marshmallows around the campfire.
A good night's sleep was had by all in preparation for the final day of walking and again we awoke to a beautiful blue sky. The groups set off one by one from Washington and managed to appreciate the stunning views en route whilst also walking with determination to make it to the finishing point in fantastic time.
Throughout the entire expedition the students represented the school fantastically showing good manners, great attitudes, exceptional teamwork and unfaltering positivity. Myself and Mr Lodge were very proud of their superb efforts and resilience over the three days. The students took the expedition in their stride, had lots of fun and made many memories along the way.
Mr Wyllie
Year 7 trip to The Globe Theatre
On Tuesday, all of Year 7 travelled up to the Southbank to visit Shakespeare's Globe theatre. Arriving just in time (despite London traffic's best attempts), we were taken inside the theatre by our engaging guides to marvel at it's construction and stories of the original theatre's history, including the 'penny stinkhearts' - or groundlings as standing theatregoers are now referred!
After our tour we were taken to the practice rooms, where the Globe's actors work on their performances, in order to bring Shakespeare's text to life. Group's worked with actors and educators interpreting 'A Midsummer Night's Dream' with consideration to characters' walking, status, gesture, volume and tone. I witnessed some fine insults and heartfelt yearning from Demetrius and Helena by our students.
The Year 7's conducted themselves brilliantly, despite the delayed gratification of their packed lunches which we enjoyed on the banks of the river after our drama workshops, as well as the long coach journeys there and back!
I hope they enjoyed the opportunity to see the theatre close up and the exercises in demystifying Shakespeare's words further by truly considering the character's intent.
A quick visit to the Globe's shop allowed the purchase of stationery, headgear, skulls and lots of chocolate!
Thank you to Mr and Mrs Southee, Mrs Punter and Miss Anand for helping me with our various medical bags, coolers and cameras.
Mrs Douglas
Year 7 Watersports
Year 6 trip to Saddlescombe Farm
The majestic South Downs provided the backdrop to Year 6's trip this week, more specifically Saddlescombe Farm. This working National Trust property combines livestock rearing, rural conservation and educational visits; a perfect mixture for the children to experience and absorb. Once everyone had been quite literally carted down Devil's Dyke, our hosts Camilla and Roly helped the children appreciate the scale of their family-run farm and explained some of the methods they use to ensure the landscape is conserved for the benefit of hundreds of wild animal and plant species. With the scene set, the children learned about how to connect hurdles to make a pen, and the types of equipment found on the farm that help them care for the animals' health. We were also treated to a demonstration of how Fly - the farm's beautiful sheepdog and star of the show - is used to herd the sheep. Everyone agreed that she is, without doubt, the most obedient - and rapid - dog we had ever seen! After a delicious lamb burger lunch, and a reminder of the importance of knowing the origins of one's food, the children were set a challenge: to herd a small flock of sheep into a pen they had built themselves and then complete a puzzle - all against the clock, and under the watchful eye of Roly (and Fly, in case she was needed!). All the groups completed the task with minimal assistance, and returned to school not only buoyed by a hugely fun day out, but also more aware of how their food is produced and what hard work it is to run a farm!
Mr Wright
Year 5 trip to Blacklands Farm
On Tuesday 2nd July Year 5 had an exciting and challenging day trip to Blackland Farm. They were involved in three different activities: team building, "crates" and rock climbing. In team building the children had to focus on solving a series of problems, such as how to cross an imaginary sea of lava using boards and without leaving anyone behind!
They had to move tyres numbered from 1-5 along a series of posts while only being allowed to place lower numbered tyres on top of higher numbered ones- this was really tricky and required a lot of trial and error! They had to work together, communicate effectively and really listen carefully to each other, in order to be successful. Both ' crates' and rock climbing involved being up high! In 'crates' they had to build towers (out of crates) and then balance on top of them(attached to a rope!) - exhilarating and exciting. In rock climbing they had to scale indoor rock faces while attached to ropes; again this was challenging but great fun. It was an entertaining and exciting day thoroughly enjoyed by all. Excellent skills were on display and the pupils encouraged each other to do their very best. Thank you to everyone who came on the trip.
Mrs Lock
A few match reports from this week
Rounders: Years 9 & 10 House Rounders
On Tuesday afternoon the Years 9 and 10 girls took part in one of the most highly anticipated sporting events of the summer term- senior house rounders! Throughout the afternoon we played three matches so each house had a chance to play with and against the other houses. We saw some excellent displays of skill and power. Notable fielding was seen by Saffron H-C in Armstrong when playing at 3rd post, she did not let a single ball get pass her the whole afternoon. Strong bowling was also shown by Eva P in Chichester and Fleur B in Whittle. Lilly W-D in Hillary demonstrated some powerful batting and managed to add some rounders to the final score.
After a great afternoon in the sun, the final scores were...
Girls' House Rounders
1st
Chichester
2nd
Armstrong

3rd

Hillary
4th
Whittle
Miss Godfrey
Rounders: Year 7 & 8 House Rounders
Wednesday 3rd July saw the highly competitive house rounders tournament for year 7 and 8. Spurred on by beautiful sunshine and after some team bonding huddles and motivational talks, the houses were ready. On pitch 1, Chichester were first to bat against Armstrong and started strongly, with some great rounders from Kora W and Millie WD and clever positioning of the ball from Jasmine K. However, they were kept at bay by some brilliant fielding from Armstrong. Some phenomenal throws from out deep from Angie M stopped many hits that were sure rounders, and Izzy B, Molly G and Lucy P worked brilliantly together as backstop, bowler and second post respectively. After the first innings the score was a close 6.5 to 7 in Armstrong's favour. However, they picked up their game in the second innings, stumping and catching players out and leaving Chichester stretched. This was followed up by some super hits from Izzy B whose placing was superb and avoided the fielders every time, Molly G and Tilly C and the game finished 16 to 9.5 rounders to Armstrong. On pitch 2, Hillary and Whittle had a very close battle, going down to the final ball and finishing in a draw.
Next up against Armstrong were Hillary. Armstrong were first to bat and it was clear they had warmed up well from the first game as they quickly reached 10.5 rounders in just the first innings. However, Hillary were not perturbed and showed great teamwork during fielding to get the ball to each other and prevent rounders. Amelie WB also made some fantastic catches mid sprint to get players out. When it was their turn to bat, Both Poppy and Ruby K showed great strength with their hits, sending the deep fielders running back quite a way, and Amelie WB and Bea H with some clever placing of the ball. Layla S showed great confidence and boldness putting the fielders under pressure, and was unfortunate to get out. Armstrong continued to show their strength in batting and despite some great efforts from the deep fielders Maddie I, Hannah S and Bea H, they were unable to prevent Armstrong winning 19.5 rounders to 11.5. Chichester against Whittle saw a great contest, with Whittle leading until the last ball which saw Kora W score a rounder to take their total to 15.5 against Whittle's 15.
With Chichester against Hillary finishing with success for the former house, it was down to Whittle to see if they could topple Armstrong off the top spot. Whittle were fielding first and immediately showed their great team work, passing quickly and preventing a number of rounders. However, Armstrong also continued to pass and throw well and after the first innings it was a close 6.5 to 5 to Armstrong. All to play for. The final innings saw everyone up their game and some fantastic hitting from both sides. Lucy P improved with every hit and Alanna H worked hard to place the ball away from the fielders. They quickly reached 13.5 rounders, leaving a lot of work to do from Whittle. However, they really impressed, with Emily B hitting with great strength and scoring a rounder with every ball she received. Lucy M improved her positioning and found her form to add to the score and they quickly added three rounders to their total. Zoe L and Emma B played boldly, reaching second post to add vital half rounders. However Armstrong stayed calm, continued to communicate really well with other and Whittle were just left with to much to do. A fantastic afternoon that not only demonstrated improved skills, but exemplary sportsmanship and encouragement from everyone. The results are as follows:
Girls' House Rounders
1st
Armstrong
2nd
Chichester
3rd
Whittle and Hillary
Mrs Vermeulen