Weekly Bulletin 06/09/2019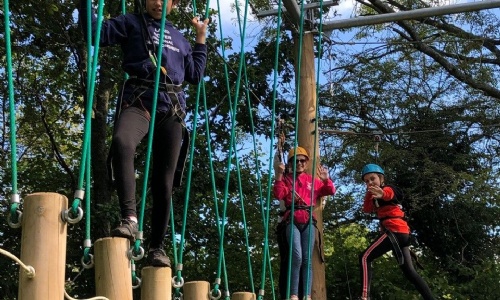 Welcome back from Mrs Knox
A very warm welcome back to school. It has been lovely to see our 38 new students enveloped so warmly by the "Duke of Kent School Hug". I hope you, as parents, are also settling into the term. Thank you for joining us throughout the week for our parent information sessions. There is no question too small to ask, so please don't hesitate to get in touch if there is any more information you need. I would also like to thank you for your help with the uniform. The students look incredibly smart this week and we will continue to strive for this standard. Activities and matches get underway next week so please keep an eye on the calendar. Sydney too has had a great week! Enjoy the weekend.
Mrs Knox
Meet our new Heads and Deputy Heads of School
As announced during our Prize Giving ceremony in July, our new Head Girl is Minnie C and Head Boy is James F. They will be supported in their leadership by Deputy Heads: Blue R and Archie L. These four exceptional students will serve the school well. They will be ably supported by a prefect team consisting of Fleur B, Jago C, Sophie D, Ben G, Ben P, Issy P, Matty S and Alex W. Within this group of young individuals we have a variety of talents including leadership, kindness, initiative and endeavour. I am convinced that they will do an excellent job supporting both the staff and their fellow pupils and I congratulate them wholeheartedly on their appointments.
Mrs Knox
Meet our new members of staff
Mr P Cabanes
Mr Cabanes is a former Duke of Kent School pupil. He has just completed his A levels at the Weald School and is planning to go to university next year to study a degree in football coaching. He is a Level 6 football referee and will be joining us as a sports assistant.
Miss L Spence
Miss Spence has spent the last two winters working as a chalet supervisor in the French Alps and the summers working as a waterski instructor for Camp Chen-A-Wanda in Pennsylvania USA. This year she will be joining the school as a sports assistant.
Miss N Higman
Miss Higman joins us from the Middle East after teaching and leading in two international independent schools in Dubai for the past 11 years. She is very excited to be joining the Duke of Kent School team and will be teaching in the Prep School.
Mrs Watkins
We are delighted to welcome Lisa Watkins to our Pre-prep team. She has been working at Park Mead as a Teaching Assistant for the past 5 years and is joining our Duke of Kent School team as a designated Teaching Assistant in the Reception classroom.
Mr Hanvey
Mr Hanvey is the new Catering Manager and has been in the catering business for over 15 years and is very excited about working at the Duke of Kent school. His other passion is travelling around the world with his wife and experiencing other cultures and foods.
Mr Seeley and Mrs Green
GCSE Results 2019
We are celebrating another year of tremendous GCSE results.
Here are some of the headlines:-
· 100% of our students have achieved the benchmark of 5 GCSE passes including IGCSE English Language and Maths
· 100% success rate in English Language, English Literature and Maths
. 51% of all grades are Grades 7/8/9 (the equivalent of A or A*)
· 35% of our students achieved Grade 8 or 9 in Maths (A*)
· 63% of our students achieved Grade 8 or above in one of more subjects
· 25% of the overall total Grades were scored 8 or 9
· Overall, a 99% pass rate for all the exams was achieved
It is so heartening to see that all the efforts of the students and their teachers have paid off. Many have achieved success beyond their expectations. Whether it is an unexpected 9 or a hard fought 4, we are equally proud. Well done to everyone involved.
Mr Macdonald
Tennis Triumph
Over the Summer holidays Izzy B played in the Surrey County Tennis Trophy in the U14 and U16 categories. It's a knock out tournament for girls and boys across Surrey. Izzy did really well and got through to both finals, which took place at LTA's home courts at Roehampton where all the different age sections came together. She played really well on the day and won the U14 girls' final and came runner up in the U16 girls' final. It was a great day of tennis and so exciting to be at Roehampton. We look forward to hearing about more of her tennis success as the year goes on. Well done Izzy.
Miss Vernon
Year 7 to Sayers Croft
On Thursday 5th September Year 7 went to Sayers Croft Field Centre for a day of teambuilding activities. Setting out as the clouds begin to lift the year group coped admirably with the 3 mile walk to the centre through the beautiful local surroundings. Upon arrival they were straight into the action, splitting into their form groups to complete three activities throughout the day: 7F went off to the high ropes course, racing around the different challenges before culminating in a rather intimidating zipwire to the ground. 7C went to the teambuilding course where they worked their way around a series of challenges involving them working together and communicating clearly. 7M headed for the caves where over 80 metres of narrow tunnels offered a range of different challenges that led to a great deal of sweat and effort being exerted! We then walked back to school, exhausted and ready for a good night's sleep. The behaviour, camaraderie and conscientious nature of the year group was evident throughout and I am hugely excited to see such positive additions to the Senior School.
IMG_0376
Show next 9 of 9 remaining images
Mrs Coackley and Mr Wilson
Pause For Thought
A huge 'Welcome Back' to all returning pupils and an especially warm welcome to all new ones!
Just a reminder of who I am and what I do at this wonderful school!
I am part of the pastoral team here concerned with the well being - in all respects - of your child. I have a room next to the art studio and I operate an open door/ drop in policy to all students, staff and parents to offer a listening ear to any concerns or anxieties, large or small.
I also teach R.S in both the senior and prep school.
If you need to get hold of me for any reason you can email or call me.
I offer a parent prayer group to those who would like to join me in praying for our school community, the first one of which is next Wednesday morning 11th, after drop off with coffee and pastries.
I look forward to seeing you!
With every blessing for an exciting and joy filled academic year.
Reverend Kia
Just before you go ....
Do regularly check your junk and spam folders on your emails. A number of emails have been diverted to those folders and has resulted in parents missing information. It is not something that I have any control over (shame !) ...
Thanks everyone
Jenny