Weekly Bulletin 13/09/2019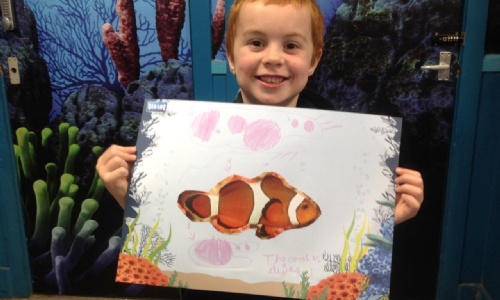 Open Day
We are just delighted to have been shortlisted by the Independent Schools Association for 2 Awards: Excellence and Innovation in Art and the Prep School Award for Innovation and Excellence. This featured the pioneering "Endeavour Award" initiative. The results will be announced in November at an Awards ceremony. Whilst a small school, we continue to strive for excellence in all we say and do and I thank the staff for their continued dedication and commitment. We hosted numerous matches this week and it has been great to watch some super football by both girls and boys. Our new Sports Assistants Mr Cabanes and Miss Spence have also made a great start. Well done to them. Have a lovely weekend.
Mrs Knox
A Message from First Aid
A quick reminder to please return a fully completed annual medical questionnaire for your child if you have not already done so.
Also a final reminder to year 8 parents that next Tuesday is the closing deadline for your HPV Immunisation "E Consent" forms online. Please do complete this form if you have not already done so!
Many thanks,
Chloe Sarjant
Year 10 GCSE Art trip to Booth Museum
As part of their GCSE coursework, Year 10 Art and Design students visited the Booth Museum in Brighton, for a day of observational drawing. Of all the galleries and museums that we have visited over the years, it is always the Booth that captures the student's imaginations. It describes itself as 'a quirky hidden treasure', and certainly lives up to this description. A small unassuming building on the Dyke Road, it houses rows of taxidermy animals, drawers full of butterflies, rooms of weird and wonderful skeletons, from Narwhals to dodos, as well as Victorian curiosities such as a cyclops cat and a fake mermaid! The museum's collection is the work of Edward Thomas Booth, a Victorian hunting and wildlife enthusiast, born in 1840, who spent much of his adult life living in Brighton.
Our students acquitted themselves well and were encouraged to use a variety of drawing styles and media to respond to the curiosities in the museum. This work will form the starting point for a whole term, visual exploration of natural forms. During this exploration students will investigate and respond to the work of other artists, times and cultures and make links and comparisons with their own work. They will develop their confidence in a wide range of traditional and non-traditional media and the project will culminate in a final displayable piece. The whole project will form an invaluable addition to their GCSE portfolio.
Mr Watson
Year 2 trip to Brighton Sea Life Centre
On Tuesday, Year 2 ventured down to Brighton's Sea Life Centre for a fun-packed day of exploring and learning! After we arrived in Brighton, we walked in the sun along the promenade, taking in the smells of the ocean and fish and chips.
Once we arrived at the Centre, we had a quick snack before one of the animal specialists, Frankie, guided us around the enclosures. Frankie knew so much about marine life! She told us all about the turtles, nurse sharks, jellyfish and many more! Did you know the Centre's turtles are almost 80 years old? That's older than our Grandparents!
The children particularly loved visiting the stingrays and catfish at feeding time; they were so excited to see us that they kept popping their heads out of the water to say hello!
We were also lucky enough to take part in a workshop where we learnt about how we can help conserve marine life. Frankie told us how certain human behaviour is contributing to the endangerment of marine animals. Did you know that over 100 million sharks are killed each year to make 'shark fin soup'? We created awareness posters during our workshop with tips on how we can work together to conserve the animals in our oceans.
We had a brilliant day at The Sea Life Centre and can't wait to continue learning about the mysteries and wonders of marine life.
"I loved when the sting rays splashed up at us!" Max M
"This has been the best trip ever!" Ben W
Miss Able
Prep School Strings and Brass Day
On Wednesday the Prep School had a 'Strings and Brass' day.
The day started with a school assembly featuring demonstrations on a whole host of brass and string instruments from our specialist instrumental teachers Mr Nash, Mrs Blunden and Mrs Young. The teachers played pieces together and then answered some questions about their chosen discipline.
Then, as the day unfolded, pupils were given short lessons on cello, violin, trumpet and trombone in groups of two, three or four, allowing them a taster what it is like to play and learn one of these instruments. Every pupil from Years 3, 4 and 5 received a lesson on one of these instruments and it was lovely to walk down the music corridor and witness so many pupils being given the chance to experience something new.
GCSE Drama Trip
On Wednesday evening the Year 10 GCSE Drama pupils were invited to Godalming College to watch a performance of the play 'Teechers' by John Godber performed by a touring theatre company. This was a wonderful opportunity for them to watch first hand some fast and furious multi-character acting in this hilarious play about pupils and 'teechers' at a state school in the eighties. Our pupils, as always, acquitted themselves wonderfully, behaving well and even asking a couple of excellent questions in the Q&A aftrerwards. Thank you to Mrs Honey for organising this.
Ben's Review
The Guildford Fringes adaptation of Teechers by John Godber is a sight to behold with a simple set, soundtrack and lights.
The set was very simple and consisted of a few school chairs and desks a hat stand with multiple items of clothing on it. The set was finished off with some simple corrugated iron backboards with graffiti on them.
The trio of actors, Lauren James-Ray, Sam Stay and Elle Banstead-Salim all played their characters very well with a clear distinction between each character. The Performances by Miss Banstead - Salim, managed to have an amazing distinction between each character, especially the transition between her (main) extremely sullen character Hobby, into the 'full of beans' headmistress. However, all the actors are to be commended on their amazing differentiation of characters.
The costumes were cleverly designed to be easily switchable. The main costumes were their school uniforms but then with the addition of a jacket or a pair of glasses and they would be a different character entirely.
This play was full of laughs but also had its fair share of slightly deep moments. It was amazing and was well choreographed and co-directed by Charlotte Bateup. This was highly enjoyable and would I recommend if you get the chance to see it.
Ben H-F, Year 10
A few match reports from this week
Football: U12 v. St Edmund's
The boys had a fantastic afternoon at St Edmund's with some very skilful football played by Bobby F upfront and Josh E at the back, dribbling their way out of trouble on several occasions. Henry P pulled off some fantastic saves which kept the lads in the game at several crucial moments. Jonny McM showed a very high level of organisation along with the likes of Jamie L and Oli B who joined Josh E in defence. Charlie G made some brilliant runs down the line creating chances for the team on several occasions. Overall, despite the defeat, the boys showed an excellent level of professionalism throughout, keeping their heads up and scoring two fantastic well worked goals towards the end of the game. Well done boys.
Mr Cabanes
Football: U12 A v. Box Hill
U12A Football
On Wednesday saw the U12As have their first football match of the year away at Box Hill School. For some this was their debut for Duke of Kent School and for everyone it was their first visit to a senior school. However, Duke of Kent School didn't let this distract them and started the game brightly. There was some great passing football shown from defence to midfield and we struggled with the final pass for the first 15 minutes. We started to relax more and found our stride and led at half time 2-0. We continued the fantastic passing game into the 2nd half to score another to finish 3-0 winners with everyone playing fantastically well with noticeable performances from Jack B scoring a hat-trick and a fantastic defensive performance from Toby T, showing composure on the ball.
Mr Green
Football: U10/11 A & B v. Kingswood House
The U10/11 football team travelled to Kingswood House on Wednesday. The B team played first and twice came back from a goal down to finally win 4-2. The whole team showed great determination and Monty L starred with four well taken goals.
The A team played with great spirit and had to defend for large periods of the game. In a very close match, Josh W-D scored the winner for Duke of Kent in the second half. Two wins out of two for the A and B team is a fantastic start to the season. Well done to all who played.
Mr Green
Football: U8 & U9 v. St. Edmund's and Barrow Hills
On Thursday saw the Year 3s have their first ever football match for Duke of Kent School and the Year 4s playing their first match of the season. It was great to see every single boy involved showing amazing skills and enthusiasm on the pitch. Very well done to all the boys involved with the goals being shared around and fantastic behaviour throughout.
Mr Green
Girls' Football: U13 v. Belmont
Sport
Meanwhile, the U13 girls were also playing their first football match of the year on the Wilsons' Pitch against Belmont. The match was really exciting with lots of opportunities for both teams. Duke of Kent School scored first with a great goal from Millie WD. However, Belmont came back within minutes so the score was 1-1 at half time! The girls continued to work hard to track back when losing possession as well as attacking as a team. Belmont came out on great form in the second half and managed to score two more very good goals. It was a brilliant opportunity to put some skills into practise, congratulations to all the girls involved!
Miss Vickers
Girls' Football: U12 v. Belmont
The U12 girls had a fantastic afternoon winning their first football match of the school term against Belmont School on Wednesday afternoon. Some amazing goals from Alex K (2) and Ella S (1). Frankie M did a great job intercepting some difficult balls across the pitch. The whole team played really well together and had a great attitude throughout the whole game. Well done girls!
Miss Spence
Netball: U11 v. Ripley Court
On Wednesday our U11 girls faced Ripley Court for their first game of the season. There was trepidation on arrival but a reassuring chat and focus on being positive no matter the outcome the girls began their match. There was a lot of movement and good displays of passing and dodging. Emma F (WA) and Saoirse W (GD) made some excellent interceptions and were putting a lot of pressure on Ripley Court. By half time our shooters (Jessica I, Isla B and Sydney R) had built up a 2-1 lead. In the second half, Ripley Court came back fighting and with a new team arrangement but Duke of Kent School dug deep and work hard as a team to secure a 6-1 win. I was extremely proud of them all as they focused and remained determined throughout. Congratulations to Edie H for being chosen as Girl of the Game.
Miss Vernon