Weekly Bulletin 11/10/2019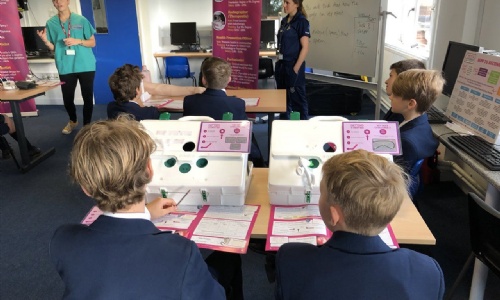 The cross country events on Monday were a highlight for me this week. Running is a tremendously accessible form of physical activity and, whilst it might not be enjoyed by all, it can deliver significant health and wellbeing benefits. I saw some tremendous personal achievements with perseverance, determination and huge effort at the fore. Unfortunately, the weather forced us to cancel the Year 9 -11 event today, but we will reschedule it soon. For those of you interested in running, we are looking forward to our Bursar, Mr Finill's talk on Monday from 5-6pm, where he will share his experience running across America from California to New York over 79 days and 22 hours! We will hear about the highs and the lows and all in between. Please do join us.
Mrs Knox
Medical Mavericks
As part of national Biology week, on Monday 7th we were treated to a visit from Medical Mavericks, providing a workshop for all senior year groups. The students were given the opportunity to discover the 350 careers that are available in the NHS and were surprised that many did not require high science grades, rather other skills in art, drama, maths and business. Below is an account from a few year 9s of what they got out of the day:
"I particularly found the fake arm the most interesting as it was so real and I extracted (fake) blood first attempt! I think it was very fun and a great experience for everyone" Freddie N
"The vision changing goggles were really interesting. You could experience what it would be like to have a cataract or tunnel vision and it made us realise what it would be like to live with the conditions. The course was really interesting and informative on the careers in the NHS" Iris R
"My favourite part was when we got to try keyhole surgery. This was really hard and fiddly which made us realise how hard the surgeon's job is. We had to try and thread shoelaces through holes in wood using a camera and surgical equipment." Emma M
"The ultrasound machine was very interesting because if we placed it on our wrists we could see the size of our growth plate or if it had fused into solid bone. This worried a lot of us as we were all hoping we still growing" Will W
Jade and Lizzie from Medical Mavericks were fantastic with all the students and commented how polite and well behaved they all were so well done to everyone.
Mrs Vermeulen
Year 1 visit Arundel Castle
Year 1 visited Arundel Castle on the 10th October. We were lucky enough to have beautiful weather. Our wonderful guide, Janet, showed us the Barbican, Armoury, Chapel, Baron's Hall and the Keep and most interestingly, for the children, the dungeon and the toilet! Janet, was very impressed with the children's knowledge on Knights and Castles, in particular when they were able to explain the different meaning for the colours on a coats of arms and how to become a Knight.
After lunch, we went to the education room, where the children had the opportunity to try on costumes they got to be knights, maidens, guards and a Jester. They also got to have a close up look at some weapons and chainmail.
Finally, we went for a walk around the castle's beautiful grounds. We had a fabulous day, where we were able to bring our topic to life.
Miss Walpole
Meet the charity committee
This year we have taken a slightly different approach to how the School is going to approach it's charitable work. Every year we do a great job of raising money for a wide rang of national and international charities. These have recently included Salima LEA our link school in Malawi, Jigsaw Trust, Surrey Sands and Zack our sponsor student in Tanzania. Moving forward we have decided to support just one local and our existing international charities the whole year. This will ensure that we are able to make a meaningful contribution to them and also use their expertise and knowledge in long term projects designed to benefit our students learning through visits, guest speakers and other initiatives.
This Year the whole School voted to support Clic Sargent, a local charity supporting the families of children with Lukemia. This charity have supported a member of our School community recently so it is lovely that we are able to give something back. In addition we will continue suporting Salima LEA and Zack as our international chairties. We have also formed a Senior and Prep School Charity Committees, capably overseen by our charity prefects Matty and Sophie, to organsie events and to come up with fresh, vibrant ways to raise money and awareness. In one of their first acts as a committee they decided that we should engage more with national charity days such as Comic Relief. The first of these is Children in Need on November the 18th.
Our newly formed Committee will be easily identifiable by the Charity Committee ribbons they will soon be sporting. Thanks to Matty and Sophie for agreeing to take up the mantle of Charity Prefects after organising a successful Year 10 Charity Day last year. Well done to Ben P, Charlie C, Arian L, Annabelle R, Ella S, Harry D Izzy P and Blue R for forming the Senior Committee and Isla W, Heath P, Jack P, Sydney R, Henry R, Isla B, Daisy N, Daisy R Matilda R and Lucy P for putting themselves forward as the Prep School Committee. Please check the Charity notice board in the entrance hall for updates and forthcoming events.
Mr Watson
Sports Performers of the Week
The ISA Girls Football team who did fantastical well at the ISA Football Festival on Tuesday. They played extremely well, winning both the U13 and U15 trophy. Well done girls!
Dan J: 'Brilliant performance by Dan on Tuesday against Kingswood House in a thrilling 3 - 1 win for Duke of Kent School. He kept out several shots at crucial points in the game, keeping the boys going throughout'. An excellent display of goalkeeping Dan. Well done!
Auberon P: 'Congratulations to Auberon in Yr3 for opening his account for Duke of Kent School scoring his debut goal against Ripley Court last Thursday. This a huge achievement Auberon. Very well done!'.
Harvest Festival
Thank you so much to the Prep and Pre-prep school for their very generous donations for the Cranleigh foodbank. Rossyln, who volunteers at the foodbank, came and spoke to us about the work there and how our donations will be given to local children and families who are in need.
We have so much to be grateful for and it's so important not only to remember others but to help when we can too.
Thank you.
Rev'd Kia
A few match reports from this week
Girls' Football: U13 ISA Football Festival, Ascot
On Tuesday, DoK School took two teams to the ISA Football Festival held at LVS Ascot School. After a good warm up, both teams were ready to play their first group game.
The U13 girls had a few very close few games in their group with a highlight being Tilly C scoring a cracking goal! Their third match was against Shoreham, the eventual runners up of the cup competition, it was a tough game but the girls showed great determination and were kept out by some fine goal keeping with both Millie W-D shots being tapped over the crossbar. The U13s went into the shield competition and this was when they came into their own!! The semi-final was another close game, with a Alex K scoring a cracking penalty due to a hand ball in the box, DoK School thought they had the game in the bag. However, a late break from the other team lead to an equaliser so the game had to go to penalties! Luckily, the U13s had practised some penalties throughout the morning so goalie Jasmine K was ready! She managed to save 4 of the 5 penalties sending DoK School into the final! It was another thriller game, with an unreal goal from Millie W-D and some excellent defence from Maddie I, Frankie M and Macy B. The U13s managed to win the game 1-0 and bag themselves some goal medals!!!
Congratulations to all the girls involved and a huge well done for the exceptional behaviour they showed throughout the day. All the girls were a brilliant asset to the school, Miss Vickers and Mr Southee were very proud!
The U15 team fared a little better in their group, conceding only four goals to strong teams who topped the group. This meant that of their five group games, the dominant defence of Zoe in goal (fearless and cat like with her reflexes) and Issy F (tenacious and covering more ground than a migrating Caribou) and Daisy K (tireless and strong) in front of her, kept two clean sheets. The highlight came in the form of a wonder strike by Poppy S, firing across the keeper into the side netting - inch perfect. The midfield engines of Hannah S, Alice S and Kiki B (who suffered an injury later on but valiantly supported the team), along with Poppy, ran themselves into the ground in the quest for goals and supporting the back three.
The clean sheets continued in the semi-finals and final. The semi-final was decided after sudden death penalties after Zoe made a last gasp save in the dying seconds to take it to penalties in the first place. Then came the Trophy Final. After her endeavours up top, Laura S, grabbed her moment of glory with a fine strike into the roof of the net to bring the trophy home.
Miss Vickers and Mr Southee
Netball: U16 v. Christ's Hospital
On Tuesday afternoon, our U16 netball team faced Christ's Hospital away. Unknown to us, this was a coaching session for Christ's Hospital and subsequently there were 24 players on a rotation against our team. The girls rose to the challenge albeit hesitantly at first and got their heads down and focused on the task at hand.
In the first half, Izzy B and Amelie W-B were the epitome of a dream team, feeding the balls long and accurately to one another where Izzy B and Millie L were able to pocket the balls away effortlessly. Our defence was strong too with Jasmine B (WD), Izzy P (GD) and Bella R-B (GK) closing down space and stopping Christ's Hospital from benefitting from runs down the court. The half time score was 10-3 to DoK School.
In the second half the pace of the game increased and some mistakes were made but with some encouragement to make 'sure passes' and to use the whole three seconds before passing they quickly regrouped and got back into a steady rhythm. In the final quarter Christ's Hospital brought on their strongest players and this really tested the girls but Fleur B and Amelie W-B stood their ground and mixed up their balls into the shooters resulting in a very well deserved 18-10 win. Well done girls, I was exceptionally proud of you all, it was a tough game and there were a lot of new combinations thrown at you and you all took it in your stride and gave 100% throughout.
Miss Vernon
Netball: U12 A v. St. Edmund's
Netball v. St Edmund's
On Wednesday afternoon, DoK School U12A played St Edmund's School. After a quick warm up, the girls were ready to go. The match started well, with DOK showing great skill in the mid court, Frankie M made some strong passes to create goal scoring opportunities for Alex K and Esme P. The U12 team were in the lead 3-1 after the first quarter. In the second and third quarter, Violetta P and Ella S made some great interceptions to keep St Edmund's out of their goal third. The match was very even, with the score at 4-4. Ava W and Abi W worked tirelessly in defence, continuing to create crucial turnovers for the team. The whole team worked exceptionally well together to link their passes towards the goal on endless occasions, Alex K and Esme P continued to work well together leading to 3 more goals for DoK School. The score finished 7-5 to us, an absolute thriller game and a brilliant display of team work!! Congratulations on a great win U12s!
Miss Vickers
Netball: U13 B v. St. Edmund's
The girls played extremely well against St Edmund's on Wednesday afternoon playing a tough game. The girls played well intercepting the balls whenever they could and getting it down to our goal. St Edmund's scored first with some strong attacking play. After the second quarter they really picked the game up and managed to score 2 goals. Some great playing from Jasmine K in defence with Natasha B catching the rebounds and getting it away from the oppositions goal. Amber C and Alana H had some great shots on goal with help from Imogen C and Hannah M getting the ball down to them. Sophie S played great as centre running up and down the court fighting for the ball. Well played girls!
Miss Spence
Netball: U12 B v. St. Edmund's
On Wednesday afternoon the U12B team welcomed St Edmunds to our netball courts. The girls showed exceptional effort and enthusiasm throughout our warm up which they continued forward in to the match. Initially DoK School went 1-0 down, however, 30 seconds before the end of quarter whistle we levelled the score to 1-1.
Within the second quarter Rose and Ariane demonstrated some excellent shooting skills, taking us to a 3-1 lead. The points continued to trickle in during the third quarter, which finished with DoK School leading 5-3.
Some outstanding defending by Josie and Saoirse throughout the game meant that St Edmunds were restricted to their 3 goals, and, with tireless work in the centre of the court from Annabelle, Emily and Jess, the match finished 6-3 to DoK School.
It was an exciting and intense game, which was thoroughly enjoyed by all the spectators. Each member of the team worked incredibly hard which resulted in a fantastic team performance and a superb result against a challenging opposition. Enormous well done and congratulations to all the girls involved - it was a tremendous effort! - and especially to Jess and Saoirse who stepped up from Year 6 to stand in for injured players.
Mrs Green
Football: U9A Tigers v. Belmont
On Thursday saw DoK School under 9 Tigers play a tough match against Belmont. Defending uphill in the 1st half we showed strength and determination with our tackling and clearing of the lines to put pressure on Belmont. It was a good 1st half with both sides trying to get their grip on the game with some tough tackling. The second half continued in the same way with both sides showing grit in midfield. DoK School started to take control of the second half by getting the ball wider and kept possession well. The deadlock was finally broken with 2 minutes to go by Arthur H who coolly finished from outside the box in the bottom left hand corner. This was a fantastic game and well done to all the boys involved as they showed good strength and determination throughout the whole game.
Mr Green
Football: U9B Panthers v. Belmont
The Panthers carried on their winning ways with a 3-2 win over Belmont School on Thursday. Henry O'B got us off to a flying start with 2 quick goals in the first 5 minutes of the game with some good positioning at the back post and cool calm finishing. Theo scored DoK School's 3rd to put icing on the cake for his birthday. When defending uphill DoK School found it tough and slipped 2 goals but showed their confidence at the end with some lovely dribbling from Rommy B who nearly scored a 4th late on in the game.
Mr Green
Football: U13B v. Belmont
On Wednesday the U13 Bs travelled the short journey to play against Belmont. From the start DoK School showed good composure on the ball and passed it well to create great chances. Harry A, Felix R and Ahmed M capitalized on these and scored their first goals for the school. Casper C continued his run on goals with 2 well finished goals in the box. Throughout both halves DoK School showed accurate passing and created many goal scoring opportunities.
Mr Green