Weekly Bulletin 18/10/2019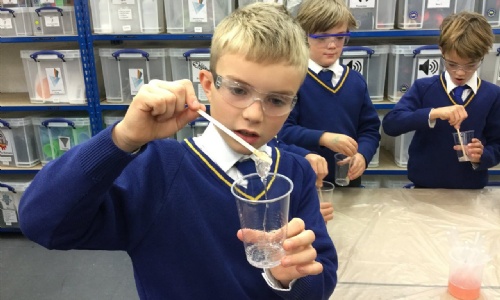 Wedding Bells will be ringing this weekend as our French teacher Madame Fellous marries Jack Stapleton in France and Jane Hopwood's daughter, Kate (one of our ex Head Girls!) celebrates her marriage to Tim Farr. We wish them all much happiness and joy this weekend. I would also like to take this opportunity to congratulate Mr Wright who has been appointed Acting Head of Prep and Pre-Prep during Mrs Green's maternity leave from January. Finally, I welcome Miss Polly Boor who has joined us in the Performing Arts department assisting Mr Rye and the team a few days a week and our new minibus driver, Steve Petch.
Yesterday, the School engaged in a day of Learning Walks observing the teaching and learning in the classrooms in order to reflect on the way we differentiate. There were some examples of excellent and inspiring practice as we continue to look at teaching each child at their point of challenge.
For those of you attending the PADoK "Top Gun" evening tonight, have a wonderful time!
Mrs Knox
Sports Talk - 'Running Across America'
On Monday afternoon, 35 pupils ranging from Year 7 to 11 (and quite a few staff!) attended Mr Finill's talk, 'Running Across America'. Mr Finill went into great detail regarding the nutrition, hydration, injuries, heat and miles that were involved in the epic challenge! It is quite unbelievable to think that he ran for over 40 miles each day, for 79 days with only 1 rest day!! The pupils listened very well and asked some really interesting questions. We also found out interesting facts including the amount of trainers used, the number plates they found along the way and even some goats that followed them during their adventure! Thank you Mr Finill for a very inspiring talk with some great take home messages for all the pupils in attendance, showing that with determination and perseverance, anything is possible! If you would like to find out more about Mr Finill's incredible trip in 2011 then you can follow these YouTube links to a shorter 13 minute clip or a longer, more detailed, film of his journey.
13 minute clip - https://www.youtube.com/watch?v=s8kTiR346Nk
1 hour 45 min clip - https://www.youtube.com/watch?v=zBYINXDur-s
Miss Vickers XXXXXXX
Year 5 trip to Winchester
On Thursday the Year 5s went to Winchester Science Museum. First of all there was a workshop that focused on the different states of matter and that matter can change between those states. They had the chance to try two different ways of making slime and discuss which state it may fit into. An excellent preview to their new Science topic. After a quick lunch we were treated to a breath-taking presentation in the Planetarium. Here we got to witness what the planets and solar system looks like, and then off to the Milkway and beyond... To cap it all off, we all had the chance to interact with the huge variety of games and activities that were on offer in the museum. Thank you to Mrs Lock for organising a wonderful trip that brought the subject alive for the pupils and showed them how awe inspiring Science can be.
Mr Gritton
Year 5 Social Evening
Year 5 enjoyed a social evening at school last week, allowing them to have time to bond further and enjoy a variety of activities. The evening began with a range of tag and team games to help burn off some of the pent up excitement. After a quick refuelling stop in the dining hall, it was time for a few team dance challenges to such classics like Gangnam Style. Possibly the highlight of the night, especially for the teachers! To cap off the evening we had refreshments and the children had the chance to take each other on playing some board games. It was a lovely evening and all of the pupils approached the activities with a sense of fun.
A great way to bring a close the first half term, and it hopefully strengthened the friendships amongst the year group.
Mr Gritton
Council Meetings
The Prep and Pre Prep School Council held their first breakfast meeting on Tuesday 15th October. The main topic for discussion was how to create a pupil friendly anti- bullying policy for the school. There were many different suggestions about what needed to be included and what the key points should be. There was also an opportunity for each year group to suggest ideas to focus on during the term.
Mrs Lock
Sports Performers of the Week
Josh: Really well done to Josh E for his amazing performance in goal vs Kingswood House. Josh pulled off some brilliant saves during the game critical moments keeping the boys in the match. Well done Josh!
Thiago G W: Well done to Tiago G W for a brilliant goal scored against Longacre School on Wednesday. Despite the tricky conditions, Tiago displayed a very high level of skill making himself a nuisance for the Longacre defence. Well done Tiago!
Matilda R: Well done to Matilda for a fantastic netball game on Wednesday afternoon against Longacre. She worked so well with the rest of her team and was always creating options for passes on the court. Well done Matilda!
Jasmine K: Jasmine saved some amazing goals in the hockey match on Wednesday afternoon. She stopped some hard hitting shots from the other team clearing them out wide far away from the goal. Well done Jasmine!
Mr Herbert and Miss Vickers
A few match reports from this week
Netball: U16 v. Farlington
On Tuesday afternoon our U16 Netball team took on Farlington at home. The girls had a shaky start, throwing away some easy balls but still managing to regain possession and managed to take an early lead of 9-5. In the second half we moved some players around and the communication and flow came through. Poppy S took control of the movement in the attacking end and Issy P and Bella R-B intercepted opportunities from Farlington into their shooters. In the centre court Izzy F, Fleur B, Laura S and Jasmine B worked well to use different channels and ideas to change up the set play and keep Farlington on their toes. The final score was 18-9 to DofK School. Well done girls.
Miss Vernon
Netball: U14 v. Farlington
On Tuesday afternoon, the U14A team stayed after school to play a netball match against Farlington. Due to the later start time of the match, the support was brilliant creating a great atmosphere for the game! The girls had some time before the game to sort their tactics and warm up thoroughly ready for what they knew was likely to be a tough game. The match was off to a fast pace as soon as the whistle was blown with both teams scoring and only a few turnovers during the first quarter. The U14s knew they had to play their own game and slow their passes down in order to get back into the game as they quickly went 6-4 down. Zoe L and Aoife W got into their stride in the mid-court and begun to keep possession of the ball with much more confidence. The second quarter involved much more delicate passes and better control of the ball, this in turn led to a very impressive turn around with the quarter ending 11-7 to DoK School. Izzy B begun to get into her stride with some beautiful shots and excellent rebounds with both Alice S and Milly B stepping up fantastically as goal shooters to help score for the team. During the third quarter, there was around 5 minutes when DofK School completely dominated the play with countless interceptions from Aoife W and Kora W in particular. Emma B worked tirelessly in GK and improved with every quarter, by the end of the match Farlington only managed to add a few goals to their total due to some great defence from DoK School. During the final quarter, Amelie W continued to controlled the middle of the court helping to direct her team into space and create goal scoring opportunities from every corner of the court. It was a wonderful team performance and the score ended 27-9 to DoK School, great work girls - keep it up!
Miss Vickers
Girls' Hockey: U13 and U12 v. King Edwards
On Wednesday afternoon, an U13 and U12 team travelled to King Edwards to play their second hockey match of the term. Both matches were absolute thrillers with goals coming left right and centre!!
The U12s were put under pressure very quickly with a few fast goals coming from their opponents. However, as the girls got into the game they remembered what they had learnt in their lessons and started to play some really good hockey. Abi W and Emily B worked well in defence and managed to make some accurate and powerful passes onto their midfield, made up of Frankie M and Ella S. The midfielders made some great run and during the second half in particular they made some lovely wide runs towards the goal. Annabelle R played an attacking role and on multiple occasions managed to get some shots on goal. The score ended 4-2 to King Edwards but included some great saves from Ariane L in goal and some quality goals from Ella S and Annabelle R.
Meanwhile, the U13s were playing on the other half of the astro. They had Millie W-D in goal making some crucial saves, especially early on in the game to keep King Edwards out. Ruby K and Sophie S were solid in defence, especially in the second half when King Edwards only had two shots on goal as the girls were relentless with their tackles. This allowed Alanna H, Tilly C and Poppy K to create countless opportunities with Maddie I getting a variety of shots on goal. The power of the girls passes was much improved and they managed to dominate the game in the second half. Well done to Alanna H for scoring a great goal in the second half. However, due to some breakaway goals from King Edwards and a goal in the last 2 minutes of the game, DoK School just lost out 4-3.
A huge well done to all the girls involved as they showed great improvement upon their last hockey match and were really starting to use the tactics and skills they've learnt in lessons!
Miss Vickers
Netball: U11 v. Longacre
On Wednesday the U11 Netball team travelled to Longacre for one of their last matches this side of Half Term. The girls' started off well making some great passes but at time huddling around the ball. Edie H worked hard in C using great change of direction and dodging learnt in lessons and Emma F made sure she chased after stray balls to keep possession. Our defence worked hard with Matilda R and Scarlet R making endless interceptions and working the ball back out to our attacking end. After some brilliant shooting from Jess I, Sydney R, Isla B and Clara H-S we came away with a 6-3 win. Well done everyone, I was really proud of you all!
Miss Vernon
Netball: Years 3 & 4 v. Longacre
Netball - Years 3 & 4
On Thursday afternoon, the Year 3&4 girls excitedly got prepared to play a netball match against Longacre in the newly lit sports hall at DoK School! The U9/8 team were ready and raring to go for their two matches as they played two Longacre teams in one afternoon! The first match got off to a quick start with DoK School scoring a goal in the first quarter. Isabella N and Eve M worked brilliantly together as GA and GS in order to create more goal scoring opportunities for the team. They were both on top form and managed to score a total of 6 goals during the game! However, this wouldn't have been possible without the incredible work of Poppy F, Erin C and Tansy B in the mid court as they made some great interceptions and some strong passes. Longacre managed to get back into the match towards the end so it was important that Isla W and Penny A could mark their shots and try to catch the rebounds. The score of the first game ended 6-1 to DoK School. After various changes of position, the girls were ready for their next game. Holly B and Lulu B had learnt from the Year 4 girls and managed to make some great dodges and use their accurate throws to help DoK School keep possession of the ball in the mid court. Pip C-G played well at both WA and GS, often creating a good space and being another great passing option. The goals just kept on coming with Eve M continuing her great form. Somehow, the girls didn't show any signs of running out of energy and they managed to win the second game 6-2! What a wonderful afternoon for the U9/8 team. Miss Vickers was very proud to see the girls focusing so well and managed to put the skills they had learnt in lessons into a game situation! Great stuff girls, keep up the hard work!
Miss Vickers
U13B's v. Kingswood House
DoK School travelled to Kingswood House on Wednesday full of confidence after their win the week before. This showed as they passed the ball around nicely playing the way they were facing and passing it into space or feet. This continued pressure resulted in a corner that Luca H took and found the head of Will P at the back post to put DoK School 1 up. DoK School continued to have the fair share of the possession but they could not capitalise on this and Kingswood House managed to score on the breakaway at half time. DoK School continued to pass the ball around and cross in some very dangerous passes but could not find the net. With us pushing further forwards to get a 2nd goal this allowed Kingswood House to score on the breakaway again twice. Well done to all the pupils involved as they should good composure on the ball and great teamwork.
Mr Green
Football: U13/12 D v. Kingswood House
This Wednesday, the U 12/13 D team faced Kingswood House in a 9 aside match on McRobbert pitch. The team was pinned down in their half for most of the half due to a relentless assault from Kingswood. However, tenacious defence saw the visiting team repeatedly denied. Then, just before half term, the Ds had a throw in on the half way line and after a piece of magic from Bobby and a scything run from Adam the half ended 1-0 to DoK School.
From the first whistle of the second half it was the D Team's turn to go on the attack. Solid defence often earned the team a turn over which was then quickly turned into a attacking opportunity through strong passing and positional awareness. This pressure enabled Max to get his first goal of the season and Adam to grab his second of the afternoon. Ollie B also had two solid shots that were agonisingly close to ending in the back of the net.
A testament to how the boys have all grown as players this term with each player putting in a man of the match display. The count down to the next match begins...
Mr Gritton
Football: U11 D v. Longacre
The U11 Ds travelled to Longacre and played two back-to-back matches, keen to show more aggression and determination. This had been developing well in the team over recent matches, and the first game underlined what a huge improvement the boys have made since the very start of term. As is our trademark, still, we began somewhat slowly but we upped our game much more quickly than we have in past performances. It was excellent to see our players lifting their heads and trying to find a team-mate with a pass. There was also a lot more confidence on display, with our defence refusing to give up in the tackle and the midfield showing strength and attacking threat when in possession. Whilst both games ended in defeat, the boys demonstrated admirable persistence and grit despite understandably tired legs. Those family members who came to support all commented on what great strides the boys have made, with special mention for Heath P, Ben K, Jamie C and captain Jack P who were the heartbeat of a terrific team effort. Well done boys.
Mr Wright
U9 Tigers v. Longacre
On Thursday saw DoK School host Longacre on the Wilsons' pitch due to the downpours throughout the week. DoK School kept the ball well and were camped out in Longacres' half but unfortunately couldn't get any space to get a shot away. Some strong tackling from Levi L and Elliot S ensured that Longacre didn't find a way to our goal. Fitness began to show in the 2nd half as Longacre passed the ball accurately and a good finish from their striker to cap off a good move. Well done to all the boys involved as they continued to show fight throughout the match.
Mr Green
U9 Panthers v. Longacre
The Panthers played their match after the tigers and continued in the same way with a lot of possession in the oppositions half. Good dribbling from Romy B allowed us to keep possession of the ball but unfortunately we didn't manage to exploit this and get a shot away. Strong tackles from Henry O and Eddie C kept Longacre at bay and tireless running from Harry L allowed Duke of Kent School to move up field. Well done to the Panthers as they have shown great progression from their match of the year to this one showing better structure and passing of the ball.
Mr Green
Football: U8/9 Lions v. Longacre
After last weeks 4-0 win against Belmont, the U8/9 Lions travelled to Longacre yesterday. Remy M played with great determination in defence and Freddie P showed great spirit as the captain. Dante R-D and Ben W showed good control and power when running with the ball. All of the boys showed an improvement in their skills and did not stop running throughout both of their matches. The first match ended in a 3-0 loss and the second a 0-0 draw. All of the boys should be very proud of how well they are progressing.
Mr Herbert

Table Tennis: U11 v. Longacre
On Monday, DoK School played their first table tennis match at home against Longacre. The Year 5 and 6 girls and boys were given an opportunity to show their skills and techniques on the Friday before and from this trial six pupils were chosen. The players were very excited to be playing on our new tables and all performed extremely well. After the first round of matches, DoK School were 4-2 ahead and maintained this lead with a 3-3 second session to finally win 7-5. The standard of play was encouragingly high and the sportsmanship from both teams was excellent. We hope to arrange many more of these fixtures in the future as well as giving pupils to take part in house events. Well done to Oscar H, Josh W-D, Vir O'R, Sam R, Miles C and Jude B
Mr Herbert