Weekly Bulletin 25/10/2019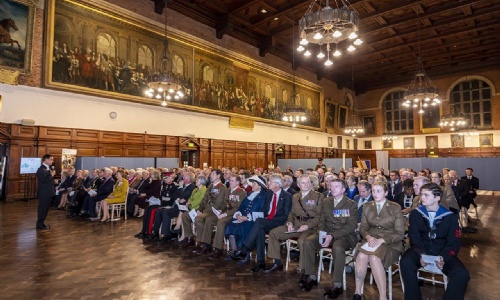 We have come to the end of a very busy half term and today was no exception with our Bake Off, re-enactment of the Battle of Hastings and House Swimming gala! Over half-term, I will be joined by a number of staff at the ISA Awards evening as finalists in 2 categories: Excellence in Art and Innovation for our Endeavour Award in the Prep School. We look forward to sharing the result with you. Our students in Tanzania are having a wonderful time. Do follow their travels and photos on Twitter. We look forward to seeing the students back at school on Monday 11th November, I am sure, with shiny shoes, neat hair and smart uniforms. Our Remembrance Day service is on that day. I wish you and your family a really lovely break.
Mrs Knox
PADoK Movie Night
"What an absolutely brilliant evening"
Last Friday night Old Hall was shaking with the sound of fighter jets and 80's music at the most recent PADoK event.
Almost without exception everybody came dressed to impress in "Top Gun" themed clothing. After a quick welcome drink we settled down to the first half of the movie, but this wasn't a normal movie night everybody sang along to "That loving feeling" and whooped a cheered to appropriate (and inappropriate) moments in the film. We also had "Top Gun" related tasks and quizzes to complete. Half way through, at a very "suitable" moment the movie was paused as we enjoyed a wonderful American diner themed supper provided by our fabulous chef. Then we all sat down for the second half of the movie, but this time we were tasked with creating our own fighter pilot helmets (from swim hats!) and model fighter jets, which were judged on style and how far they could fly! The film was concluded with cheers and a standing ovation as Tom Cruise and his team defeated the evil Russians.
But the evening didn't end there, everybody danced into the small hours to all the best 80's music hits expertly put together by DJ Mr Garrood.
This was another outstanding PADoK event and I am very grateful to PADoK reps Mrs Leslie and Mrs Weatherby for all their hard work to make such a brilliant and fun evening.
Mrs Trotman
House Bake Off
On Friday, the first round of the Duke of Kent School House Bake Off started. Needless to say, the competition in the first round was fierce as this year provided us with some of the most imaginative entries to date. The House Leaders and House Captains had an extremely difficult (and tasty!) task of sampling all of the cakes and bakes brought in. They then had to make difficult decisions of which entries would be taken to the next round: The Semi-Final.
At break time, the students held a bake sale to raise money for charity. Thank you to the Prep House Captains and Charity Committee, as well as the Senior Prefect team, who manned the stalls during their break time. All their efforts paid off as a school we raised £140.
Congratulations to the students through to the semi-final:
Prep

Senior

Armstrong

Pip Cheshire- Gower

Fleur Seviour & Frankie Mason

Chichester

Daisy Richmond

Aoife Willis & Kora Williams

Hilary

Sydney Rush

Adam Shaw

Whittle

Matilda Read

Zoe Leslie & Emily Betts
These pupils will be competing for the 2 Prep School and 2 Senior School places in the Grand Final in December. The Prep School semi-final will take place on Monday 18th November and the Senior School semi-final on Thursday 21st November.
Well done to all the students who have taken part so far - more updates after half term!
Mr Gritton and Miss Anand
Alumni News
Hamish Pratt (ex Duke of Kent School pupil 2008-2017) has been appointed one of the two 'Her Majesty's Lord Lieutenant of West Sussex's Cadet of the Year' (2019-2020) at a ceremony at Christ's Hospital, Horsham, this week. The Lord-Lieutenant, whose primary duty is to uphold the dignity of the Crown, is Her Majesty's personal representative in the county and among her many functional duties are: Arranging and accompanying Royal visits to West Sussex; Presenting medals, Queen's Awards and other commendations and maintaining links with the armed forces and the emergency services.
This week's awards recognised Reservists, Civilian volunteers and Cadets and there were about 20 meritorious awards made that evening. In addition, the LL appoints up to three cadets each year (one each from Sea Cadet Corp, Army Cadets and Air Training Corp) who will assist her during any official Royal visits to the County. HMLL is the first point of contact at each visit. Hamish, whilst currently at Bristol university, can expect to assist at around three (out of twelve) such events in the year ahead. (The screen behind him shows his rank as Cadet Sergeant but he has since been promoted to Cadet Flight Sergeant)
Pictured: Hamish with Her Majesty's Lord Lieutenant Susan Pyper showing his certificate and a badge which he is entitled to wear when in uniform; and a general shot of the hall)
Mr Pratt and Mr Rye
Prep School Talks
The Prep School were entertained with two very interesting talks this week. The first one was based on Arthur D-K's trip to save the turtles in Costa Rica. There were lots of very beautiful photographs and Arthur was able to identify all the animals and tell us a little bit about each one; demonstrating his excellent knowledge. There was also a power point compiled by Arthur and Kit which told us a little bit about Costa Rica itself.
Staying in South America our second talk was all about Peru. Edie H, Eva P-R and Lucy P spoke very confidently about the different animals and told us a little bit about the history of Peru. They also answered some pretty tricky questions at the end! Well done to everyone who contributed to the talks.
Mrs Lock
School Umbrellas
If you would like to purchase an umbrella or two (£17 each) please email me, evernon@dokschool.org and the total amount will be put on your end of term bill.
If you would like to see one before purchasing, please see me in the front office.
Miss Vernon
Pause for Thought
Well, we made it! Whatever you are up to this half term from Bonfires to pumpkins or adventures further afield, I hope you have a thoroughly well deserved rest.
With every blessing
Rev'd Kia
Sports Performers of the Week
Daisy K for her excellent playing in the football match on Tuesday afternoon, Daisy did a fantastic job as captain for the team and was also awarded girl of the game by the other team. Well done Daisy!
Alex L for his amazing performance in house football this week, he was a huge asset for his house during all three matches. A great display of football Alex!
Monty L for his amazing football skills in house football where he scored a hat trick against Whittle in the last game. He proved to be a great teammate of the Hillary squad, encouraging his peers through difficult games on and off the pitch. An excellent level of skill and sportsmanship shown throughout the competition. Well done Monty!
Eve M for her outstanding playing in the mixed house netball matches on Thursday afternoon. Eve scored some great goals during the matches and showed all the skills she has been learning throughout this half term during these games. Well done Eve!
Mr Herbert and Miss Vickers
A few match reports from this week
Girls' Football: U16/15 v. Shoreham College
Shoreham Football
DoK School's U16/15 girls football team travelled to Shoreham College on a beautifully sunny Tuesday afternoon! The girls had time for a good warm up and a chance to get used to the grass and the size of the pitch before the football match begun. The game started at a very fast pace with goals coming from both teams within the first 5 minutes of the game. Shoreham took the lead but DoK School came straight back with a great strike from Kiki B that went past two defenders and the goal keeper whizzing into the bottom right corner of the goal. At 1-1, the team got into their stride and found their structure in defence with Daisy K and Issy F continuing on from their strong performance at the ISA Festival just a few weeks ago. Megan A had control in goal, making some important saves and countless powerful goal kicks. Kiki B, Alice S and Fleur B worked brilliantly in midfield, passing with accuracy and showing some great skill to get past the Shoreham defence and create further opportunities for the team. A skilful run and cross into the box lead to a handball from Shoreham, giving DoK School a penalty with a chance to take the lead. Laura S came forward to take an excellent penalty and calmly put DoK School ahead 2-1. During the last few minutes of the first half, Jas B made a cracking run into the box and managed to score a brilliant goal for the team making the score 3-1 at half time. The second half was equally exciting with multiple chances for both teams but the score remained 3-1 to DoK Schooll. What a wonderful performance girls, Miss Vickers was extremely proud - well done! A particular congratulations for captain, Daisy K, who was very deservedly given girl of the game for her outstanding performance in defence.
Miss Vickers and Mrs Vermeulen
Netball: Year 7 and 8 House Matches
On Monday afternoon Years 7 and 8 played their first house matches this term in Netball, they were all very excited and keen to play despite the cold weather. The girls played 7 minute halves with a little break for some water and a team talk at half time. For the first game we started off with Armstrong v Chichester on one court and Hillary v Whittle on another, all teams started strong, determined to make their house proud. Imogen C (Armstrong) made some fantastic interceptions during the games winning the ball for her team and getting it down to Maddie I (Armstrong) who had some fantastic shots on goal allowing them to win their first game. Sophie S (Hillary) also made some wonderful interceptions in her game against Whittle which helped the team also win their first match. Violetta P (Whittle) played very well with lots of energy always moving around the court creating lots of space for the team to pass the ball into. The girls had a quick team talk and swapped over ready for their next game. For the second game we had Armstrong v Hillary and Chichester v Whittle, the girls were all ready to play and excited to win after playing their first games already. Jasmine K (Chichester) made some great interceptions during the game with some big jumps gaining the ball back from Whittle. Alex k and Millie W-D (Chichester) made some brilliant shots on goal under pressure ending the second game in a tight draw. For the third game of the afternoon we had Armstrong v Whittle and Chichester V Hillary, all the girls were playing extremely well and both games were very intense. Poppy K and Ruby K (Hillary) worked well with some long hard passing across the court getting the ball down to their shooters. Abbie W (Whittle) defended well intercepting some hard balls getting it back to her team. Once the final whistle had been blown we had come across a draw for 2nd place.. This led to an epic playoff match between Chichester and Hillary fighting for 2nd place. In the end Chichester won with a close 2-1 final score.
Overall the afternoon was a great success with Armstrong 1st, Chichester 2nd, Hillary 3rd and Whittle 4th. Well done to all the girls that participated in the house games!
Miss Spence
Football: Boys' Years 9-11 House Matches
On Tuesday saw the Year 9-11 Senior house football matches A & B team competition take place. It was great to see every senior boy involved and trying their hardest.
In the A team competition saw Armstrong play Whittle in the 1st semi-final in a tightly contested match with it going to penalties after being 1 all. Whittle won on sudden death to see them progress to the final. In the other semi final Hillary won 3 nil against Chichester to see progress to play Whittle in the final. This was another tightly contested match with the game going to penalties and Whittle coming out on top. In the 3rd and 4th play off match Armstrong won 2-1 against Chichester.
1st - Whittle
2nd - Hillary
3rd - Armstrong
4th Chichester
In the B team competition Armstrong drew Whittle in the semi final and this saw a penalty shoot out with Armstrong coming out on top. In the other semi-final Hillary won 1-0 against Chichester to head to the final. In the 3rd and 4th play off match it was a tight game with end to end chances for Whittle to win on penalties. In the final saw Hillary win 1-0 against Armstrong to win the competition.
1st - Hillary
2nd - Armstrong
3rd - Whittle
4th - Chichester
Mr Green
Football: Years 5 & 6 House Matches
This Wednesday saw the year 5 and 6 house football take place with all four houses playing fantastic football and displaying excellent sportsmanship by the boys on and off the pitch. Well done to all who took part and a big thank you to all the lovely parents who came out to support.
The house finals will be played Wednesday 20th November where Chichester and Whittle will battle it out in the 3rd and 4th place play off whilst Armstrong will face off Hillary in the final.
Mr Cabanes