Weekly Bulletin 15/11/2019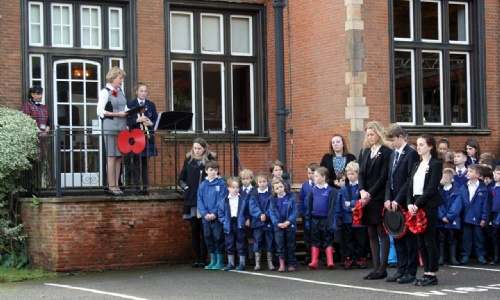 It has been a great start to the half term with the children ready to get back to school after their break. We started the week with a moving Remembrance Day ceremony and I was so impressed by the manner the children engaged with the event, particularly our Nursery children who listened solemnly clutching the poppies they had made that morning. Our numbers then swelled on Thursday as we welcomed 40 visiting pupils for their assessment day and, as usual, our pupils were splendid hosts. Finally, we enjoyed sharing the children's learning journey during the Parent teacher evening this week. A busy but super week. Have a lovely weekend.
Mrs Knox
Remembrance Day
On Monday our whole school community paused with the rest of the country to remember the fallen. As well as honoring those who have lost their lives in conflicts past and present we also focused on the part we all play in working for and maintaining peace. We were reminded by the words of Mother Teresa that 'Peace begins with a smile' and that is something we can all do.
The last post was played movingly by Kora W (Year 9) as the whole school from Pre-Prep to year 11 and all staff gathered around our newly erected flag pole and flag. Wreaths were laid by Minnie C, Blue R and Archie L and Mrs Knox read a touching poem written by a 19 year old from the trenches to his mother.
Lest we forget
Reverend Kia
The Tanzania Trip
Over the half term holiday Miss Frances, Mr Watson and a group of intrepid students set off on Duke of Kent School's first trip to Tanzania, in search of excitement, adventure and new experiences. During our time there we were hosted by our ex Deputy Head, Mr Hubbard, who is now Head Teacher of Morogoro International School, around 5 hours drive from Dar es Saalam. The 10 days that we spent in Morogoro passed in a blur of activity, excitement and colour, resulting in experiences that we will remember for a lifetime.
Perhaps the most rewarding aspect of the trip was the time students spent working in MIS alongside their African peers. They attended GCSE lessons, took part in assemblies, had an impromptu African street dance lesson, enjoyed the school pool and joined in with the day to day of school life. They also helped Prep School students with their classwork; some read stories, others were coaxed into pretending to be crocodiles and elephants while one unlucky pair tackled some Year 6 geometry that even left Mr Watson stumped. They where they were a huge hit! Strong friendships were quickly formed and Instagram accounts were shared, while Mr Watson tried to encourage the more old fashioned pen and paper approach to staying in touch! I hope that these friendships will continue and strengthen into the future.
While visiting this beautiful country and spending time with its kind, gentle people, you can't ignore the fact that Tanzania is one of the poorest countries in the world. Close to 70% of Tanzanians live below the poverty line, girls education is woefully behind international standards and roughly 42% of children under five suffer from chronic malnutrition. We visited a number of charities doing great work to support areas of the community, neglected due to a lack of money or public awareness. These included Neema Crafts (where we enjoyed a memorable chocolate cake) which is run by deaf and disabled Tanzanians, allowing them to support themselves; SEGA Girls School, which promotes girls long term education; and APOPO, who are training rats (yes rats!) to detect mines, many of which were planted on the Ugandan borger during the 1978-79 'Kajera War'.
We also worked with TEG, a grassroots youth charity from Morogoro who are trying to combat the mass deforestation of the local Uluguru Mountains. They treated us to a guided hike through the small farming villages that pepper the mountainside and then for a dip in the refreshingly cool Choma Waterfalls. With eagles circling overhead we worked with local villagers and subsistence farmers planting saplings in an attempt to claw back some of the rainforest that has given way to farmland over the last decade.
Many tourists make the long trip to Tanzania just to visit one of its world class national parks, so while here we took the opportunity to have a game drive. It was a long and dusty drive to Ruaha National Park, but we were rewarded for our efforts. Animal sightings began before we even arrived at our safari lodge and when the game drive began we saw more wildlife than I can list; impala, zebra, more elephants than we could count, warthogs, the shy and elusive dikdik, hippos, crocodiles, elegant giraffe and one not so lucky one, being feasted upon by a pride of lions! Something we witnessed from almost touching distance - unforgettable! All this in just two days as well as a list of wild birds as long as your arm. Tom S and Ben P will be able to tell you exactly which ones! We were kept safe in our luxury lodge by Maasai warriors who escorted us too and from our rooms to the pool, keeping the inquisitive elephants at bay.
There is a Tanzanian, Kiswahili proverb; 'Atangaye na jua hujuwa'; he who wanders around by day a lot, learns a lot. I am confident that our 'wanderings' have taught us a great deal. Our students have returned a little taller, a little wiser and a little more adventurous. I hope they will carry the memories and friendships formed on this trip with them for some time. As their teachers we found them a delight to spend time with and really enjoyed seeing their excitement at each new experience. This was not an easy trip and they all demonstrated strength, determination and courage - all traits that the Maasai look for in their warriors. In addition they showed honesty, kindness, respect, responsibility and effort - the traits we seek to engender in our students.
Mr Watson
The Battle of Hastings
Battle was recently joined at 'Hastings' between our two Year 6 History classes. We re-enacted a 'rapid march' of '185 miles' led by King Harold (Josh W-D) who, fresh (but tired) from defeating the Vikings at Stamford Bridge (York) took on his next challenger for the throne, Duke William of Normandy (James B). King Josh and his fellow housecarls and 'fyrd' soldiers held the top of the school bank in a 'shield wall' against the Duke's attacking archers, foot soldiers and cavalry. They were successful until, alas, they were too tempted to run downhill to pursue the retreating Normans......whose cavalry then cut them down. With his shield wall weakened Harold was then struck down by an arrow in his eye ('ouch'!) and the fight was lost. The crown passed to Duke William......and English history changed forever! Luckily there were no real casualties beyond some muddy wet clothes and armour. Well done to all of Year 6 and Mr Wright as the roving war photographer.
Mr Lodge
Sports Performers of the Week
Lucy P for her excellent playing during the hockey match stopping the opposition from scoring by sweeping the ball away and her strong tackling. Well done Lucy.
Tilly C for her excellent playing during the netball match on Wednesday afternoon. Tilly played with lots of energy making some fantastic passes and interceptions throughout the game whilst playing at a constant high standard. Well done Tilly.
Edie H for her brilliant playing during her netball match on Wednesday afternoon. Edie scored an excellent goal for the team! Well done Edie.
Well done to Patrick W for his amazing performance in the house football finals on Thursday. Patrick showed excellent levels of skill on the pitch and great encouragement off the pitch and also scoring a brilliant free kick from what seemed to be an impossible angle. Well done Patrick!
Congratulations to Marcus D in year 9 for his brilliant performance on the football pitch Vs Frensham Heights School earlier this week. A great level of maturity was shown as he lead the team to victory encouraging his teamates throughout the game. A great captain's performance Marcus and a great game!
Mr Herbert and Miss Vickers
A few match reports from this week
Cross Country: Handcross Park Cross Country Meet
Twenty nine pupils from Years 3 to 8 travelled in the cold to Handcross Park on Monday afternoon for their annual cross country event. The effort, enthusiasm, fitness and all round behaviour was fantastic from the Duke of Kent School team. The course ranged from 1200m for the youngest runners to 2400m for Years 7 and 8. Duke of Kent School particularly scored well in the older age groups, coming third out of nine teams in both the girls' and boys' events. The whole squad managed a creditable fourth place finish overall. Well done to all that run.
Mr Herbert
Girls' Hockey: U16 & U15 v. St. Edmund's
On Tuesday afternoon, Duke of Kent School's U16 and U15 teams travelled to St Edmund's to play one of their first hockey matches of the term! Both teams warmed up and then the U16s played their match first whilst the U15s cheered them on! The match was very close from the start, with great quality being played by both teams. St Edmund's took the lead then Fleur B showed some fantastic skill work to get around their defence and open up some space to score a great goal. The score was 1-1 at half time and the game was all the play to for! Izzy P and Sophie D worked well in defence to keep St Edmund's out during the second half. With further good play in the midfield, the girls created more great scoring opportunities! The game finished a very well deserved 2-2! Next up were the U15 girls, they went a goal down early on but then began to get into their stride with some excellent defence from Issy F and strong passes through the midfield. The girls began to look up and made good attempts at using the space to get into the D. Poppy S was on great form and managed to slot two goals past the very impressive St Edmund's defence with the final goal coming in the last play of the game. Therefore, the match finished 2-1 to Duke of Kent School. Well done to both teams for some excellent play and dealing very well with the extreme cold conditions!
Miss Vickers
Girls' Hockey: U14 A v. St. Edmund's
On Wednesday, the U14A girls' hockey team braved the increasingly wintry temperatures and conditions to partake in what was a very tight contest against St. Edmund's. Molly G bravely took position in goal, so once she was padded up we were ready to go. The opposition started quickly, using their pace to their advantage and we quickly found ourselves 1-0 down. However, our standard quickly lifted as we started to use the space of the pitch and make some lovely passes out wide. Hannah S and Lucy M worked hard up and down the pitch, providing options upfront and working back to defend. This enabled Amelie W-B to have a shot at goal, which she duly took and scored; 1-1. Some quick substitutions to provide fresh legs and we found ourselves 2-1 to the good courtesy of a hard fought goal from Emily B.
In the second half, Molly G played in goal for St Edmund's as they were without a goalie and she should be commended for making some solid saves against her own team mates and helping to make the game the exciting and close affair that it was. Zoe L and Aoife W took a turn at defence and showed brilliant skill stopping their attackers in their tracks and intercepting a wealth of passes and attempts on goal. However, we were up against it without a goalie and they worked their way towards another two goals. Thankfully Emily B also scored a second goal to keep the score level at 3-3 with 10 minutes left. It was here that Celine C really showed her strength and skill, weaving round a number of their defenders and making some excellent tackles. This earned her a well deserved goal from an excellent piece of dribbling and strong slap hit into the bottom corner. She was ably supported by birthday girl Kora W and Izzy B who had moved up front to provide some passing options, using their strong awareness of the space on the pitch. Some last minute efforts were unable to be converted to a goal and the game finished and fair 4-4, which reflected well the high intensity and strength of both teams.
Mrs Vermeulen

Netball: U13B v. St Edmund's

On Wednesday afternoon our year 8 girls played in their first netball match back after the half term, it was a cold afternoon but the girls kept moving amount keeping warm throughout the game. They played a tough game against St Edmund's but tried their best to get the ball down to their goal. Two fantastic goals were made by Hannah M with help from Amber C. The girls played at a fast paste constantly moving around passing the ball wide and intercepting the passes made by St Edmund's and winning the ball. St Edmund's ended the game with a win but a big well done for the girls who played.
Miss Spence

Girls' Hockey: U15B v. St Edmund's

Despite the cold weather and rain the U15 played a fantastic hockey match against St Edmund's on Tuesday afternoon. St Edmund's showed up with a strong team ready to play a tough game against us, the girls played extremely well with a strong defence helping to clear the ball wide. Lucy P did a fantastic job at staying at the back and sweeping away any balls that came into the D, Martha M also did a great job at tackling the players trying to win the ball and get it up to the midfields. Well done to Ava P who volunteered to play in goal and worked hard saving the shot that were fired at her. Iris R , Daisy M and Emma M did a great job playing up front and winning the ball over and taking the up the line to get to our goal. We had some close misses on goal which was unfortunate as the girls worked hard getting the ball to the goal. Unfortunately St Edmund's Walked away with the win but well done to everyone who played!
Miss Spence
Netball: U9/8 v. St Edmund's

Thursday afternoon the U9/8 played in a fantastic Netball match against St Edmund's. All of the girls were very excited for the match and had lots of energy on the court. They created lots of space by running around and played some amazing netball. They have all worked hard on learning new skills and applying these skills to the game. Each girl did some great passing and intercepting throughout the match. Isabella N and Eve M scored three fantastic goals during the game. Well done to everyone who played!
Miss Spence
Boys' Football: Year 3 & 4 House Football
On Thursday saw the Year 3 & 4 boys battle it out in the cold weather for their house competition. This saw two houses join together to play the other two houses; with 5 points for a win, 3 points for a draw and 1 point for a loss. The first match was very tight with it ending in a 1-1 draw between Armstrong & Hillary vs Chichester and Whittle. The boys then found their scoring boots with the next 2 games being 3-0 and 3-1 matches. Well done to all of the Year 3 and 4 boys as they have shown an improvement in skills throughout the entire year.
Final Positions:
1st - Chichester
2nd - Hillary and Armstrong
4th - Whittle
Mr Green
Boys' Football: Year 7 & 8 House Football
On Wednesday saw the completition of the Year 7 & 8 House Football competition. The 3rd and 4th playout match between Hillary and Chichester saw a very tightly contested match with it being 1-1 during normal time resulting in sudden death pentalties. Well done to Hillary who kept their nerve to win. In the final saw a more calm approach with each side keeping possession of the ball and waiting for their opposition to make a mistake, resulting in Whittle winning 1-0 against Armstrong.
Final positions:
1st - Whittle
2nd - Armstrong
3rd - Hillary
4th - Chichester
Mr Green
House Swimming
The House swimming gala took place on the Friday before half term. Pupils from Years 3 to 11 to part. The atmosphere was fantastic with so many swimmers and a large crowd of parents. Many of the races were very tightly contested with swimmers displaying excellent determination and technical ability. The scores were very close with only one point separating first and second going into the relays. The final score was:
1st - Chichester 102
2nd - Hillary 93
3rd - Whittle 91
4th - Armstrong 81
Congratulations to Violetta P and Sam I for winning the Best Female and Male Swimmers. Well done to all who took part and thanks to parents for your amazing support.
Mr Herbert