The Weekly Bulletin 22/11/2019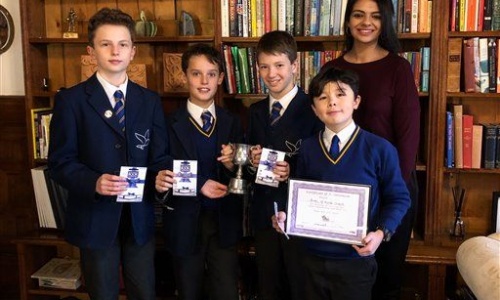 What a busy week for the Duke of Kent School. As you know, we welcomed three ISI Inspectors this week as part of regular inspections required by the Department of Education. They were most complimentary about the pupils they engaged with who were articulate, confident, reflective and respectful. We were able to showcase our School and, whilst it was an exhausting few days, a really positive experience for all. Thank you so much to our parents who completed the survey and took the time to give some really useful feedback. The pupils who participated in the Kid's Lit competition are also to be congratulated on their win and we wish them well in the next round. They tell me the final is in New Zealand! Have a lovely weekend and good luck to all of the performers in Beauty and the Beast next week. It is sounding amazing!!
Mrs Knox
Kids' Literacy Quiz
On Wednesday the top eight literature brains from Years 6, 7 and 8 travelled to Portsmouth Grammar School to take part in the International Kids' Lit Quiz. Imogen C, Harry D, Leo H, Harry A, Ozzy H, Freddie W, James B and Matilda R travelled down to Portsmouth with Miss Anand and myself by minibus. Hurriedly eating our packed lunches, we arrived in time for the quiz master Wayne Mills to begin the 10 round quiz. Duke of Kent School 1, who played their joker in the first round, went quickly into first place and won the tie break, winning books for their team. Duke of Kent School 2 kept up the pace and just narrowly missed out on a prize for the team. We were ably supported by both sets of Leo's grandparents who came to spectate, with his grandad winning an audience prize! After the tough two and a half quiz, we were thrilled to hear Duke of Kent School 1 announced as overall winners of the Southern Regional Heats against 18 other teams. Miss Anand and I jumped out of our seats in celebration as the team turned to us in awe and disbelief! Both teams returned to Peaslake triumphantly with certificates, pens and a trophy to boot. Duke of Kent School 1: Ozzy, Leo, Harry D and James, are invited to represent the south in the national heats in London in a fortnight - get reading boys! Miss Anand and I were delighted with the camaraderie and polite behaviour of all our students and want to congratulate them on this as well as the tremendous achievement of winning; we are very proud of all those that took part.
Mrs Douglas
House Bake Off
The semi-finals for the Duke of Kent School Bake Off were held this week, giving our 16 semi-finalists a chance to once again dazzle the judges with the cakes that set them apart from the rest of the bakes that were entered this year.
The attitude of the students was excellent. All of the Prep and Senior competitors approached their semi-final with enthusiasm and gusto. Whether it was adapting when things didn't go quite as expected or encouraging and congratulating their competition on their hard work.
Thank you to Mr. Hanvey and Mrs. Knox for offering their expertise as judges. The quality of the cakes made this a very tasty but tough job as the decisions were very tight.
Our finalists are:
Prep - Sydney R ( Hillary), Daisy R (Chichester)
Senior - Fleur S & Frankie M (Armstrong), Zoe L & Emily B (Whittle)
The Grand Final will be held on Monday 2nd December. Their efforts will be judged by our special guest, Stephen Carter-Bailey.
Well done to all of the semi-finalists, you have a lot to be proud of, and good luck to our finalists.
Mr Gritton
Anti-Bullying Week
Duke of Kent School have been taking part in activities this week to observe Anti-Bullying Week. Pupils took part in the Odd Socks Day to show support for individualism and diversity. Children from the Senior School and Prep School have been discussing how important it is to be kind, reassuring, supportive and respectful of the people around us. PSHE lessons have allowed pupils to reflect on their own and each others behaviour; they have debated how we can continue striving to keep bullying out of Duke of Kent School. Senior pupils will be given a chance to enter their storyboard ideas for a Duke of Kent School anti-bullying video. The Prep School pupils have entered a competition to produce cartoons promoting anti-bullying. The Art Department have helped pupils to create a very powerful piece of work using photographs and handprints to spell out the message 'Push Bullying Out', this will be displayed in the school.
The week concluded with children from the Prep and Senior School spelling out RESPECT! on the front bank. Thank you to all of the pupils and staff who have made this week so rewarding!
Mr Herbert
Pre-prep and Prep School Council Meetings
The Prep School Council met on Tuesday 19th November to discuss their ideas and suggestions for areas of improvement or change in the school. There were quite a lot of different ideas about changes they would like to see at lunchtime; for example having hot chocolate at breaktimes occasionally, having bread which could be used for a sandwich, Taco Tuesday and Pizza more often. All of these have been forwarded to the catering department. The Council also discussed the choices pupils are making at lunchtime and it was agreed that it might be a good idea to remind all pupils about eating a balanced diet, perhaps through an assembly presentation.
It was agreed that we would go ahead with a Disco next term and use it as a fundraising event.
There were also some suggestions about new activities for next term, which will be forwarded to Mr Green.
Mrs Lock
Sports Performers of the Week
Annabelle B for playing very well in her netball match on Wednesdayafternoon and being awarded girl of the game from the other school.Well done Annabelle!
Izzy B for stepping up and playing an amazing netball match in GK for the U16's last minute. Izzy played extremely well and was a great asset to the team against Box Hill School. Well done Izzy!
Rhys W Performer of the week: Well done to Rhys in year 5 for his amazing performance in the house football on Wednesday and great attitude throughout supporting his house. Well done Rhys!
Year 11 1st XI v. Box Hill School 1st XI: This Tuesday saw the year 11 1st team travel to Box Hill School in a tight affair finishing 2-0 to Duke of Kent School. With an injury early on and no substitutions... the boys pulled through scoring two amazing goals against a very organised Box Hill School. Well done boys!
Years 5 and 6 Hillary (boys house football): Congratulations to the boys in Hillary who were in house football this Wednesday. They all played amazing football and showed great enthusiasm throughout. This proved to be evident as the boys went all the way to win the house football tournament! Congratulations to you all!
The PE Department
Pause for Thought
Pause for thought 22nd November
I love this picture. I know it's a little twee but the narrative it portrays for me resonates in our busy world.
Jesus was a busy man. People to heal, speeches to give and the world to save. He could have rushed around like a whirlwind from person to person, place to place. But nowhere in the Gospels does it say that he was in a hurry. Far from it. He always has time. Time for people; to hear their story, their worries, their joys and more often than not, their sorrows.
The most important gift we have is each other. The most important commodity we have is time. Let us share that with the people around us. There is no better way to show we care.
Have a restful weekend
With every blessing
Rev'd Kia
A few match reports from this week
Netball: U16 v. Box Hill
On Wednesday the U16 Netball team faced Box Hill School in some extremely cold conditions. The girls came out with some strong defensive play keeping the goal count low and giving the team time to settle and find their flow in the game. In the second quarter there was a lot more communication in the defensive circle between Izzy P and Izzy B and between them they managed to make good calls and turn the ball over a number of times. Poppy S, Sophie D and Minnie C worked up a fantastic lead with shooting and kept their defense on their toes. At half time the score was 17-10 to Duke of Kent School.
In the second half of the match the team dug deep and worked so hard to maintain their lead. Issy F made some fantastic interceptions and managed to shut down space in the center court with Laura S which carried on into the final quarter. The feeds into the circle in the final quarter were accurate and different to keep Box Hill guessing and resulted in a 7-1 goal difference in the final quarter. The final score was 24-11 to Duke of Kent School, well done girls for a very well deserved win. A special mention and thanks to Izzy B for stepping in at GK at the last minute.
Miss Vernon
Netball: U12 v. Pennthorpe
On Wednesday afternoon, Duke of Kent School's U12 team made the short journey to Pennthorpe for their netball match. The game was extremely close from the very start, with both teams managing to defend well, keeping the goal scoring opportunities to a minimum during the first two halves. The U12s came alive in the third quarter with Alex K and Esme P shooting from all kinds of angles to give Duke of Kent School the lead. Frankie M, Ava W and Abi W linked up wonderfully in the mid court and managed to show great improvement in their movement to help create space for the team. Rose S, Annabelle R and Violetta P all worked extremely hard in their positions and gave 100% effort throughout the game. A huge well done to the girls for a very well deserved 10-4 win.
Miss Vickers
Girls' Hockey: U13/12 v. Cranleigh School
On Wednesday afternoon the U13/12 girls played in a back to back match against Cranleigh School. It was the cold afternoon but all the girls played their best and kept warm throughout the afternoon. The first match we realised that Cranleigh school were ready to play a hard game and came on the pitch determined to win. Jaz K played extremely well in goal, saving a lot of the shots that they had taken on goal. Ella S and Sophie S played well in midfield running back to helping defence when needed.
The second game started and the girls were keen to score some goals. Emily B worked hard in defence putting her stick down and winning the ball back and getting it to Amber C and Josie B in midfield that would help run the ball up the line with some fantastic play. Millie W-D played extremely well throughout the match making some great breaks with the ball and was able to score three great goals!
Well done to everyone who played!
Miss Spence
Netball: U9/8 v. Pennthorpe
On Thursday afternoon, Duke of Kent School's U9/8 team welcomed Pennthorpe for a netball match. Although it was a very chilly day, the girls worked extremely hard to keep warm! Both teams showed some great passing skills and bundles of energy during the first quarter, it was a very close game with neither team managing to score. With the game all to play for, Isabella N continued to defend with brilliance to keep Pennthorpe out of their circle. Both teams managed to get a goal during the second quarter with Eve M scoring with confidence. Pennthorpe stepped up a gear and managed to take the lead by just 2 goals. Erin C and Pip C-G linked up nicely to score another goal for Duke of Kent School in the fourth quarter. The score ended 4-2 and in the final quarter the girls showed some excellent skills and great team work to get the ball all the way down the court with speed! Pennthorpe School awarded the Duke of Kent School pupils with three stickers - Penny A received best attitude for working tirelessly in defence whilst captain Eve M got the leadership sticker and Isabella was given the award for best skill with her great defence. Well done to all the girls involved for showing great resilience in the cold conditions and playing some brilliant netball!
Miss Vickers
Boys' Football: U15/14 v. Box Hill
The mighty 15/14 B's boys football team took on their natural foe, Box Hill, on Tuesday in a 7-a-side series of matches. As Box Hill kept on rotating their A and B teams it was hard to keep up with the scores and the scoring. I can report, however, that in spite of the promise of a team KFC were we to win, we could not quite manage that. Some battling football, in which occasional lack of quality was compensated with humour and effort, remained unrewarded apart form a stunning 30 yard 'worldie' form Archie SB. Well done to all the boys who earned their hot dog at the end of the game.
Mr Macdonald
Boys' Football: Year 2 Tag Rugby v. Belmont
Yr2 Tag Rugby
On Monday saw Year 2 have their first ever school fixture travelling away to Belmont school to play Tag Rugby. It was a great experience for them to have their first minibus journey and after game tea. The pupils performed exceptionally well in-front of a large support from their parents. Showing great teamwork Duke of Kent School passed the ball well and showed bravery to get the tags. Well done to all the pupils involved as they took it all in their stride and showed of their skills that they have been practising in lessons.
Mr Green
Boys' Football: U14's v. Box Hill
On Tuesday the U14 team travelled to Box Hill for their repeat fixture from earlier in the year against Box Hill School. It was a tight fought contest with some strong tackling from Ben W and good goalkeeping from Freddie N ensured that the score was kept down. Freddie S ran tirelessly in midfield creating chances for Ben W and Marcus D upfront. Ben W showed a calm head with his finish as the opposition goalkeeper came rushing out and he chipped it over him. Marcus D scored Duke of Kent School 2nd goal close range after losing his defender at the back post and beat the onrushing goalkeeper.
Mr Green
Boys' Football: U12 A's v. Box Hill
Wednesday saw the U12A's travel to Box Hill for their return fixture from the first game of season. Duke of Kent School showed good dominance in the first half but unfortunately couldn't produce the final ball. Jack B managed to break the deadlock just before half-time with a run from midfield and a cool finish. After half-time U12s showed better focus and switching the ball from one side to other allowing Rufus B to score his first goal of the game. Jack B found himself with some room on the left wing and managed to find Rufus B unmarked at back post with a brilliant first touch he slotted the ball in the bottom corner. Rufus B managed to complete his hat-trick after a through ball left him outpacing the defence and scoring pass the goalkeeper. George P scored his first goal of the season with a curling shot from outside the box. Well done to all the boys involved as they showed a calm composure on the ball and good finishing in front of the goal.
Mr Green
Boys' Football: U12 B's v. Box Hill
The U12Bs travelled to Box Hill this week and rewarded the spectators who braved the cold with a high-scoring thriller. The boys began the game energetically. Slick passing and movement off the ball allowed our forwards to find space, confidently taking a 2-0 lead with some quick attacks and terrific finishing. The game ebbed and flowed, but Duke of Kent School were more disciplined with their positioning, thwarting Box Hill's forays into our box and posing a constant threat at the other end. At the start of the second half, energy levels dropped as a little complacency crept in, allowing the opposition to score two quick-fire goals to draw level. Impressively, Duke of Kent School didn't allow the sudden reverse to knock their confidence and, with renewed spirit, a period of breathless end-to-end play ensued. At 3-3 the game was anybody's, Box Hill having brought on some strong, quick substitutes, but Duke of Kent School's clinical finishing restored their two-goal advantage. As watching parents breathed a sigh of relief, the game produced another goal - for Box Hill - and only with some heroic defending did the boys hold out for a much deserved 5-4 win. Well done to all the team, with special mentions for: Ahmed and Sam, who worked tirelessly and led by example all over the pitch; Leland, who bagged a hat-trick; and Josh, who was resolute in defence throughout and earned himself 'Man of the Match'.
Mr Wright
Boys' Football: Under 9 Panthers vs Copthorne
Thursday saw Panthers stage an amazing comeback after being 2-0 down to win 3-2. Duke of Kent School started slowly but managed to get control of the game through Rommy B scoring 2 and Theo C with a thunderous strike.
Mr Green

Boys' Football: Under 9 Lions vs Copthorne
On Thursday the U9s Lions played Copthorne in their 2nd to last match of the term. They started really well showing good accurate passing and a lot of heart! Well done to all the boys as they kept possession of the ball.
Mr Green