Weekly Bulletin 29/11/2019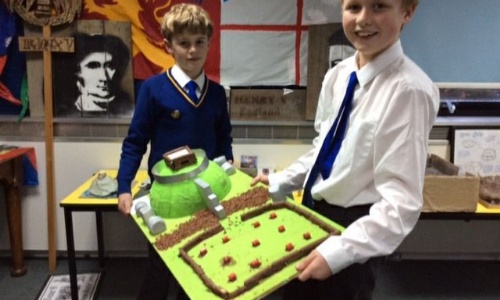 A Message from Mrs Knox
There is great excitement in the air as we get ready for our first performance of Beauty and the Beast tonight. It has been wonderful watching this show develop from early read throughs to a phenomenal dress rehearsal. I would like to pay tribute to our brilliant staff for inspiring the pupils and wish both cast and crew the very best for tonight. I know the audience will be enchanted.
Mrs Knox
Castle Building
Over the Half-term break a number of Year 6 pupils voluntarily created versions of Norman Motte and Bailey castles. The results were highly impressive and included Leo T-R's cake (sadly destroyed and disposed of in class), Quentin J's virtual castle created via Lego 'Mecabricks', an incredibly detailed model from Chester B, a semi-edible castle from Josh W-D and Oscar H, a totally edible castle baked by Scarlett R and Anna L, a castle constructed on the beach by Daisy N, and a paper and card model from Matilda R. Well done indeed to all the builders!
Mr Lodge
News from Salima LEA School
Over the last few weeks Salima LEA, our link school in Malawi, have made further progress on the new teacher's housing we raised money for last academic year. They have now weathered the structure and added a roof.
The School's on site housing stock was badly hit by storms in 2018 and has been in a serious state of disrepair ever since.
This new housing will add to the security of the school site, allow longer teaching hours and help support the whole School community.
Medical Room Reminders
Ski Trip
A reminder please to send in to school any medication for the ski trip by next Wednesday 4th December. As always, medication must be in the original packaging with patient information leaflet included and pharmacy label attached if appropriate. Medication can be left at front office for my attention.
Year 7 French Trip
A final reminder please to give travel medication at home before departure if your child needs it on Friday 6th December, and to let me know if you would like your child to have some more medication administered in France for the return journey.
Year 9 Immunisations
Year 9 parents should have received an email about the immunisations (DTP and MenACWY) on the 10th February 2020. Please complete your E Consent forms; instructions on how to do this are in the letter attached to the email (closing date, 3rd February). Please check your junk mail if you have not received the email.
Nuts
With Christmas fast approaching, a little reminder to please ensure that Secret Santa gifts etc do not contain any nuts, in order to protect our children with allergies.
Mrs Sarjant
Sports Performers of the Weeks
Congratulations to Callum M, Emily B and Violetta F for their amazing performance at the ISA gala on Monday evening in Croydon. Performances in the water were to our credit as the Duke of Kent School squad were selected for the ISA London South team to swim at the nationals at the Olympic Pool in London. Well done to you all.
U9/8 girls netball team for an excellent game on Thursday afternoon, considering three of the players were off school that day. Each girl played the whole game and did a great job winning 3-1 ! Well done to Isla W for scoring her first goal in a match for the school, Erin C for some great inceptions and Eve M for some great movement on the court and scoring 2 more goals for the team! Well done to all girls who played!
The PE Department
A few match reports from this week
Netball: U13 v. Belmont
On Wednesday the U13 netball team played Belmont at home. Both teams started well with some brilliant set play. By the end of the first half Duke of Kent School were up 8-3. In the second half Macy B worked hard at making herself an option at all times with the help of Tilly C and Ruby K. There were some fantastic turnovers from Jasmine K at GK and Alanna H at WA which led to some fantastic goal scoring opportunities from Poppy K and Maddie I. Duke of Kent School kept the momentum going and dug deep to continue their lead. Belmont matched this drive and came back in the final quarter with some great teamwork and determination but Duke of Kent School managed to hang on until the end which resulted in a 14-4 win. Well done girls, you all played at your absolute best. Congratulations to Jasmine K for being voted Girl of the Game.
Miss Vernon
Netball: U13/12 v. Moon Hall College
Last Friday afternoon Duke of Kent School U13/12 girls played Moon Hall College in a fantastic netball match. The girls started out strong scoring the first few goals getting us ahead. Moon Hall College came back tough and scored several goals in the first quarter as well. It was a very close game with each goal we would score, Moon Hall College would score one just after. Some excellent play from all the girls involved keeping a high level of netball at a fast pace. They worked well as a team managing to get the score to 13 all with 20 seconds to spare in the final quarter. Well done to all the girls who played such a great game!
Miss Spence
Netball: U11/10 A v. Belmont
On a rainy Wednesday afternoon, the Year 5 & 6 girls made the short journey to Belmont School to play netball in their sports hall. Both matches were very close and all the girls played well, once again showing the improvement they have made during the Autumn Term. The U11/10A team were up first, they got off to a slow start with Belmont's GA shooting some quite incredible goals all within the first quarter! However, the girls did not let this get them down, they continued to play their game and with goals from Isla B and Jessica I they started to get back into the match. Saoirse W played amazingly in GD, fighting hard for the ball and making countless interceptions for the team, she was later the well deserved Girl of the Game. The players in the mid court upped their game during the last two quarters and started to show some great movement. Next up were the U11/10B team. Within minutes of the game starting, it was clear it was going to be a close game with both teams managing to intercept leading to multiple turnovers. The game remained level during the first few quarters, the highlight moment came in the second quarter when Edie H scored an exceptional goal and gave the team great confident for the rest of the game. Edie was awarded Girl of the Game for her epic shot! Well done to all the girls involved.
Miss Vickers
Netball: U9/8 v. Belmont
On Thursday afternoon, the U9/8 netball team welcomed Belmont to Duke of Kent School. Unfortunately for the team, three of the Year 4 girls were off school due to illness so the team was heavily depleted! However, the team were keen to play and worked extremely hard throughout the game. It was a great match with both teams showing their enthusiasm and some great skill. Isla W stepped up to playing in GS for the whole game and managed to put Duke of Kent School in the lead during the first quarter with a great goal. Belmont fought back and scored in the second quarter but team Duke of Kent School kept fighting with Erin C intercepting the ball left, right and centre! This helped the team to gain more goal scoring opportunities and during the last two quarters Eve M came alive scoring two goals for the team. Well done girls on a wonderful 3-1 victory!
Miss Vickers
Boys' Football: U10 v. St. Cuthbert Mayne
The U11 A and B team played a talented St. Cuthbert Mayne side in a triangular competition on Wednesday. The matches were played under lights on Wilson's pitch as the grass pitches were underwater. Our B team showed great spirit and determination but were not quite strong enough to cope with the speed and movement of the opposition. Our A team showed good movement and close control but let in a late goal to lose 2-1. This was a good test for both teams and it was fantastic to host St. Cuthbert Mayne for the first time.
Mr Herbert

Boys' Football: U8/9 v. Shoreham College
Three U8/9 teams played on the Wilson's pitch on Thursday afternoon against Shoreham College. The Tigers battled well but were not quite strong enough to cope with Shoreham's quick passing and impressive finishing. The Panthers showed great energy and strong tackling but were not quite able to break the deadlock, playing out a 0-0 draw. The Lions scored first through Ben W but conceded a late goal to draw 1-1. Well done to all who played.
Mr Herbert