Weekly Bulletin 06/12/2019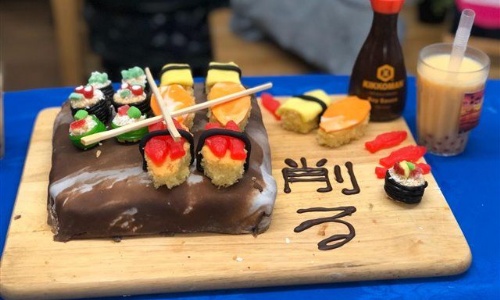 We have enjoyed a thoroughly French day at School today. Unfortunately, due to the strikes and unrest in France, we had to cancel the Year 7 trip to the French markets. However, all hands on deck and we have eaten French cheese and crêpes, watched a French movie, made Christmas cards, played French games and sung "Douce Nuit" in front of the Christmas tree. Thank you to Miss Francis, Miss Fellous and Mrs Ives. I am really looking forward to the Prep Concert tonight and the Pre-Prep Nativity play next week and, of course, the School Carol Service on Tuesday. Good luck to our Year 11 GCSE Art students who are completing their Mock exam next week. Have a lovely weekend and don't forget, it is Christmas jumper day on Monday!
Beauty and The Beast
On Friday and Saturday last week the PA Hall was transformed into a magical French village and foreboding 'beastly' castle for the Senior School production of 'Beauty and the Beast'.
With a cast of nearly seventy seniors from years 7-11, a live professional band and even a rotating spiral staircase on stage, the performances were received rapturously by the sell out audiences.
The pupils have worked incredibly hard to pull this very difficult show together and they should be so proud of themselves. All the extra hours put in at weekends and after school, as well as lunch breaks and snack breaks were worth it, and each member of the cast walked off the stage a little bit taller and a little bit broader!
A massive thanks to the staff involved in every aspect of the show: Ms Lee, Mrs Honey, Miss Barnes, Mrs Punter, Mrs Douglas, Mrs Kerr, Miss Boor, Mr Kaye, Mr Macdonald, Miss Vernon, to PADoK for all their support and of course to the amazing cast, who never let us down!
Mr Rye
The Literacy Quiz
After their triumphant win at the Southern Regional Heat in Portsmouth two weeks ago, our top literature team Ozzie H, Leo H, Harry D and James B set off to compete in the Kids' Lit Quiz National Final 2019 in London. The competition took place at the City of London School, and this prestigious event included an array of guests including several authors and guest speakers such as: Compere Alec Williams, the Sherriff of London and of course, the ultimate quizmaster - Wayne Mills! There were five rounds of 15 questions and even prizes for the audience - Mrs Douglas and Mrs Hunter both won a book during the competition! Team Duke of Kent School fought hard against the other 17 schools taking part and although our team didn't win, taking part in the National Final was a victory in itself and an experience which we hope our students will always remember!
After the competition, the students were invited to an afternoon tea with the other schools for sandwiches and cake and were able to mingle (and get their books signed!) by authors Teri Terry and Cressida Cowell - Team Duke of Kent School were also very pleased to have a photograph with Wayne Mills! We would like to congratulate the team on all their efforts in preparing for the competition and encourage them to continue reading - bring on the Kids' Lit Quiz 2020!
Miss Anand and Mrs Douglas
Bake Off Final
We were once again privileged to welcome Great British Bake Off 2017 runner up and the winner of The Great New Year Bake Off 2019, Steven Carter-Baily to our school to judge the Grand Final of this year's Duke of Kent School Bake Off.
The Prep students and Years 7 and 8 were treated to an entertaining and informative assembly about Instagram perception vs reality; a very important message to remember. when posting pictures on the social media platform. Steven talked about all his exciting adventures over the last year, as well as showing the audience some of his outstanding creations! The pupils then had the chance to ask Steven questions about his baking career.
Afterwards, it was then time for the final to begin and this year's was certainly the biggest challenge we have ever done. In recognition of Steven's reputation of producing amazing illusion cakes, the students were asked to create their own illusion sponge cake that looked like an object. Each pupil took to the task with impressive enthusiasm and creativity.
The four cakes that were produced were utterly incredible and a real testament to the skill and effort that went into baking them; no one would believe that some of those cakes weren't the real thing! The superb standard made it very difficult for Mrs Knox and Steven to select the winners. Congratulations to Sydney Rush who won the Prep competition, as well as Zoe Leslie and Emily Betts for winning the Senior one. Commiserations to Daisy Richmond, Fleur Seviour and Frankie Mason who still have much to be proud of. All of the students who took part received a special Duke of Kent School Bake off personalised wooden spoon which we hope they will use when they continue to bake in their own time!
Thank you to Steven Carter-Bailey, who took time out of his busy schedule to return to the Bake Off final and lend us his expertise. The students relished the chance to produce a cake for such a well known baker and the staff appreciated his help in deciding a winner in such a competitive contest.
Many thanks to all of the students that took part and represented their House - as well as the staff and parents who have supported the competition. The Bake Off will return once again next year for another exciting and innovative challenge!
Mr Gritton & Miss Anand
A Rowing Success
On Wednesday afternoon Olly B and Toby C in Year 8 competed in a friendly mini regatta held at Walton rowing Club for years 7 to 8 in coxed 4 boat. There were three other schools competing, Cranmore , Danes Hill and Shrewsbury House. Olly B and Toby C were the only two boys from Duke of Kent School so were in a mixed squad with Cranmore. They competed in a heat and made it to final which they won against Danes Hill School. Well done to both Olly B and Toby C, this is a fantastic achievement.
Earlier this year they also had competitions in Bath and Blenheim Palace. We're looking forward to hearing about more of their rowing success next year. Well done again boys.
Year 3 Christingles
On Monday year 3 learnt about Christingles. This tradition was bought into this country by John Penson in 1968 who adapted the original German idea to raise awareness of the children's society. It has became a mainstay of Church services throughout our country and is one of the most popular ways to mark the beginning of the Christmas season.
The orange represents the world; the red ribbon - Gods love for us; the four sticks - the four seasons of the year; the sweets - the goodness we enjoy in creation; the candle represents Jesus as the light of the world.
In a world so busy it is easy to lose sight of why we celebrate Christmas and Andy (youth Pastor from Cranleigh Baptist Church) showed us the true value of Christmas in our Prep school assembly on Wednesday. Sometimes we overlook the value of the season by the many dazzling distractions that surround us and forget the wonderful gift of friends and family and the baby waiting to be discovered in the manger.
Rev'd Kia
Sports Performers of the Weeks
Tom B, Performer of the Week: Well done to Tom B in year 6 for his amazing performance in the U11B game on Wednesday Vs Shoreham. His performance in midfield was a great asset to the squad. Well done Tom and keep up the good work!
Harry A, Performer of the Week: Well done to Harry A in year 7 for his brilliant performance in his match on Wednesday Vs King Edwards School. Runs into space and excellent covering when out of possession was a huge benefit to the team. An excellent leader and a great performance on the pitch. Well done Harry!
Ava W and Macy B for stepping up and playing in goal for the their hockey matches on Wednesday afternoon and doing a fanatic job! Both girls stopped some excellent shots and did a great job helping the team. Well done girls !

Daisy N for scoring a hat trick during her hockey match on Wednesday afternoon against St Edmund's. Daisy made some excellent runs getting the ball up to the goal and made some great shots helping us win the game! Well done Daisy!
The PE Department
A few match reports from this week
Netball U14 v. Frensham Heights
On Tuesday we had our eagerly anticipated match at home against Frensham Heights. Our last match at Frensham was a close game and hard work for the girls but they were excited and ready for the rematch. Both teams came out in the first half wanting to get goals in and take an early lead but it as level pegging the whole way. As soon as one side took the lead, the other would catch up making for an exciting game to umpire. Izzy F (WD), Kiki B (WA) and Laura S (C) put their players under a lot of pressure and made some fantastic interceptions. Bella R-B (GD) and Milly B (GK) held their own in the circle defence and managed to intercept balls into the shooters on multiple occasions and their recovery rate to defend was brilliant. The half time score was 10 - 8 to Duke of Kent School.
In the second half Frensham came out with a lot of determination and changed a few players around which resulted in a few more goals but Poppy S (GA) and Alice S (GS) had put up a lot goals before the game and so they had their eye in and were shooting well and bringing the goal difference up. The girls all gave everything right up until the end and they held on to a 14-11 win. Well done to remaining unbeaten by Frensham Heights and you should all be proud of how well you performed.
Miss Vernon
Netball: U14 v. Frensham Heights
On Tuesday afternoon, the U14 girls welcomed Frensham Heights to Duke of Kent School for a netball match. Due to the start time of the match and a minibus issue at Frensham, team Duke of Kent School had a long time to warm up and talk tactics before the start of the game. This seemed to work as the girls got off to a flying start with Izzy B and Bea H scoring goals left, right and centre. The whole team worked well together to keep calm on the ball, the match was very close after the first quarter with both teams playing a high quality of netball. Molly G and Kora W worked excellently in defence, often managing to get rebounds at crucial moments in the game. The mid court were flawless with Amelie W-B, Aoife W, Zoe L and Lucy P all playing a important role. During the final two quarters, Duke of Kent School got into their stride and played some beautiful netball, the score finished at 21-10 to Duke of Kent School, what a brilliant result! Well done girls.
Miss Vickers
Hockey: U13 A v. Feltonfleet
On Wednesday afternoon, Duke of Kent School's U13A travelled to Feltonfleet for the first time, to play a hockey match. The girls hadn't played many hockey matches this term as they have focused on netball so they knew this match was going to be a challenge. However, the team rose wonderfully to the occasion and played some great quality hockey. Feltonfleet were well drilled and had a clear structure to their team, this meant that it was difficult for Duke of Kent School to get through and it was Feltonfleet who took the lead. However, the girls fought back with some really good build up play from Millie W-D, Maddie I and Alex K and excellent finishing, Duke of Kent School found themselves 2-1 up at half time. The game remained exciting with both teams making good runs and managed to defend well. Feltonfleet eventually managed to break through the incredible defence of Jasmine K and Ruby K to score some further goals in the second half. A special mention should go to Macy B for stepping up to play in goal for the team and doing an incredible job, she saved over 10 shots on goals and remained positive and enthusiastic throughout. A huge well done to all the girls involved, we look forward to more hockey matches in the Spring Term!
Miss Vickers
Hockey: U12 v. Feltonfleet
On Wednesday the U12 Hockey team played Feltonfleet. I must begin with a huge thanks to Ava W who stepped in to play Goalkeeper and even with her reservations about the position was superb in goal, she made multiple saves and made a huge difference and contribution to her team. The beginning of play was slightly chaotic but the girls soon settled and Emily B, Hannah A and Abbie W were hustling their forwards constantly and were about to steal the ball and use their hardwork to their advantage. Violetta P scored a brilliant second goal (after sadly an own goal by Feltonfleet) which really spurred the girls on to get some more goals.
In the second half our defence was tested by Sophie S, Amber C, Esmee P worked so hard to close down any runs Feltonfleet got coming into the circle. They worked hard at reading the game and picking up and unmarked players including a goal hanger! The girls scored a further two goals and managed to hold on with a final score of 3-2 to Duke of Kent School. Well done girls, you all worked so hard and well done Hannah A for getting Girl of the Game.
Miss Vernon
Hockey: U11/10 v. St Edmund's
On Wednesday afternoon the U11/10 girls played in a great hockey match against St Edmund's and won 4-1! It was a very cold afternoon once the sun had gone down but the girls kept on running to keep warm and had a great attitude ready to play. Daisy N scored a hat trick during the game with help from Lucy P, Edie H, Rose S and Phoebe A. All these girls made some great runs getting the ball to the goal and managing to score!
Annabelle B, Isabelle S, Anna L and Clara H-S made some great tackles in defence keeping their sticks low and not letting St Edmund's get past. Well done to all the girls who played!
Miss Spence
Football: U11 As and Bs v. Shoreham College
On Wednesday saw the U11As and Bs travel to Shoreham College for their last football match of the year. Both teams took a while to settle into the game but started to link up well with one another to create plenty of goal scoring opportunities. At half time saw the A's leading 4-2 and the B's winning 5-1. In the second half saw better structure from both teams and they kept possession of the ball well and controlled the game. Well done to all the boys involved as they have progressed their football from the start of the year, shown in the results with the A's winning 6-4 and the B's 7-1.
Mr Green
Football: U13 B v. King Edward's Witley
This Wednesday saw the U13B team take on a strong opposition. The lads were very composed on the ball and worked as a very organised team keeping their shape in and out of possession. With excellent saves from Tom B in goal to keep us in the game and brilliant runs down the line by Will P and Alfie C the boys were a threat going forward and very tough to break down in defence. Excellent performances in defence by Harley B, Alex S, Charlie G and Max S allowed the boys to get out of nail biting situations and begin an attack of our own. With Harry A and Adam S dominating the midfield battles, the match was made impossible for the opposition. Oscar D-K and Fred W were a huge asset to the team scoring some vital goals under pressure one on one with goal keeper. Amazing 3 -1 win boys and well done to all involved!
Mr Cabanes