Weekly Bulletin 24/01/2020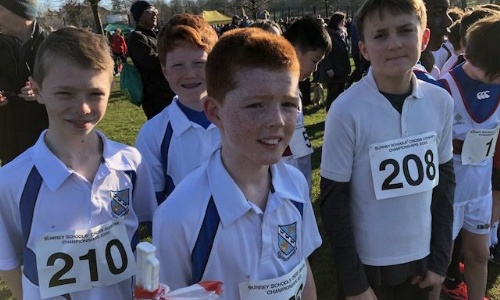 I was interested to read this week that, according to a global survey (PISA), the career aspirations of children have changed little over the past 20 years with doctors, vets, lawyers and teachers still at the top of their list. Teenagers worldwide are unaware or perhaps ignoring new types of jobs as a result of digitalisation and new technologies. Career-related learning is vital in schools in order to capture children's imagination Thank you to the many parents who are coming to talk about their work to Years 8 & 9 during our Careers day. If you or someone you know could spend the day with us on Thursday 13th February, please contact our Head of Careers, Mrs LaCroix llacroix@dokschool.org, for further details. It will be an invaluable opportunity for our students to start thinking about their journey in the big world of work.

The response to our invitation to listen to Sir Anthony Seldon has been fantastic. It should be a wonderful and thought provoking evening.
Mrs Knox
A visit from CLIC Sargent
At the start of this academic year our students voted to support CLIC Sargent (https://www.clicsargent.org.uk/<) through their charitable work for the year. We have already raised well over £1000 for our charities in just one term! This has been a really positive, whole community effort, that has included teachers, students and parents alike! On Friday we were joined by Rosie Bailey, one of CLIC Sargent's Fundraising Managers. She delivered assemblies to the Senior and Prep School's on the important work that the charity does in supporting the families of children diagnosed with cancer.
It is a real honour to be supporting this charity who's work has touched the lives of families in our own school community. CLIC Sargent are also involved in promoting and supporting 'World Cancer Day' which is on Tuesday the 4th February. In support of CLIC Sargent and 'World Cancer Day' we will be selling wrist bands in the Front Office. These are allowed to be worn with school uniform and come in a variety of strong colours, allowing you to accessorise to your hearts content, for a suggested donation of just £2! Why not buy 2!
Mr Watson
Top of the Bench
On a somewhat murky Thursday afternoon, James C, Oisin W, Aoife W and Hannah S all travelled to Hurstpierpoint College for a challenging chemistry competition. Organised by the Royal Society of Chemistry, the students competed against teams from 10 other local schools. The students had the opportunity to complete a practical challenge followed by a multiple-choice quiz.
James C's challenge was to complete a titration to find the concentration of an unknown substance, which he completed with careful accuracy. Oisin W was running a series of test-tube tests to identify four unknown chemicals, using observations and his skills of deduction. Hannah S and Aoife W were making some copper sulfate crystals and worked together supportively. The students all worked diligently and looked incredibly professional as they carried out their experiments. It was a great opportunity for the team to get an insight in to working independently in a lab to solve a scientific problem, without being able to ask a peer or teacher for any clues or help!
Multiple choice quizzes were then sat - these were not multiple choice questions for the faint hearted, and were set to stretch and challenge students to apply their scientific knowledge to answer tricky questions.
At time of writing, we are waiting to here how we placed at the event, however the team represented our school with outstanding professionalism and effort and we should be very proud of them. Well done to you all.
Mrs Tattan-Robb
An Evening of Jazz
Friday night was jazz night at Duke of Kent School! The PA Hall was transformed into a jazz club and the amazing Frank Walden quartet entertained a full house with two sets of jazz standards. Guesting on vocals was the wonderful Rebecca Hollweg who's voice was as sweet as honey and at times truly mesmerising. The PaDoK team ran a licensed bar and it was lovely to see so many people sitting and really listening to the music, with a raptured silence often sweeping the room as the musicians were about to start a song. One of the many highlights of the evening was Oscar B in Year 10 being invited to join in on a song with his banjo and jam along; and he did so brilliantly with no rehearsal or idea what song he was about to play!
Mr Rye
Prep School 'Waste Week'
Waste Week was launched in the Prep School with a film made by some children in Hawaii about how much plastic is being washed up on their beaches. The pupils contributed to a discussion about what changes we could try and make in our lives to reduce the amount of waste we create. This week in the Prep School we have been trying to remember to turn lights off, use our metal water bottles, reduce our use of paper and reduce the amount of food waste at mealtimes. Pupils have been busying creating a new Waste Superhero, with powers to transform the amount of waste we create in our society and have also enjoyed keeping their own personal record about how often they remembered to switch off lights, recycle paper and plastic and cleared their plates at mealtimes.
We have also had an opportunity to see some of the holiday projects which were based on the UN Sustainable Goal number 12. There was a very interesting and informative power point by William, a fantastic model fish- made out of plastic which would have been thrown away by Henry and lots of other fascinating projects- well done to everyone who completed a project over the holidays.
Mrs Lock
Nursery trip to Little Street
This Thursday Nursery went on their annual trip to Little Street in Frimley. It was a wonderful opportunity for our youngest members to experience a trip for the first time with their friends. For the older children it was a chance to remember what a lovely time we had last year too. Frimley Little Street is in a converted train station waiting room and it is designed around the type of shops you might find in a high street. There is a café, hairdressers, vets, theatre, supermarket and building site. The children can touch and move everything and absolutely love the role play experiences it provides. We were so proud of the way the children behaved throughout the day. We had several comments from members of the public regarding their behaviour, manners and ability to share, take turns and join in with others. Well done Nursery.
Mrs Ragless
Year 10 trip to see "The Lion, the Witch and the Wardrobe"
On Wednesday the Year 10 GCSE Drama pupils headed up to London to watch the Bridge Theatre's production of 'The Lion, The Witch and The Wardrobe'. The Bridge Theatre nestles in the shadow of Tower Bridge and its productions are of equally impressive stature. This interpretation of the classic C. S. Lewis story was a wonderfully inventive and creative imagining of the world of Narnia, using puppetry, physical theatre, aerial silk acrobats, live music, dance, drama and song to bring the story brilliantly to life. The pupils were enraptured from the start and will be able to use much of what they saw as inspiration for their own devising pieces for GCSE. As always, they were wonderfully behaved and it was a fun and entertaining day for all involved, not least for Mr Rye, Mrs Punter and Mrs Honey, who must also be thanked for organising the trip.
Mr Rye
Senior Council Meeting
The Senior School Council met last Friday to discuss, amongst other things, the proposed new snack rota. This will work on a bi-weekly basis and the options were met with generally positive comments, particularly the days involving pastries and doughnuts! We discussed the importance of having a balanced menu and the school council felt the mix was about right, with a few minor suggestions being fed back to the catering team. Other topics discussed included the reasons behind the changing rooms only being open at certain times and the merits of using a different system when distributing tickets for school performances. Various school council team members are now working on researching alternative systems for these issues, as well as others, and I look forward to hearing their proposals when we next meet.
Mr Wilson
Sports Performers of the Weeks
Alanna H: Well done for playing a fantastic match on Wednesday afternoon against King Edward's Witley helping the team win with an excellent score of 13-4. Alanna played really well during the game creating lots of opportunities for the team. Well done Alanna!
Will P: Well done to Will P for his excellent performance in the U12/13 touch rugby game on Wednesday. Will was alert to the different scenarios during the game and a great 'touch and go' off a penalty leading to a try caused the opposition problems. A great asset to the team. Brilliant performance Will!
Felix C: Well done to Felix C for a good performance during the U10/11 fixture yesterday. Brilliant runs and good tackles from Felix proved to be difficult for the opposition to cope with at times. Congratulations Felix, keep up the good work!
The PE Department
A few match reports from this week
Cross Country: Surrey School's Championship
Duke of Kent School had nine representatives running for Waverley in the Surrey Schools Cross Country Championships last Saturday. The event was held at Reigate Priory Park on a true test of a cross country course. It was fantastic to see so many Duke of Kent runners overcome their nerves and perform so well. All that were able to take part, ran with great determination and great energy. Very well done to Violetta P, Emily B, Rufus B, Jack B, Luca H, Will R, Tom H and Minnie C. Unfortunately, Matty S, a shining light for Duke of Kent athletics in recent years, was not able to run due to a recurring injury. We wish Matty the best of luck to recover quickly and we all look forward to the ISA London South Cross Country Championships coming to Duke of Kent School next Friday.
Mr Herbert
Rugby: U16 v. Kingswood House
The rain finally subsided and the pitches dried out enough to allow some rugby to be played at Duke of Kent School. The U16 and U14 teams hosted Kingswood House both playing sevens. The Duke of Kent School U16 team played first and showed good handling, vision, strong running and good contact skills to overcome their opponents quite comfortably.
Mr Herbert
Rugby: U14 v. Kingswood House
The U14s got off to a winning start to their rugby season in a Rugby Sevens event against Kingswood House. We began well with fly-half Marcus D and centre Teddy J linking play nicely. Freddie B showed his great strength and speed which enabled him to run in some impressive tries. Ben Wi and Ben We both showed that they have an excellent turn of pace and neat sidesteps that allowed them both to go over after impressive line breaks. Dylan M made an instant impression when he came on in the second half making some excellent low tackles that stopped Kingswood in their tracks. Overall, it was a successful afternoon with some moments of outstanding rugby. Well done Boys!
Mr Seeley
Rugby: U3 v. Ripley Court and Belmont
On Wednesday, the U13 boys played a triangular tournament against Ripley Court School and Belmont School away at Ripley Court. In our first game against Ripley Court, we started slowly conceding two quick tries. The boys started communicating with each other which led to some lovely passages of play. After trailing two tries at half time, it was our turn to start on the front foot in the second half with two quickfire tries to bring them level. The match continued to be tightly contested, however the boys unfortunately could not get over the line after a very spirited performance, losing by four tries to three. After a short 5 minute rest, the U13's were back on the field to play a very well drilled Belmont side. The first half was a tight affair with each team scoring a try to bring the score to one try a piece at half time. Despite the good performance from all the boys, fatigue started to set in, leading to some missed tackles. The final score was six tries to two in favour of Belmont. Well done to all of the U13's in a very spirited performance.
Mr Monk
Rugby: U12/13 v. St Edmund's
On Wednesday, Duke of Kent School's U12/13 rugby squad took on St Edmund's School in a game of touch rugby. A brilliant performance from all of the lads caused St Edmund's School problems on the pitch. Fantastic interceptions from Leland W helped the team re - gain possession several times during the game. Moreover, some great runs into space from Toby C, Charlie G, Oscar D - K, A Shaw, Freddie W and Kai G created many chances for the team during the game. With quick thinking and catching the opposition off guard, Charlie N, Max K, Will P and Oscar D - K helped secure four very well worked try's and a 20 - 0 victory for Duke Of Kent School. Well done boys, a great performance and keep up the good work!
Mr Cabanes
Rugby: U11 v. Belmont and Ripley

The U11 team played their first match in a triangular tournament against Ripley Court and Belmont on Wednesday. This was our first match of the season and although there wasn't a win for Duke of Kent School, each boy showed an improvement in their positioning, confidence and contact skills as the games progressed. We look forward to seeing the development that these boys can achieve in future weeks.
Mr Herbert
Rugby: U9 v Ripley Court and Belmont

This was a hugely enjoyable game to watch with three very evenly matched teams. There were some slightly nervous Year 4 boys before their first game of contact rugby but each player showed an amazing attitude and came off of the pitch asking to play more matches. The determination that each Duke of Kent player showed was fantastic and we look forward to seeing how the U9 team can develop throughout the season; this was a very positive start!
Mr Herbert
Tag Rugby: U8 A v. Ripley Court and Belmont
On Thursday saw the U8 A's play their first tag rugby match of the year vs Ripley Court and Belmont. The boys showed good handling skills and tagging the opposition. We had a tight affair against Ripley Court first game losing by 1 try and beat Belmont by 1 try in the 2nd game, Throughout the two games Arthur H showed good footwork to dodge and weave through the opposition defence; Thibaut J showed good awareness to tag the opposition; Dante R-D kept his position well and applied pressure; Rommy B showed quick feet to score in the corner; Henry O showed good pace on the ball; Harry L showed good leadership calling players into position. Well done to all involved as this was a great display for the first match of the year.
Mr Green
Tag Rugby: U8 v. Ripley Court and Belmont
This Thursday saw the U8 B team take on Ripley Court School and Belmont School in a hard fought triangular tournament. Playing the first game against Ripley Court proved to be a hard test for the boys but a good learning experience for them with some brilliant phases of play by the whole team. The second match saw Duke of Kent take on Belmont in a very tight game but eventually taking the game to the opposition and winning by one try! An excellent performance from all the boys with good runs by Ben W, Remy M and Will T. Brilliant passing and intelligent play by Auberon P and Freddie P proved to cause Belmont School problems on the pitch. Well done to all the boys!
Mr Cabanes
Netball: U15 v. Shoreham College
On Tuesday afternoon, the U15 girls made the big journey to Shoreham College and were in great spirits! They were ready for their first match of the term. Team Duke of Kent School started slowly, with a few dropped passes and allowed Shoreham to get into the game. However, after a quick team talk after the first quarter, the girls were like a different team! It was 6-5 to Duke of Kent School and then suddenly the girls got into their stride, beautiful passes from Laura S, Alice S and Issy F in the mid court allowed Poppy S and Daisy M to score goals from all over the D! Kiki B and Daisy K began to make more interceptions and weighted their passes perfectly to their team mates. After two quarters the girls had tripled their goal tally and were on a roll! Milly B continued to cause difficulties for Shoreham's mid players as she made countless interceptions. Overall, it was an epic performance from the U15s and a great win to start to the term. Well done!
Miss Vickers
Netball: U13 v. Cranleigh Prep
On Wednesday afternoon, the U13 team travelled 15 minutes down the road to Cranleigh Prep School. After a quick warm up and some shooting practice, the girls were ready to go! The match was extremely close throughout, with Cranleigh Prep taking the lead after the first quarter. However, Duke of Kent School fought back wonderfully and started to look much more comfortable when going forwards to attack. Poppy K, Amber C and Millie W-D all worked hard to find space in and around the D to help create more goal scoring opportunities. After the second quarter, it was 7-5 to Cranleigh Prep and a really close game. Both teams showed some great skill and began to take their time with their passes in the mid court, Macy B and Frankie M did a great job in the Centre position. Team Duke of Kent School almost managed to bring the score level but couldn't quite manage to even it up. A good start to the term girls, well done to everyone involved for maintaining a positive and enthusiastic approach throughout the game!
Miss Vickers
Netball: U12 v. King Edward's Witley
On Wednesday afternoon the U12 girls played King Edward's in an excellent match. It was a very cold day so the girls kept moving fast and kept the game at a quick pace so they kept warm. Each girl played extremely well managing to win the game 10-7 great goals from Alex K and Rose S. Abbie W and Ava W played well intercepting the ball on a number of occasions and making great space on the court. Well done to all the girls who played such a fantastic match.
Miss Spence
Netball: U13 v. Kind Edward's Witley
On Wednesday the U13 girls' netball team played King Edward's Witley at home. The first half was very fast paced and slightly frantic with some balls getting thrown away but at half time we moved some players around and talked about court positioning, timing of passes and drive onto the ball with intention. Alanna H and Tilly C worked so well as C and WA and their passes connected well and were readily available to the shooters, Maddie I and Hannah M. The defence worked hard to close down open spaces and Jasmine K, Ruby K, Sophie S and Hannah A. All the girls fought hard util the end and secured a fantastic 14-4 win. Well done to everyone who played and a special thank you to Phoebe A for her help with the team.
Miss Vernon
Netball: U11 B v. Dorset House
The U11's B team played their best game yet against Dorset House, with Edie Hunter and Clara H-S scoring two impressive goals. The girls showed real determination, especially in the cold, wet and slippery conditions. Unfortunately, Dorset House scored a goal in the last few minutes to win the game 3-2. Edie H was chosen as Girl of the Game by the opposing team.
Miss Higman
Netball: Years 3 & 4 v. Pennthorpe
On Thursday afternoon, the Year 3&4 girls had their first away match of the year and they were SUPER excited! They very much enjoyed the short minibus ride to Pennthorpe and prepared themselves well with a good warm up before the match. With only 7 players, the team knew they were going to have to work very hard to maintain their energy throughout the whole game. Team DoK started slowly but began to get more into the game, both teams showed some accurate passes and good catching skills. During the first quarter, there were shooting attempts from both teams and just before the whistle Pennthorpe managed to convert their shot into a goal! The U9/8 team were not disheartened and continued to create scoring opportunities with Tansy B playing some great passes into Poppy F and Holly B in the midcourt. During the final quarter, the team came alive! With Penny A and Erin C making crucial interceptions for the team, they managed to score 3 goals at great speed to even up the game at 3-3! Isla W and Eve M had a great conversion rate and almost managed to score a 4th goal but it didn't quite go in! A very well deserved draw - well done to all the girls involved!
Miss Vickers