Match Reports
U12/13 Athletics Competition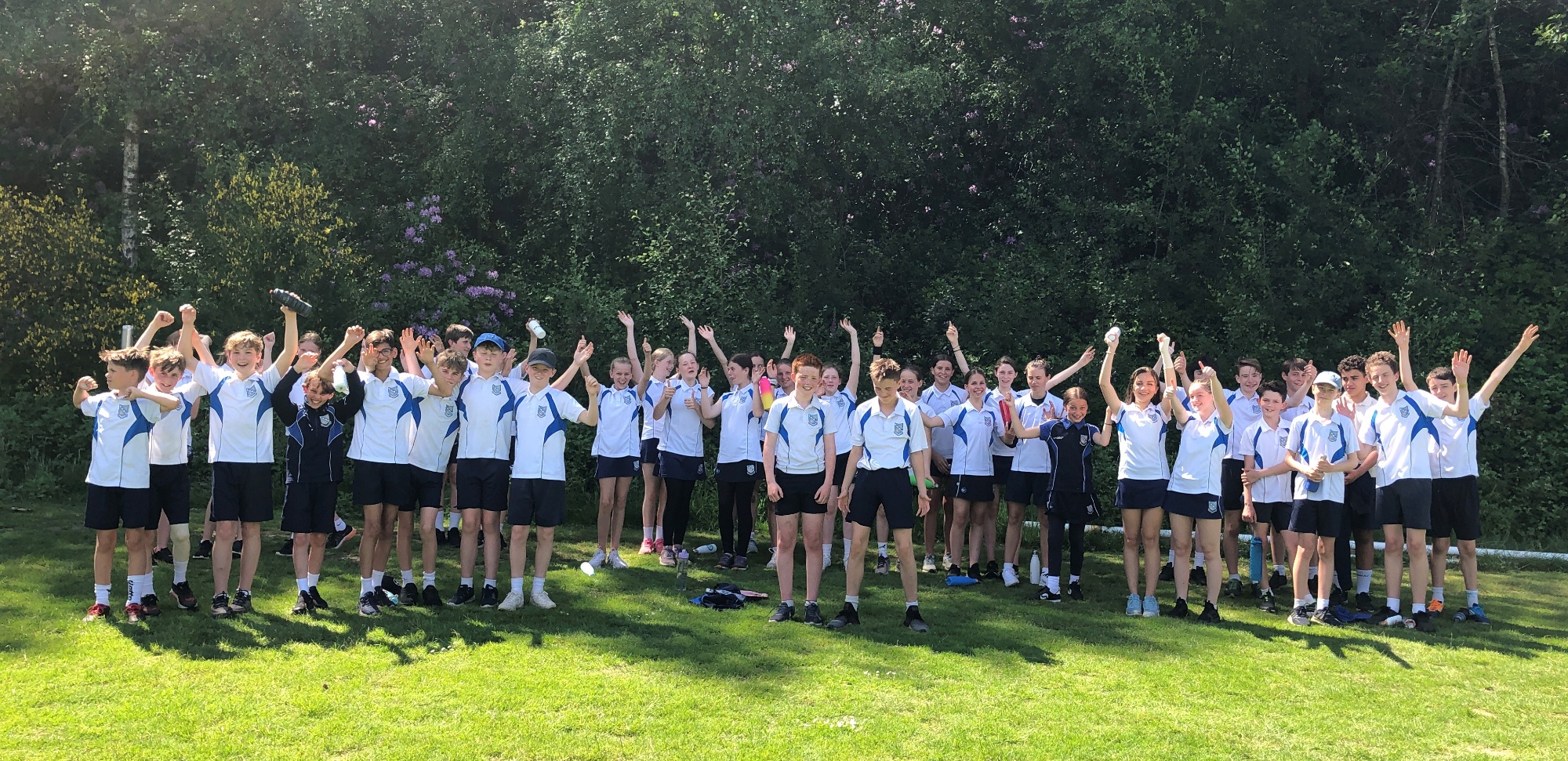 Duke of Kent School hosted Belmont in our first athletics meeting for two years. 34 pupils from Years 7 and 8 were very excited to run, jump and throw for the school but were also a little nervous! This was a very friendly fixture with great determination and sportsmanship shown from both schools. With so many of our top athletes injured or ill, many runners were moved up to the faster races and all of them represented the School superbly. After the running events, only two points separated the two schools. Pupils also took part in the shot put, javelin and long jump. Belmont were physically a little stronger in these events and eventually came out on top. All of the athletes that took part should be very proud of themselves and this type of event will hopefully give them greater experience and confidence when entering Regional and National competitions next year. Well done to all who took part!
Mr Herbert
Girls' Cricket: U15 A v. King Edward's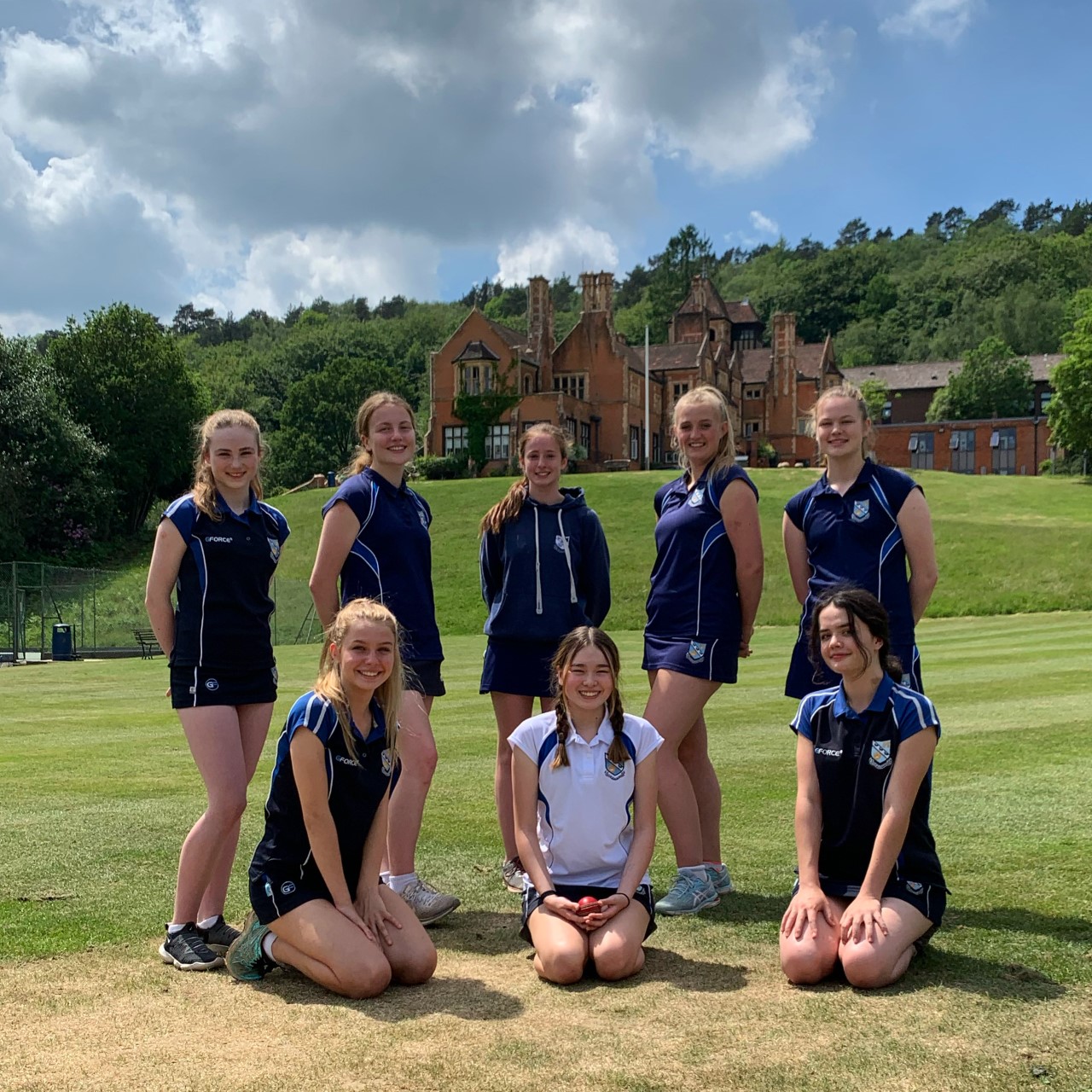 On Tuesday afternoon the U15 A's played King Edward's. It was an extremely hot day, but that didn't phase the girls, and they were ready and raring to go for their match. We won the toss and King Edward's came into bat. They had some very strong batters and were able to obtain some well deserved 6's and 4's throughout their innings. Zoe L and Izzy B took wickets and Izzy B had a great catch towards the end making sure they didn't gain those pivotal extra runs at the end of the innings.
The girls came into bat next and had a shaky start but soon settled and found their focus and timing for making contact with the ball. Amelie W-B and Zoe L were a strong pair building up a strong total before our final pair. Molly G and Zoe took to the crease knowing they weren't far behind king Edward's and they were so determined to get as many runs as possible. Molly hit a fantastic 6 and between them took some big risks with their runs which paid off. The final score was 254 - 245 to Kind Edward's, it was a great match and both teams were evenly matched. Well done girls.
Miss Vernon
Girls' Cricket: U15/14 B v. King Edward's
On Tuesday afternoon, the U15/14B girls cricket team travelled to King Edward's. The sun was shining and the team were raring to go! After some brief bowling practice and a good warm up, the girls won the toss and elected to field first. Every member of the team bowled well, with very few wides being bowled throughout the innings. In particular, Iris R and Eva M bowled brilliantly making it hard for the batters to score many runs early on in the innings. There was some excellent fielding on display too with Lucy P and Emily B making some good stops and throw ins for the team. During the 4 overs bowled by Amber C and Imogen C, the team managed to get 3 wickets including 2 run outs and a catch. This put the girls in a good position going into their batting innings, the score to beat was 278 runs.
After a tricky start with a few early wickets, Duke of Kent School settled into the innings and hit multiple boundaries! Some particularly good batting came from Emily B and Imogen C, as both girls hit multiple 4s. After 12 overs, the scores were very close so the final pair, Emma B and Sophie S, had to be careful and tactical in their batting. Emma B, our captain for the match, did an excellent job of communicating with her partner Sophie and as a team they made some great decisions. Emma hit a 6 on the final ball of the match and sealed the win for Duke of Kent School! The final score was 297 runs to 278, a fantastic game and great teamwork displayed throughout the afternoon! Well done girls!
Miss Vickers
Girls' Cricket: U8/9 v. Dorset House
On Thursday afternoon, Duke of Kent School's U8/9 girls cricket team welcomed Dorset House. Excitingly, Dorset House had two teams, so Duke of Kent School were lucky enough to have an entire afternoon of pairs cricket including two matches! In both matches the girls remained focused in the field and make some good decisions when batting. The team had focused on improving their communication between the wickets and this really helped them gain some key extra runs! There was some particularly accurate bowling from Charlotte C and Jasmine W, with both girls taking wickets for the team! When batting, Holly B and Ruby W played some excellent shots, scoring 4s on multiple occasions. Both games were extremely close but fantastically Duke of Kent School managed to come out on top, narrowly winning both games. More importantly, all the girls worked with enthusiasm and great determination. What a brilliant afternoon of cricket!
Miss Vickers
Boys' Cricket: U13 Tournament at Belmont
The U13 cricket team took part in the annual Belmont 6-a-side Tournament last Friday. They played 3, won 1 and lost 2, but this did not tell the full story. They played magnificently! They went toe to toe with two of the best cricketing schools in Surrey, losing off the last ball to Parkside by 2 runs, and losing in the last over to Feltonfleet by 1 wicket. Both games we had a chance to win; both teams packed with Surrey players.
We then went on to beat Kingswood House, amassing 80 runs in our 5 overs, an excellent return. The team played as a unit. There was some excellent fielding, bowling and batting. Rufus B led the team with skill and had to retire twice out of his three innings. Luca H, too, thrashed the ball around, ably supported by Harry. They picked up valuable wickets also. Jack B was the best keeper in the competition, George P, Jasper B, and Charlie G, fielded and bowled with great skill. Well done, chaps.
Mr Macdonald
Boys' Cricket: U12 XI v. Box Hill
The U12 XI played against Box Hill on Wednesday, having won the toss captain Harry F decided to bat first. Duke of Kent School got off to a slow start while batting but did not give their wickets away. The runs started to flow once Harry F came to the crease with him scoring 42 runs off just 21 balls, a great captain's innings which was fantastic to watch. Duke of Kent School ended the innings with a score of 116. The second innings started with a wicket on the first ball, a great bit of bowling by Jack D. Overall, the Duke of Kent School bowling and fielding performance was very good, Josh W-D bowled 2 great overs and very nearly had a well-deserved hattrick, Tiago W also had a great performance as wicketkeeper with 3 catches behind the stumps. It was very closely contested game and Box Hill were bowled all out for 106. Well Played to all the players involved, it was great to see some great team work throughout.
Mr Orme
Boys' Cricket: U11 v. Dorset House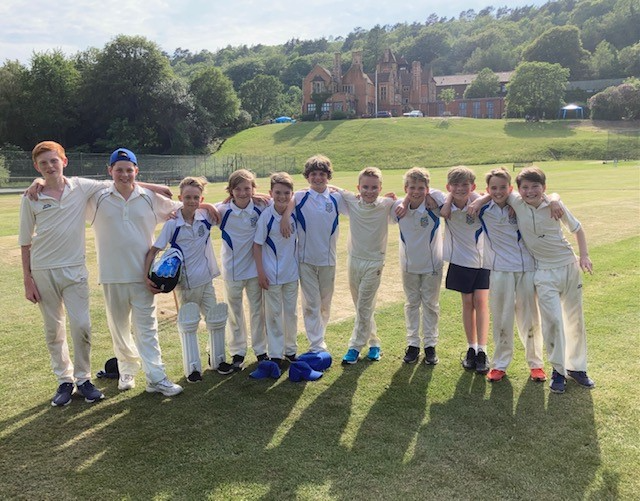 After a fantastic team performance, the U11's pulled off their third victory in a row, in a pulsating contest against Dorset House. As you can see from the grubby knees, this was a determined and resolute display in field from all the boys, who all battled to defend every run. This was our most complete batting performance with all the boys playing a part in our impressive total of 139 off 20 overs. Special mention to Felix C, whose impressive 35 not out anchored our innings and help guide us to victory. All the bowlers then kept their nerve and did well against a forceful counterattack by some big hitting opposition, who took the game to the final over. With the best team spirit in the land, it really has been a pleasure to see this 'barmy army' march on.
Mr Seeley