Match Reports
Rounders: U16 v. Box Hill School
On Tuesday afternoon, the U16 girls travelled to Box Hill for a rounders rematch that turned out to be an absolute thriller of a game! Duke of Kent School fielded first, Box Hill batted very well giving the girls some tricky fielding challenges. They rose to the task with some very accurate throwing and kept Box Hill's score to 6 rounders after their first innings. The U16s were slow to start with their batting but soon the rounders flowed with Kiki B, Laura S and Martha McA all scoring for the team, helping gain a total of 5 rounders. Duke of Kent School fielded fantastically in the second innings, with Martha McA bowling with great accuracy and making some reaction catches! The girls had set themselves a tough task to score 8 rounders in their second innings to win. After a few early catches from Box Hill, the U16 girls fought back as Milly B and Millie L both made key contributions to the team's score. Duke of Kent School finished with 13 rounders to Box Hill's 12 1/2, what a great win, well done to all the girls involved!
Miss Vickers
Girls' Cricket: U12/13 v. Cranleigh Prep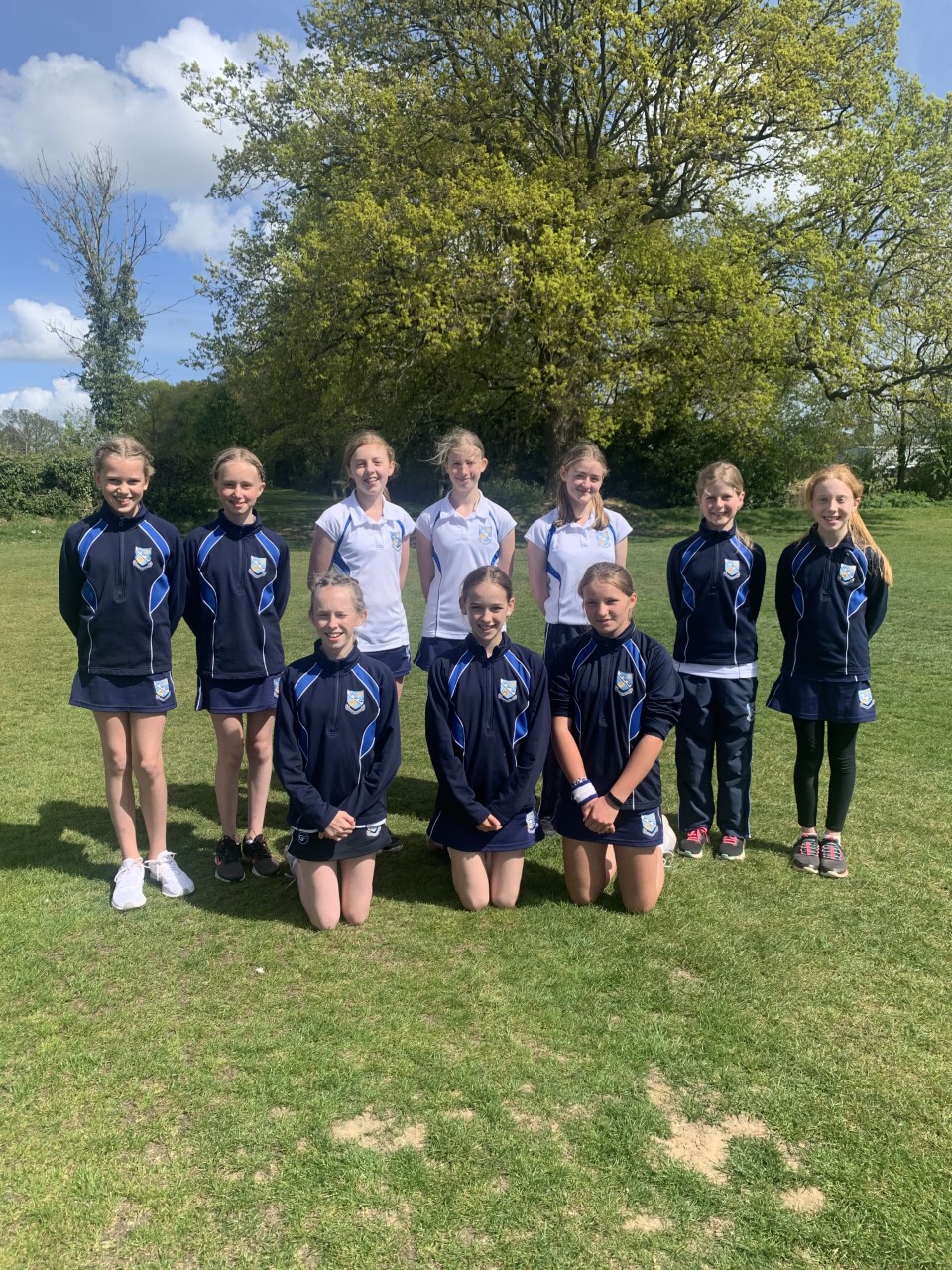 On Wednesday afternoon a mixed team from Years 7 and 8 played Cranleigh Prep School away. The girls lost the toss so started the match bowling. They were terrific with very few no balls and Helena K not given any no balls away and taking a wicket on her final bowl which set the team up with a comfortable target to beat.
Cranleigh were up to bowl next with our pairs ready and raring to bat. First in was Niamh A and Ava W who worked brilliantly as a pair and accumulated three 4's which was a great early start. This was followed by some more superb batting from Esme P and Daisy R assisted by great decision making from Bella S and Lucy S when running for those extra runs! The whole team played so well and it was a well deserved win.
Miss Vernon
Girls' Cricket: U10/11 v. Frensham Heights
On Wednesday afternoon, all of the girls in Year 5 & 6 travelled to Frensham Heights for a cricket match. The girls had some time to prepare before the game and used this time wisely by practising their bowling technique. Duke of Kent School batted first, with Erin C getting the team off to a wonderful start with two 4s in the first over! The runs continued to flow with Eve M and Rose S up next, they worked well together and were the highest scoring pair in team with lots of singles and a 4. Further strong batting came from Edie H and Tansy T later in the innings. Frensham Heights also batted well, testing the U10/11s fielding skills and keeping them alert at all times! Huge well done to Clara H-S, Tansy T, Edie H and Isabelle S for producing some fantastic and extremely accurate bowling. A great team effort in the field made for an extremely close finish with Frensham Heights needing 8 runs off the last 6 balls. Amazingly, the game ended in a tie with both teams scoring 160 runs. Well done to all the girls involved for a very enjoyable afternoon!
Miss Vickers
Boys' Cricket: U14/15 v. Moon Hall College
Tuesday 11th May, the U14/15 boys took on Moon Hall College in a 12 overs a side match, due to time constraints. Duke of Kent School batted first scoring 91 with Freddie B playing a fantastic innings, scoring 48 not out, it was an innings full of boundaries helping the team post a very competitive score. Moon Hall College batted second scoring 71 in their 12 overs, which was a very solid score, but thanks to some great wicket taking bowling from both Ben E and Max S, Duke of Kent School were able to hold on for the victory. Well done to all the players and I hope they are all looking forward to their next matches.
Mr Orme
Boys' Cricket: U13 v. Cottesmore and Copthorne
Further to the crushing defeat of local rivals Belmont, the U13 boys have had two further victories against Cottesmore and Copthorne, traditionally strong opponents.
Against Cottesmore last week a towering total of 181-3 was achieved in the main by a stunning opening partnership between Rufus B and Luca H. With shots all round the ground against a good attack it was a sight to behold with Rufus retiring on 67 and Luca on 60. In the field we dominated too, again with Rufus and Luca in the wickets. Chipping in also were Felix R with two wickets and Sam S with a wicket, and the opponents ended on 59 for 8 with their team manager conceding defeat as the rain clouds opened. Result: Won by 122 runs
Copthorne decided to bat first against us and could not escape the shackles of our fine bowling and fielding. They managed just 70-7 off their 20 overs, with Jasper B, Casper C, Rufus B and George P getting wickets. We also had two run outs (Jack B and Isaac P) and a good catch from Charlie G. In spite of losing two early wickets we reached the Copthorne total with overs to spare. Toby T produced an assured performance to see the team home (28*) and Harry F batted with maturity to keep him company until the end (10*). Result: Won by 8 wickets.
In these games Toby T has captained with great skill, moving the field around, making the bowling changes and keeping the spirits high. Jack B has kept wicket bravely throughout and the team seems to be coming together as a strong unit. Keep it going boys.
Mr Macdonald
Boys' Cricket: U12/13 v. Copthorne
Duke of Kent School's awesome U12/13 C VIII team took on their counterparts from Copthorne side on Front Pitch on a sunny Wednesday afternoon. The visitors managed to score 85 runs after a blistering start halted only by Kai G's knocking over of the free-scoring opener's stumps. Xander S and Tom B also each bowled out an opposition batsman. Captain Bobby F anchored one end of Duke of Kent School's reply while the crashing bat of Max A produced a flurry of boundaries before he was bowled for 24 runs. Xander again featured before being bowled for 13 runs. Alex F and Tom B saw the team home, overtaking Copthorne's score with a few overs to spare. Alex G, Kai G and Oscar D-K did not bat on this occasion but bowled and fielded impeccably. Well done to the whole team for their enthusiasm and support for each other and for the whole game.
Mr Lodge
Boys' Cricket: U12/13 v. Copthorne
The U12/13 B XI Boys took on Copthorne on Wednesday 12th May, Duke of Kent School were put into bat first and after a slow start the runs started to pick up in the middle overs. Duke of Kent School ended on 117 from their 16 overs thanks to a great batting partnership between Jack D and Tiago W. With a strong score on the board the team was confident, and the confidence grew with another great partnership with the ball between Josh W-D and Will R. Josh W-R bowled a fantastic maiden in the first over of the innings and Will R followed up with one of his three wickets in the second over. Copthorne ended their innings scoring a total of 75 runs, leading to a well-earned win. Well done to all the players involved and I hope you are all looking forward to the next match.
Mr Orme
Boys' Cricket: U10/11 D v. Copthorne
This Wednesday the U10/11 D team faced Copthorne for their last pairs cricket match of the School year. All of the boys approached the match with a positive attitude and lots of effort. The bowling became increasingly accurate as the game progressed and the boys batting confidence grew. The team should be proud of the immense improvement in their second overs. However, the standout performers were Ben K for his cat-like reflexes while fielding and Henry R for his astute batting, which resulted in the only 6s in the match! Well done boys.
Mr Gritton
Boys' Cricket: U11 v. Copthorne
On Wednesday the U11 C team took to the astro for a fast and furious game of pairs cricket. With short boundaries and plenty of bounce with the incrediball, runs were expected…and they were delivered! Duke of Kent went into bat first and the boys started steadily and then the introduction of Eddie C to the crease caused the run rate to shoot up - three sixes in one over! Copthorne came into bat and Tom R on his first match for Duke of Kent AND his first ever cricket match took a superb wicket and an extraordinary catch - well done! Copthorne managed to get over the line and take the victory by 11 runs, but a great afternoon was had by all and every one of the boys had a moment to be proud of during the match.
Mr Southee