A Message from Mrs Knox, Head
We have drawn speedily to the end of the Spring Term, which has been another very different experience for us all. 8 weeks of Remote Learning and 3 wonderful weeks of face to face teaching. In our final assembly today, I remarked that despite a global pandemic, we have achieved so much and overcome so many obstacles; coming through stronger, more resilient and perhaps standing a little taller. As we begin the Easter holidays, it is time to stop for a while and relax. There is much to look forward to next term as the roadmap eases and we can start to do the things that we enjoy. For me, it is meeting up with my family. Finally, thank you so much for your continued support of the School. See you on the 19th April. Happy Easter.
Mrs Knox
Monday 19th April
Start of the Summer Term, 8:00am
Activities and Prep start
Wednesday 21st April
PADoK Second Hand Uniform Shop open 3:00 - 4:00pm
Easter Service
On Friday morning we held our annual Easter Service in the PA Hall, accompanied by Years 5 and 6 and the rest of the school watching virtually thanks to Mr Southee and Google Meet. Mrs Knox introduced our well known Reverend Tim Clifford-Hill, now curate at St Nicholas Church in Cranleigh, who delivered an engaging and poignant service focusing on the theme of thankfulness; thankfulness for everyone engaged in doing their best to deal with the COVID disease, particularly health workers such as those at Cranleigh vaccination centre in the village hall. He was aided by a number of excellent props: Henry the rocking horse, a giant (unlit) candle and Mr Rye as himself (who clearly has a future in Performing Arts!). Mrs Green then invited the Year 6 House Captains (Rhys W, Jamie C, Lucy P and Heath P) to share some extremely thoughtful prayers based on their own lockdown experiences. This naturally led into a one-minute silence which reflected on the start of national COVID 19 lockdown, and its sacrifices and challenges, which was observed by the nation on Monday. Mr Lodge emphasised the importance of fully appreciating the 'new' opportunities available to us as lockdown restrictions ease and we can enjoy greater freedoms. We trust the Easter (and Spring) themes of positive renewal and regeneration continue!
Mr Lodge
Comic Relief Fundraising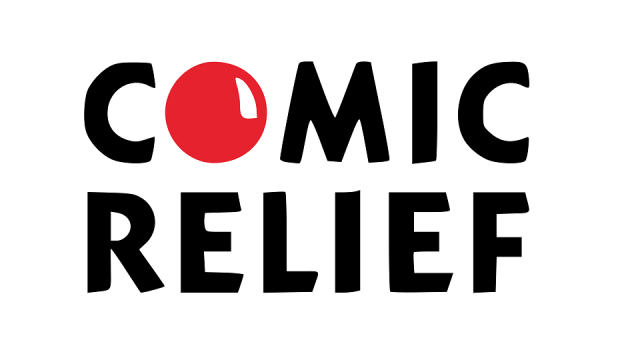 Last week I was raising money by selling homemade face masks for Comic Relief. Thank you to everyone who supported me and this fantastic cause! We managed to raise over £200, which I'm sure will be extremely beneficial to such a wonderful charity.
Milly B, Year 11
Duke of Edinburgh Updates
Congratulations to both Ben A and Ben H-F in Year 11 who have completed their Bronze DofE Awards this week. Ben A helped at Tormead School, boxed and drummed! Ben H-F took on the challenges of the martial art of Choi Kwang-Do (pictured below), singing and peer mentoring. Both also flourished during our expeditions in the Surrey Hills in which they enjoyed weather from all four seasons over the two expeditions!
Pictured is Arthur B, who also recently qualified in part by using his chosen sport of cricket. He is shown here demonstrating his batting technique as well as learning the rules of umpiring.
Mr Lodge
House Netball
Year 3 and 4 House Netball
Pupils showed some fantastic teamwork and great work ethic in their House Netball matches this week. All four teams managed to score goals for their teams multiple times and demonstrated some amazing match play throughout the games. Special mentions go to Henry O, Arthur S, Alfie H and Charlotte C for great teamwork, brilliant passing and superb ball skills that the pupils have been working on in the PE/Games lessons.
The final results are as follows:
1st - Whittle
2nd - Hillary
3rd - Chichester
4th - Armstrong
Year 5 House Netball
The Year 5 House Netball saw all pupils put their skills into practice. In order to make the numbers in each house more even, the Year 6 girls joined the tournament. Every game was extremely close with only one goal separating almost every house! At the end of the tournament, the pupils voted for some players that they felt worked particularly hard and showed excellent play throughout the afternoon. These included Eddie C, Patrick W, Levi L, Edie H, Erin C, John B, Eddie C and Clara H.
The final results are as follows:
1st Hillary
2nd Chichester
3rd Whittle
4th Armstrong
Years 6 House Netball
Year 6 House Netball was very close with some great netball on display! Chichester managed to remain undefeated with Lucy P and Edie H scoring goals for their team. Hillary also played some great Netball with Kit B and Myles C showing great movement and passing skills. Armstrong worked tirelessly throughout the tournament with fantastic play from Chester S and Annabelle B. Whittle worked as a great team with Arthur D-K and Rose S demonstrating some excellent Netball skills.
The final results are as follows:
1st Chchester
2nd Hillary
3rd Armstrong
4th Whittle
Years 7 and 8 House Netball
Years 7 and 8 participated in House Netball. They were all very excited to play the matches and win some points for their Houses. Overall, they all played excellent netball showing great skill, communication and teamwork. Camaraderie was shown from all of the girls as Hillary were a player down and the other teams volunteered a member for each game to fill the position. Isla B, Daisy R and Alex K were given a special mention for their fantastic goal scoring throughout all of their matches. Abi W, Anna S and Niamh A showed fantastic defensive skills and Annabel S and Violetta P played extremely well throughout, working hard for their team and showing fantastic sportsmanship.
The final results are as follows:
1st Chichester
2nd Whittle
3rd Armstrong
4th Hillary
Years 9, 10 & 11 House Netball
On Tuesday afternoon, our theme of Netball House matches continued with pupils from Year 9, 10 & 11 taking part. The effort and enthusiasm of all the players was evident from the first minute of the first match! The games were extremely high scoring with Daisy M, Millie L, Poppy S, Eva P and Bea H performing particularly well as shooters for their respective houses. The afternoon was full of brilliant quality matches and the teams were extremely even with Armstrong, Chichester and Hillary all winning 2 of their 3 matches! After each match, the pupils selected their players of the games so an extra well done to the following pupils; Amelie W-B, Molly G, Daisy M, Jas K, Macy B and Sophie S. Great work everyone!
The final results are as follows:
1st Chichester
2nd Hillary
3rd Armstrong
4th Whittle
The PE Department
Senior School Updates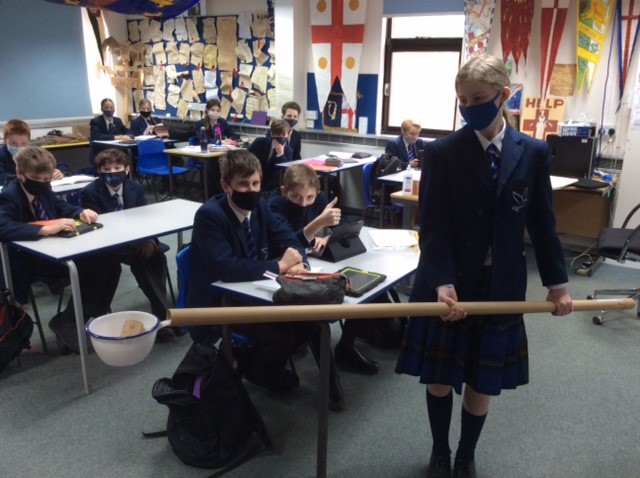 In Year 8 History, pupils reenacted 'The Warming Pan Baby'. In 1685 King James II's wife gave birth to a baby boy. However, the boy would follow his father in becoming a Catholic king and Mary, who was strongly Protestant, objected to this and supported the rumour that the child was not genuine, as James' wife had lost many previous babies in childbirth and so someone else's newborn baby must have been smuggled into her bed in a warming pan.Well done to Helena K for playing the part of smuggling in the baby.
Commendations this week go to Ben H-F and Ben A in Year 11 for completing their Duke of Edinburgh Bronze Award, Ava W, Abi W and Ariane L in Year 8 for their exceptional effort in choreographing and rehearsing their Hamilton performance, Isaac P and James B in Year 7 have also received commendations for their outstanding preparation and delivery of a charity campaign in English. Ella S, Ariane l, Helena K, Will R, Rufus B have also received a commendation for their outstanding effort with their River Project and, lastly, Matilda R for picking up someone else's rubbish (when she thought no-one was watching) and disposing of it correctly, a lovely gesture demonstrating the kind of community spirit we hope to instil in all School community members.
I hope you all have a wonderful Easter break and look forward to an exciting Summer Term.
Mr Wilson
Prep and Pre-prep School Updates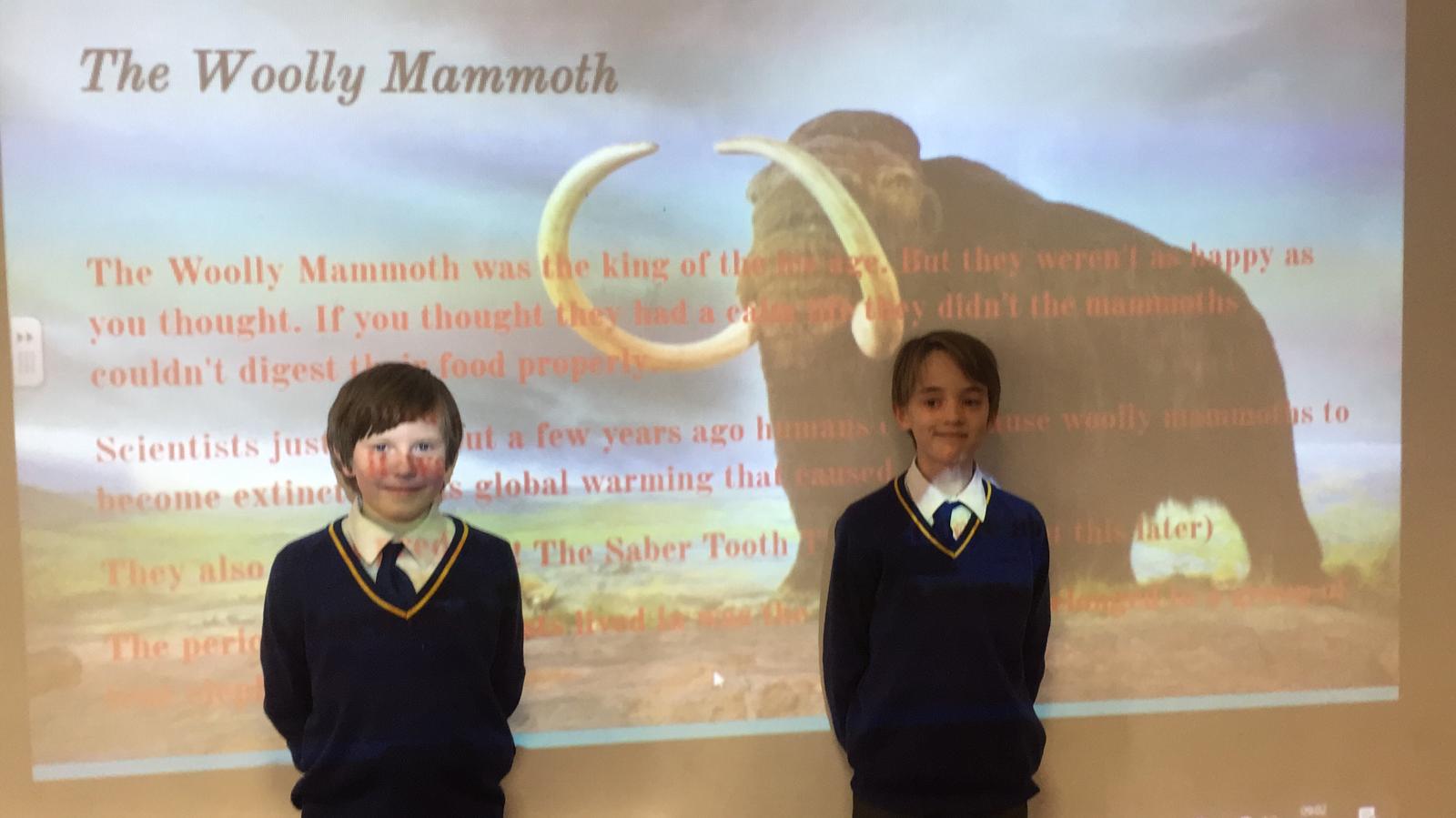 As Easter approaches, Nursery and Reception children have been busy with some wonderful seasonal crafts, including weaving, egg painting and cooking. Year 4 received a visit from 'Mrs Prickleson' on Wednesday, a teacher from the Victorian era. Whilst she thankfully left her cane back in the late 1800s, she did remember the abacus, slate and chalks and her Dunce's cap!
Assembly this week was hosted by a few of our Year 6s, who chose to share their personal interests with their peers. Tom R spoke most engagingly about parrots, sharing his knowledge of and passion for them, whilst Kit B and Arthur D-K fluently and humorously enlightened the rest of Prep School about a range of Ice Age creatures, explaining when and where they roamed. Year 1 also looked beyond their classroom this week, to chart the progress of their infectious smiles, as they embarked on a virtual journey around the whole world. Their smiles have appeared in 19 countries, and counting, helping the children learn about communication, the power of emotions and a range of new and far-flung places.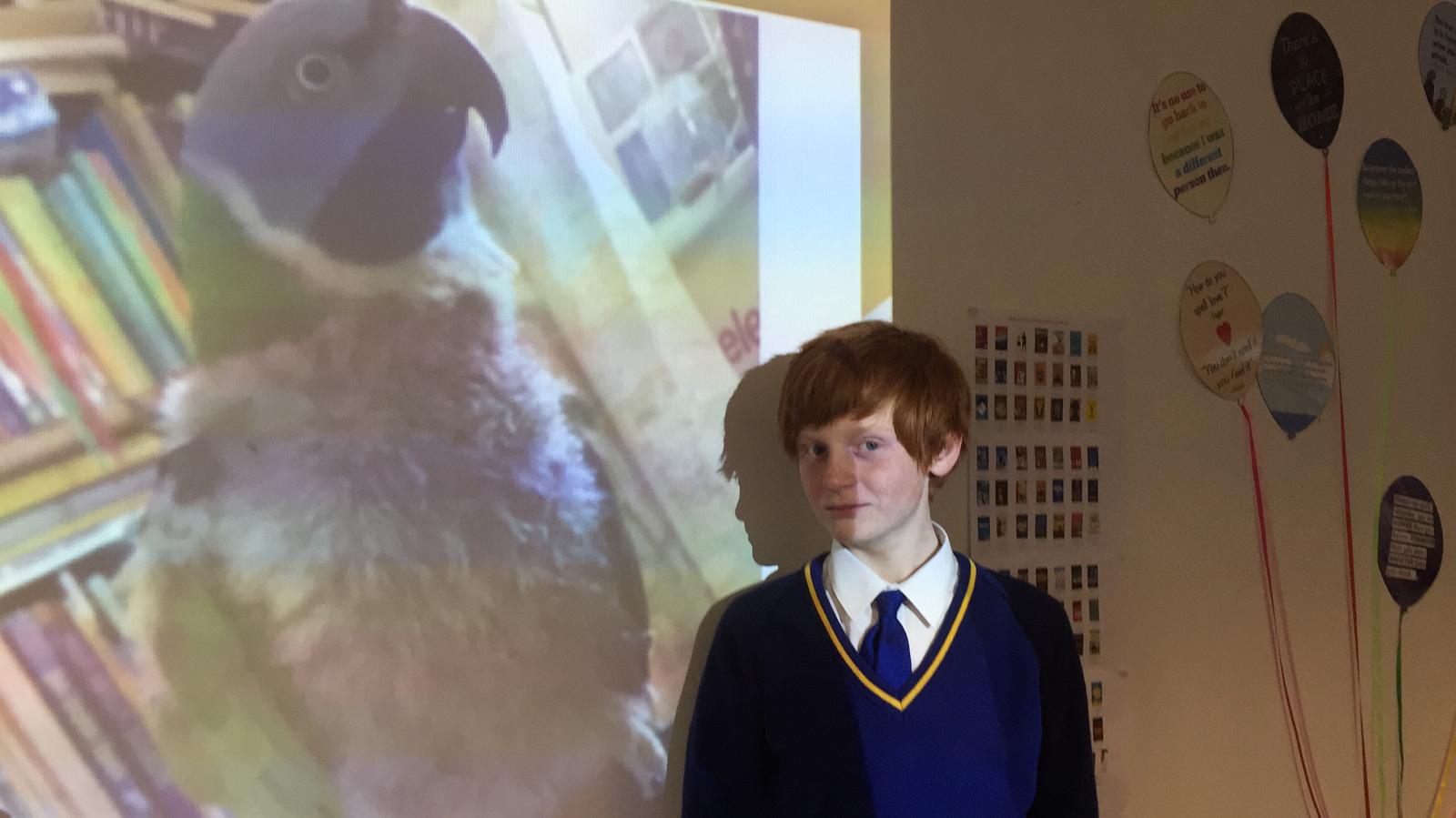 Whilst everyone's plans to travel further afield this Easter holiday have been delayed a little longer, I do hope the break offers a chance for the children to rest, have fun and find adventure locally. We would be most grateful if you could use the school break and the anticipated re-opening of retail shops and hair salons to ensure that pupils return with smart uniform, hair and a fully stocked pencil case please. Have a wonderful break and a Happy Easter.
Value Certificates
Effort - Eva W, Douglas S, Angus D
Mrs Green
Weekly Wellbeing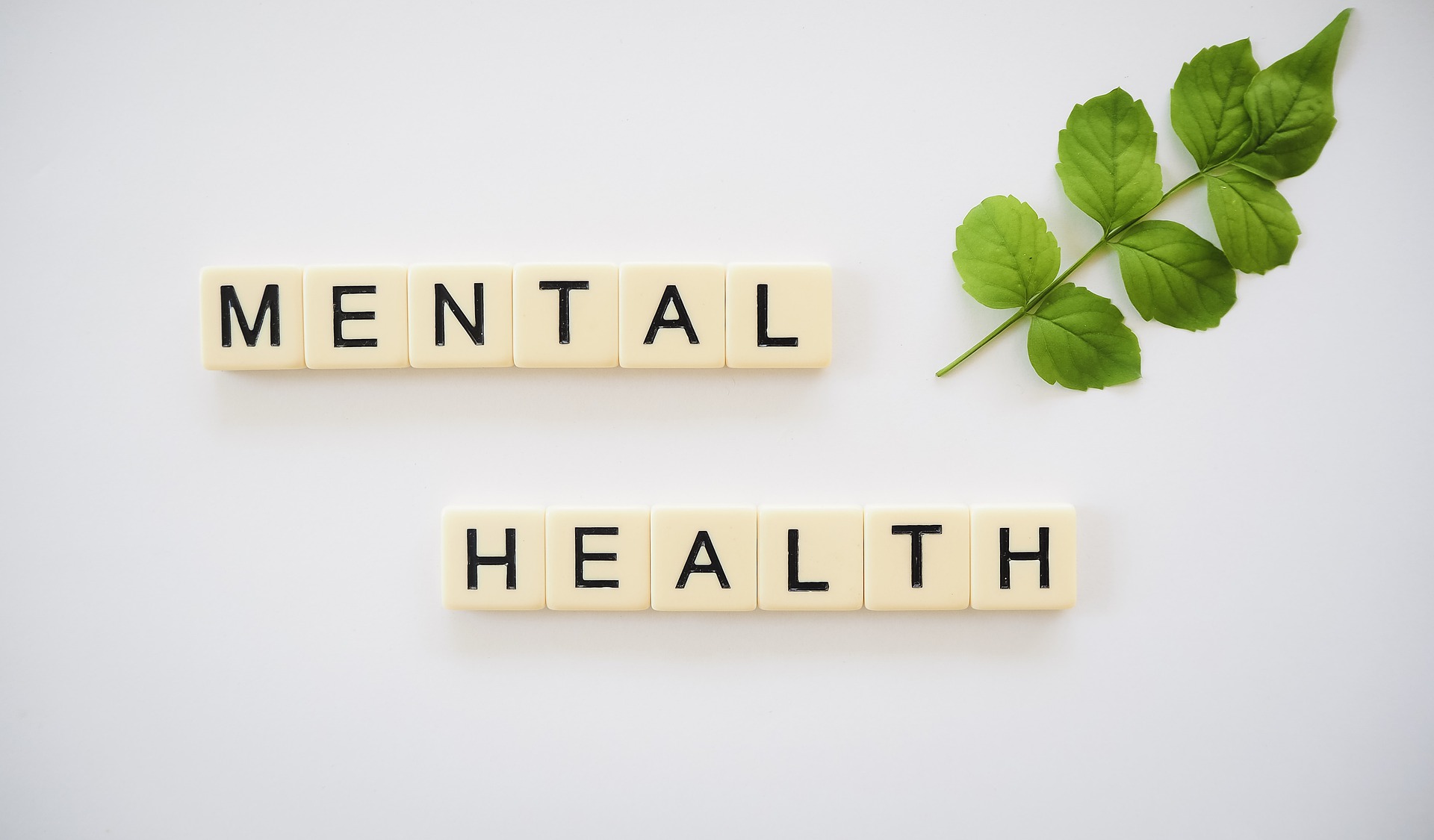 Easter is a period that signals rebirth and new life. Springtime in general is a season when life springs anew from a period of locked down repair and renewal. With that comes a sense of renewed hope. Pupils return to school, the planned easing of restrictions dates, the lighter evenings, can all be seen as signifiers of hope that things are improving.
Hope is vital to our wellbeing. It is the force that builds our resilience and drives our resolve. Hope is what keeps us going when life is a struggle. Viktor Frankl's amazing book 'Man's Search for Meaning' defines hope as the indicator for survival and human endurance.
Whilst there will continue to be times when things feel like a struggle, it is more important than ever to ask for help and remain hopeful for change and better things.
A lovely exercise to try with your children is to write down, discuss or illustrate a journal or poster expressing what they are hoping for as lockdown eases and the new term starts. I wish you all a wonderful and relaxing Easter break; I am hopeful for a productive, fun and hopefully sunny, Summer Term.
Mrs Douglas
E-Safety Tips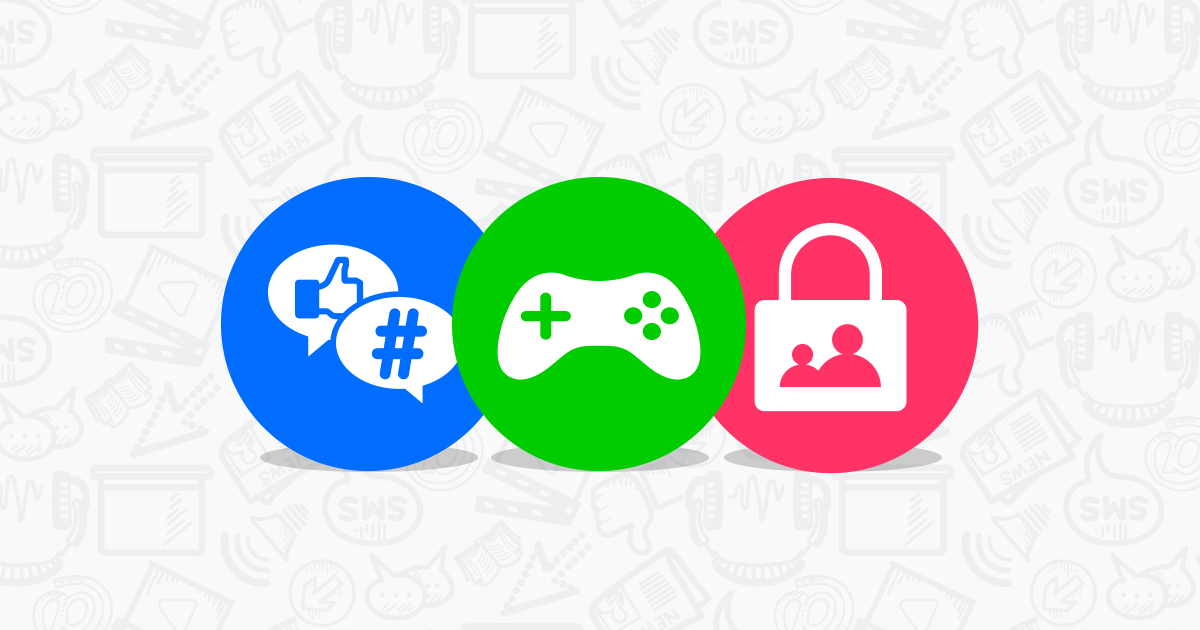 What digital boundaries are right for your child?
How to set the right rules at the right age.
13 - 15 years - Taking risks
Teens become self-conscious about their use of the Internet and social media to express and explore their interests. It's likely your child will be curious and search for sites and topics you may not think they are ready for. Help them be aware of, and critical about, what they may come across online. Being able to understand potential risks – such as extremist, violent or pornographic content – can help them to assess the dangers and make better decisions about what is suitable for them.
Sleep: NHS recommends 9-9¼ hours a night | Gaming: PEGI 16; BBFC 12, 15 | Screen time: 1.5hrs per day weekdays, 2hrs weekends can be beneficial for this age range
Top Tips:
Find out what rules their friends' parents are setting and discuss with them
As the rule maker, be clear, firm, and consistent
Mr Boden
Performing Arts News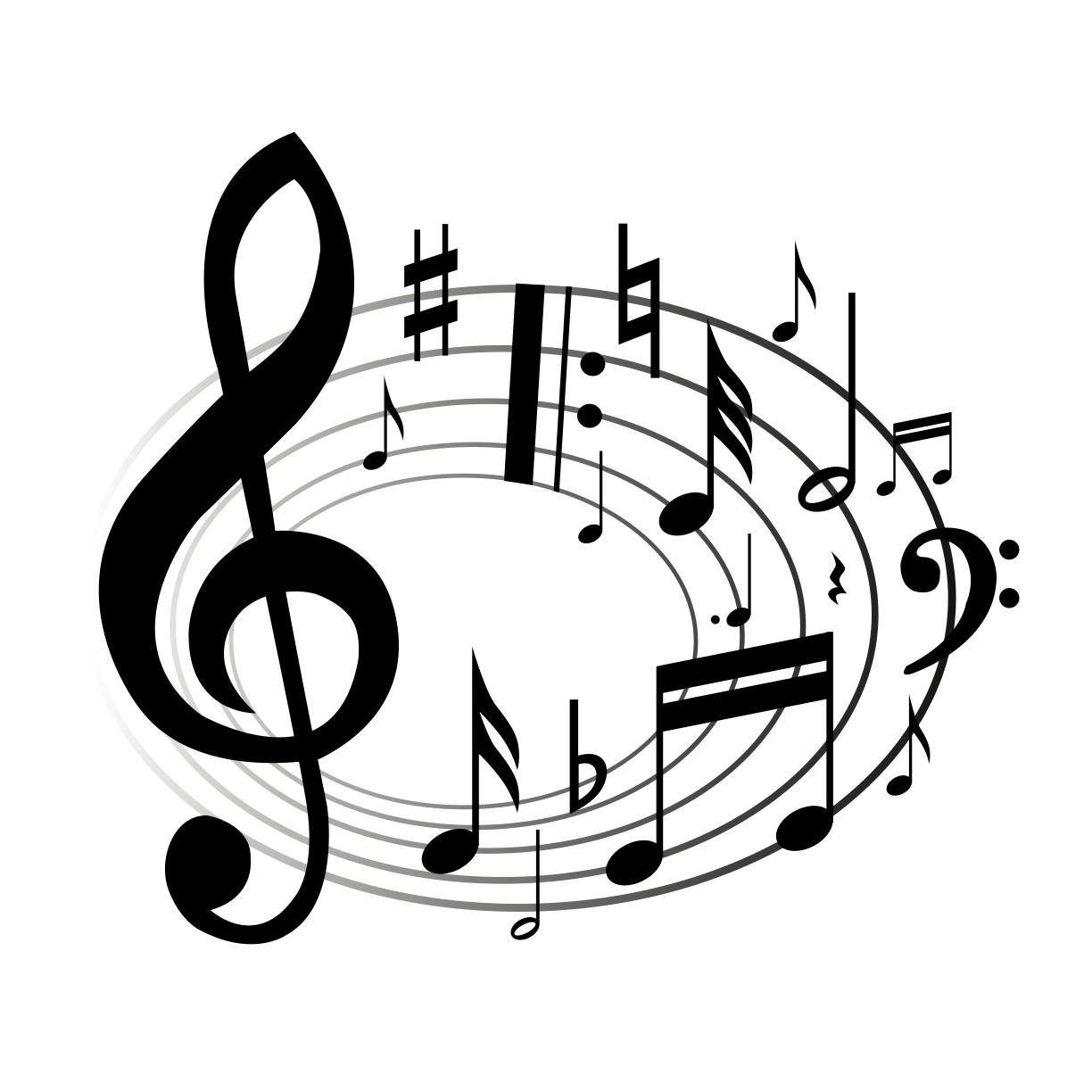 This week we launched the Combined Schools Virtual Choir charity single, recorded by members of our choirs over lockdown along with the other three schools who would normally have performed at GLive.
I am delighted to say that this wonderful rendition of the Coldplay song 'Fix You' has already raised over £1000 for local charity, Disability Challengers
Please click on the link below to see the video and, if you wish to, donate to this wonderful cause.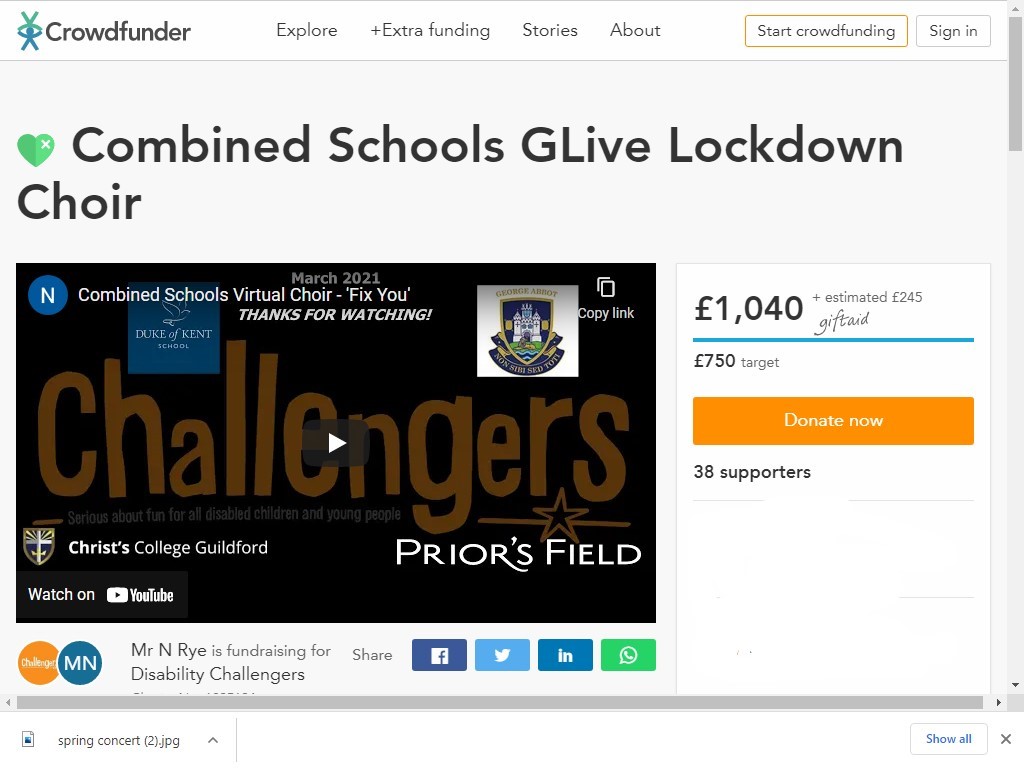 Spring Concert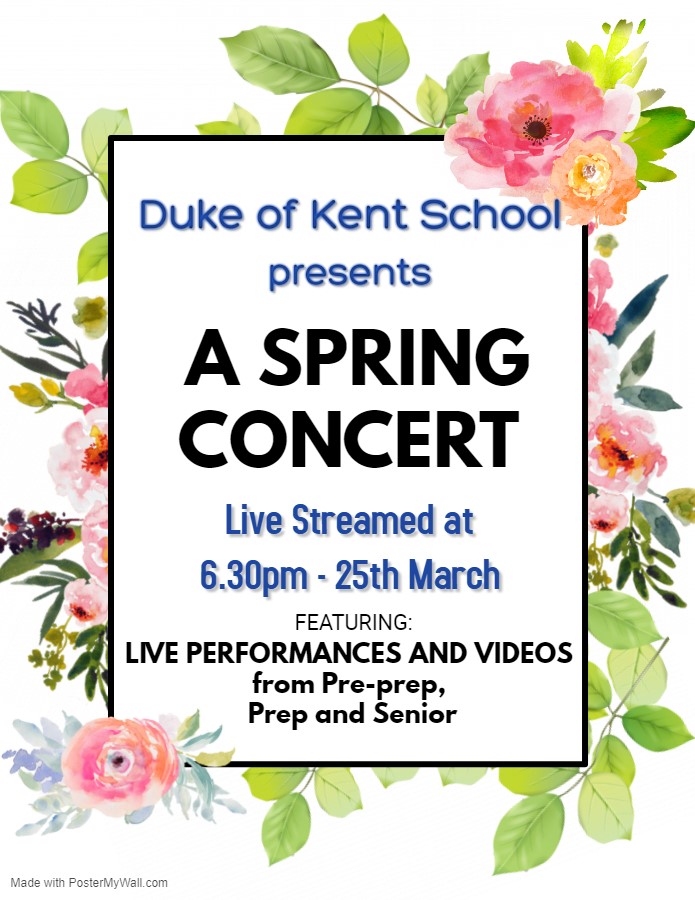 On Thursday evening this week we held our Spring Concert - this year a whole School virtual live stream including a few live performances and some great home videos recorded during lockdown were put together to make this brilliant concert.
Special mention must go to Year 11 performers Martha McA, Oscar B, Henry W, Lucy H, Kiki B and Zara H who not only performed live but also assisted in the hosting!
Well done also goes to Maddie I, Jess I, Kora W, Bobby F, Harley B and Alfie C who also performed live.
To watch the concert please go to this YouTube link below:
Mr Rye
A Message from the Medical Room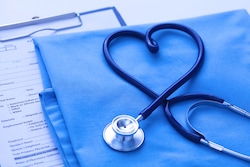 As we now head into the Easter holidays with the COVID-19 infection rate for Surrey as a whole, remaining stable, I thought it might be helpful to share a reminder of the social distancing rules moving forward, particularly as lockdown rules are due to ease a couple of times during the school holidays (these are the earliest dates of easing - dependent on government confirmation).
What's going to happen on 29 March?
People will be allowed to meet outside, either with one other household or within the "rule of six", including in private gardens
The "stay at home" rule will end, but the government will urge people to stay local as much as possible
Outdoor sport facilities will reopen, including golf courses and tennis and basketball courts, and formally organised outdoor sports can restart (for example, grassroots football)
Stage two of lockdown easing (no earlier than 12 April):
All shops allowed to open, along with close-contact services, including hairdressers and beauty salons (including in people's homes)
Restaurants and pubs allowed to serve food and alcohol to customers sitting outdoors
Gyms and spas can reopen, as can zoos, theme parks, libraries and community centres
Members of the same household (or bubble) can take a holiday in the UK in self-contained accommodation
Please also ensure the Senior pupils continue to use their home lateral flow test kits on Wednesday and Sunday evenings throughout the holidays, and finish with their last test on the evening of Sunday 18th April in order to return to School on Monday 19th. We hope to supply more test kits to Senior pupils at the start of the Summer Term.
Finally, please remember for the Summer Term, pupils should come to School with a named bottle of sun lotion (please apply before school each day when the weather is warm), a sun hat, and a named bottle of water, and those with a history of hayfever should medicate at home before School for their own comfort.
Enjoy the break and have a very Happy Easter,
The School Nurses
House Updates
The Spring term has been filled with a wide range of House events for the Prep and Senior students to get stuck into! A big thank you to all of the teaching staff who have organised and supported the competitions, as well as the pupils who have taken the time to partake in them. House Photography is still ongoing so any students who wish to test their skills with a camera may do so over the Easter holidays.
All of the House points earned by all of the Prep and Senior students in the Spring term have been counted! You can use this link to see the totals in more detail (Leaderboard- End of Spring Term ). Chichester have significantly narrowed the gap between 3rd and 4th; while Hillary have snuck into 1st place. However, the last Summer term proved that any leader can be caught so it is all to play for!
Mr Gritton
PADoK News
The 100 Club Winners
1st Prize £220 Mr and Mrs Hunter – parents of Edie and Ozzie ,Years 6 and 8
2nd Prize £130 Mr and Mrs Leslie – parents of Zoe, Year 10.
3rd Prize £90 Mr and Mrs Kite – parents of Alex, Year 7.
The Easter Competition
We hope that the children have enjoyed the Easter Competition and our thanks go to the teachers and school for running the event on our behalf. Thank you to Sarah Smith for organising the "Eggs in the Jar" competition and to Rachel Bond (our Head Girl's mother) for judging the "Best name for the bunny" competition.
The results for the Easter Competition were announced at the end of term assembly today and the winners are:
Pre-prep - Name the bunny
Runner up: Joey (Year 1) Rooey the Rabbit
Winner: Willow (Reception) Hoppy
Prep School - Eggs in the jar
There were 325 eggs in the jar:
Runner up: Heath P (6E), guessing 271
Winner: Freddie P (4N), guessing 312
Senior School - Eggs in the jar
There were 325 eggs in the jar:
Runner up: Thomas B (7C), guessing 327
Winner: Daisy N (7M), guessing 324
PADoK Book Club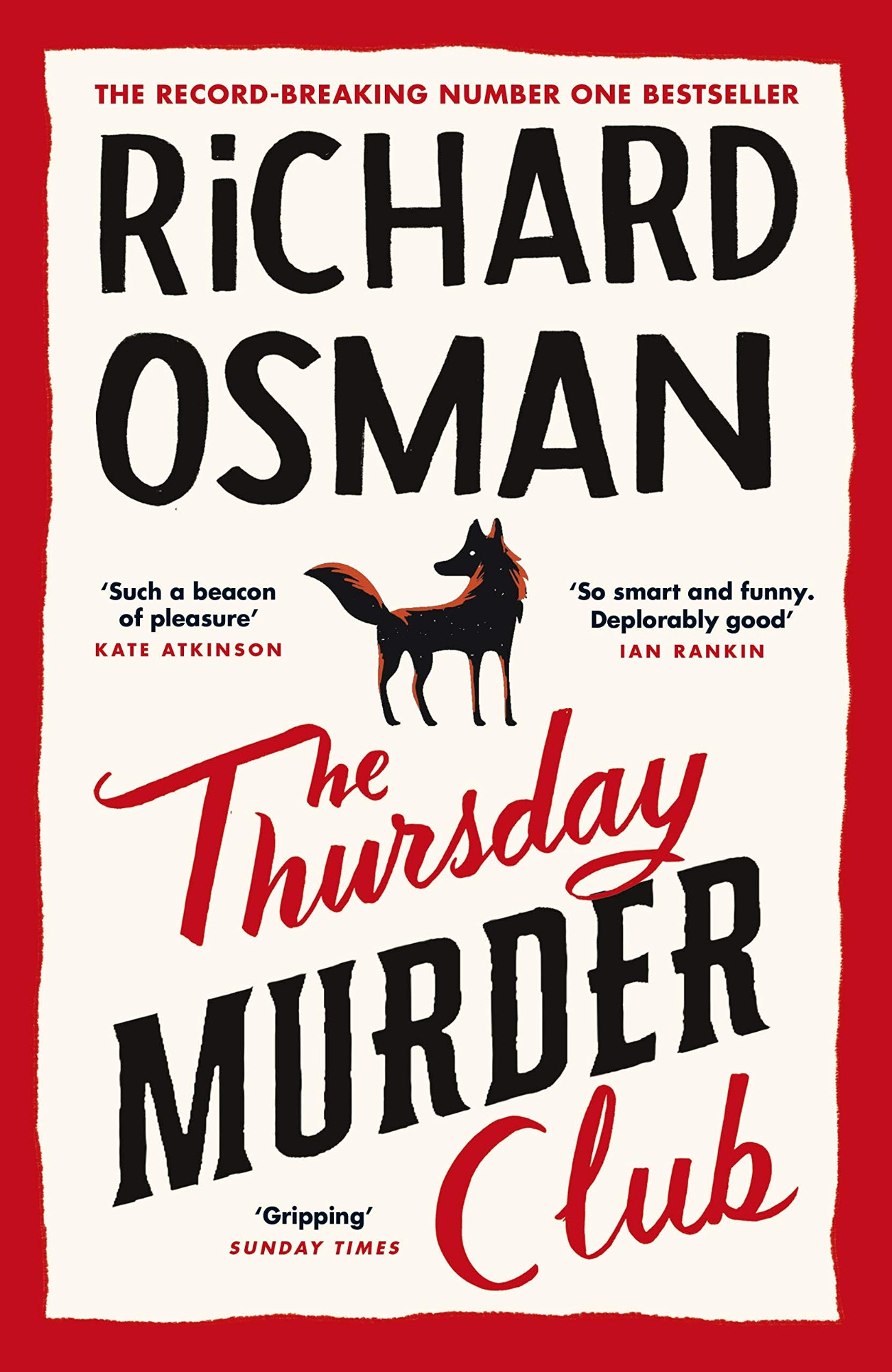 The PADOK Book Club will be meeting up again on Thursday 6th May to discuss our next book choice, The Thursday Murder Club by Richard Osman, and look forward to seeing you then.
Dates for your diary
Wednesday 21st April - Second-hand Uniform Shop will be open between 3pm and 4pm.
Friday 23rd April - PADoK walk from Hurtwood Car Park 3 (PItch Hill) 8.30am. All welcome. We will walk in groups of six as per Covid requirements.
The PADoK Team
School Social Media
At Duke of Kent School we have three social media platforms; Instagram (dukeofkentschool), Twitter (@DoKSchool) and Facebook (Duke of Kent School).
Our Twitter and Facebook accounts are public however, our Instagram account is private to keep it strictly for the Duke of Kent School community only. To follow the School Instagram account you will need to request to follow the account.
We recommend following all three accounts to receive push notifications with news, updates, educational articles, interactions with other schools, communities and public figures.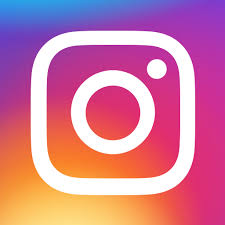 Miss Vernon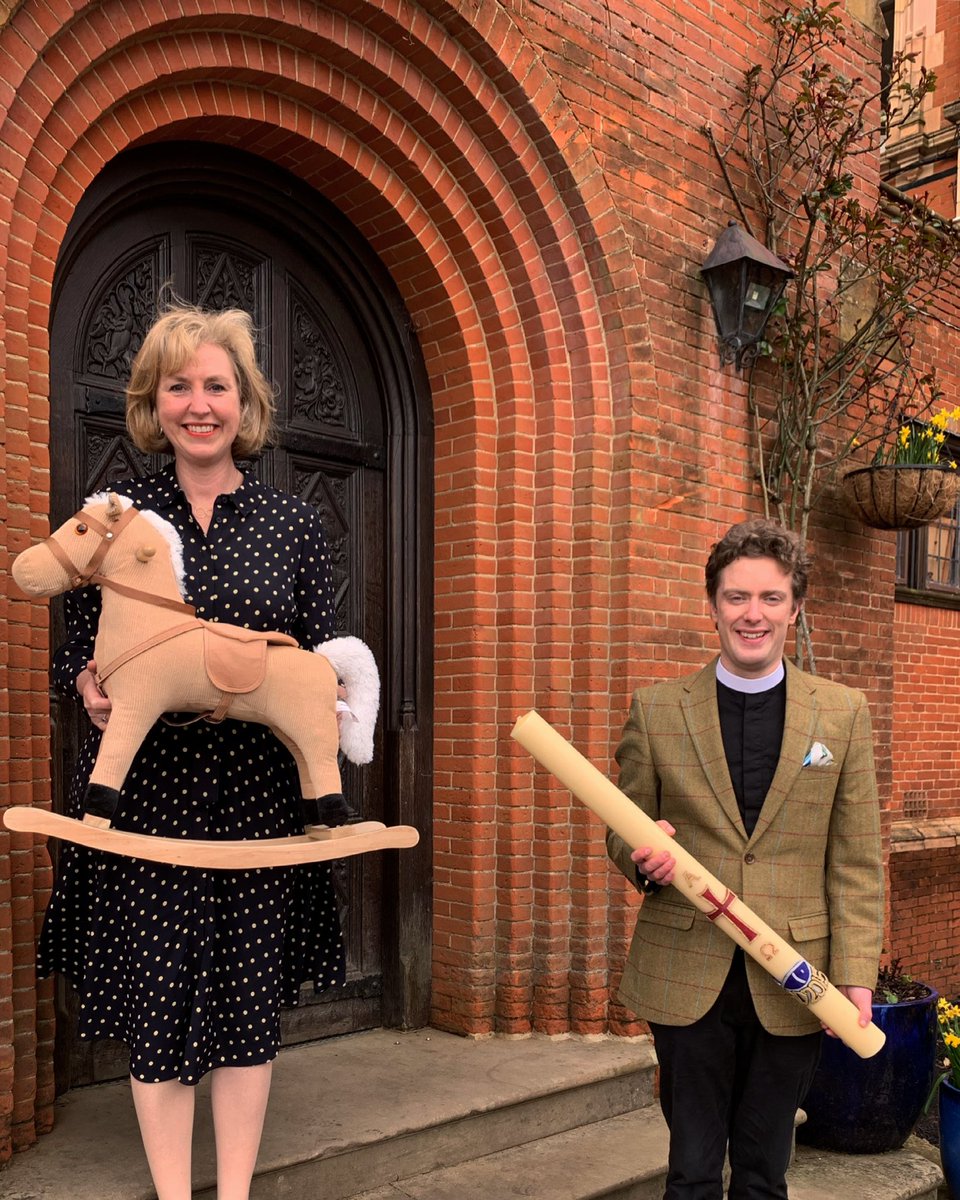 Thank you so much to The Rev'd Tim Clifford Hill from St. Nicolas Church, Cranleigh, for delivering a wonderful and inspirational Easter Service to all pupils and staff this morning #TheDoKWay #EasterService #Community #EasterCandle #TheLightOfChrist
@TimCliffordHill
https://t.co/hm0f69WU4T
3 hours ago
Follow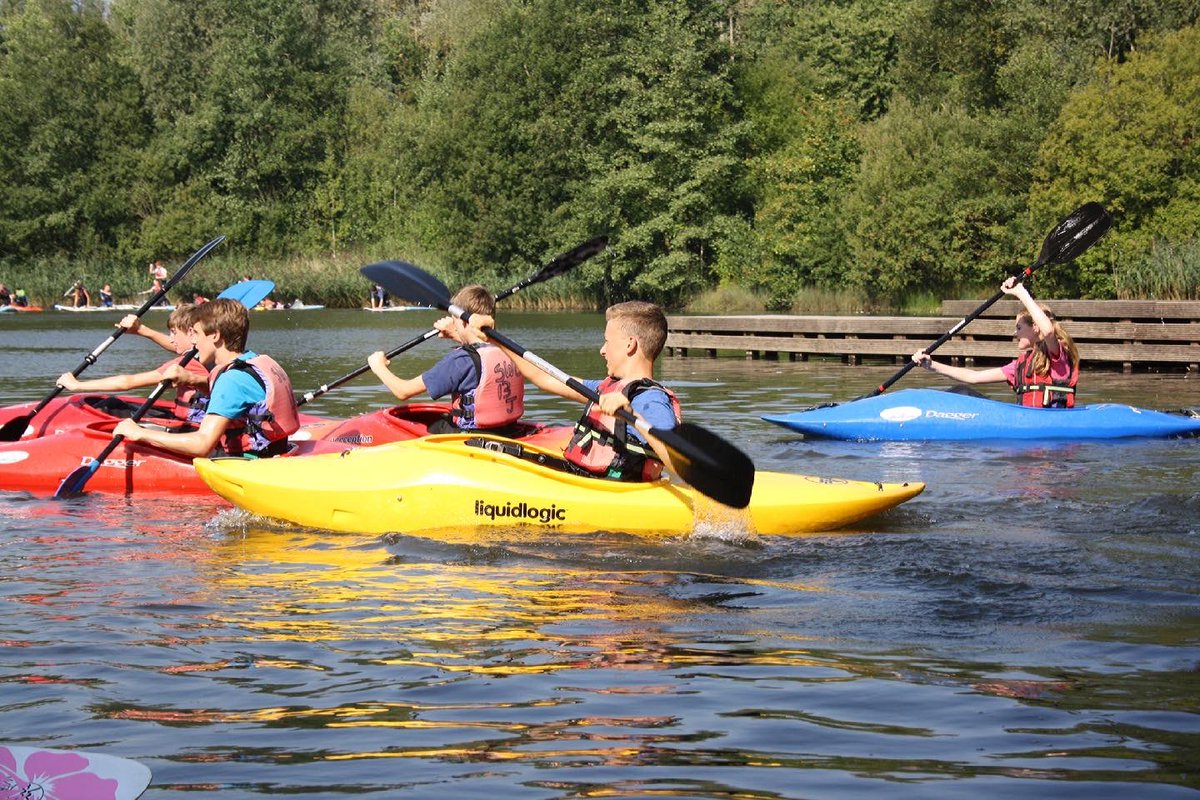 A fun filled Team building day at Southwater Country Park for Year 9 in 2014. The pupils enjoyed a variety of different water sports and challenges throughout the day, needless to say, they all got a bit wet! #TheDoKWay #ThrowbackThursday #Watersports #Teambuilding
https://t.co/sM0KHuDC6V
1 day ago
Follow