A Message from Mrs Knox, Head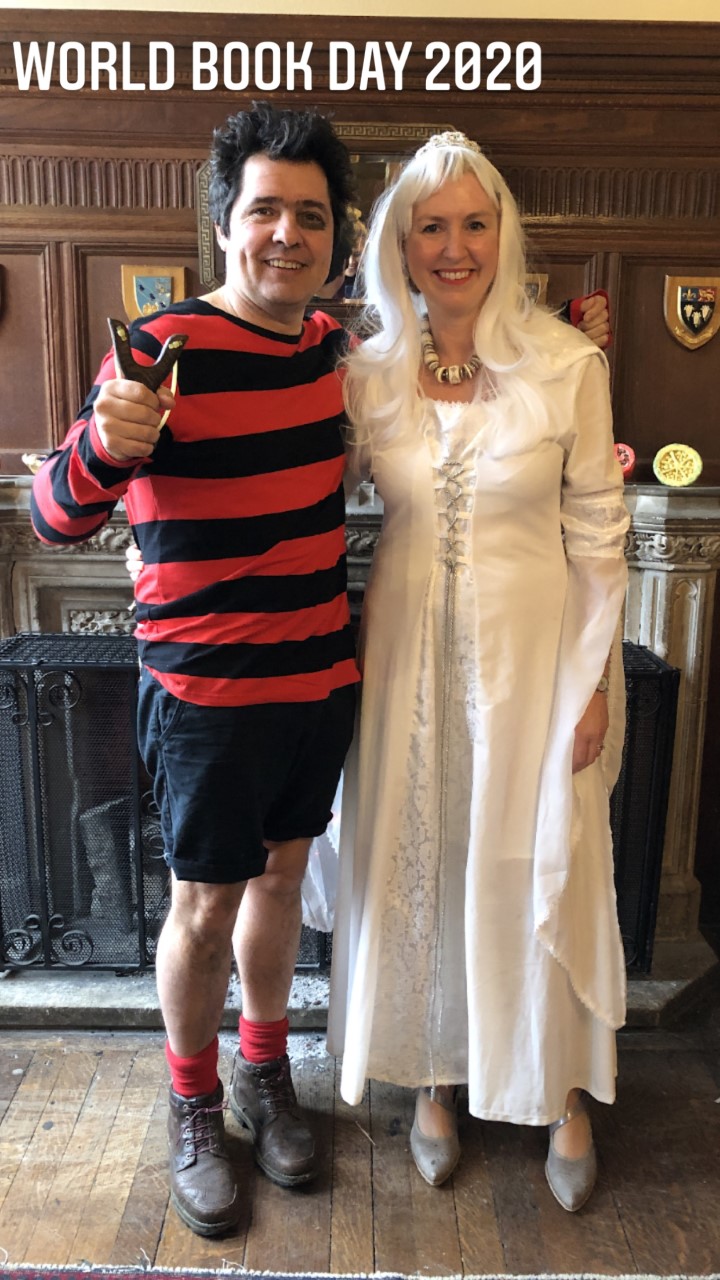 We were absolutely delighted to win the ISA Award for Innovation and Excellence in Performing Arts. Huge congratulations to our incredible team.
We are busy planning for the return of the pupils! More information will come your way early next week with full details of their return Thank you to so many of you who volunteered your time to help with the testing of our Senior pupils.
In the meantime, a huge array of activities are planned for World Book Day next Thursday as we celebrate books and the joy of reading. Whilst we are physically apart, the creativity of DOK teachers and pupils will ensure that zest, engagement and enthusiasm will be flowing on the day.
In view of the disruption we have had this term, our last day of term, 26th March, will be a full day. Teaching will finish at 4:45pm and pupils have the option to stay on as a normal school day.
Have a lovely weekend.
Mrs Knox
BREAKING NEWS - ISA WINNERS
Huge congratulations to our Performing Arts department who have just won the ISA award for Excellence and Innovation in Performing Arts. This is a huge achievement and we are overjoyed and proud!
A massive thank you is due to the entire team who have worked tirelessly last year through unprecedented times and manage to provide a creative, inspirational and innovative learning environment where pupils could express themselves, perform and create freely.
Mr Rye
Duke of Edinburgh News
The following four Y11 pupils have successfully completed their DofE Bronze Awards: Grace W, Harvey C, Daisy M and James H. Apart from passing their Practice and Qualification expeditions they had to complete three sections entitled 'Volunteering', 'Physical' and 'Skill', two of those lasting for three months, and one for six months. They join Oisin W and Poppy S who were the first to complete the Award in their year group.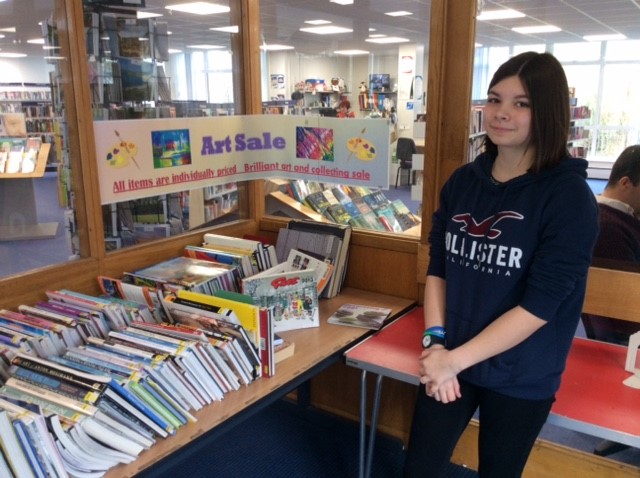 Grace enjoyed Military History club, roller blading and volunteering at Godalming Library (pictured). Harvey volunteered with DofE Club as well as enjoying karate and Rock Choir. Daisy was a peer-mentor at DoK, was another military historian and an expert ice-skater. James also volunteered with DofE Club, was a sous-chef and a regular at his gym.
All four also successfully navigated themselves around the Surrey Hills and camped, cooked and cleaned to the best of their abilities! I look forward to announcing more DofE completions in the near future.
Mr Lodge
National Careers Week 1-5 March 2021
NOT JUST FOR YEAR 10 & 11: Career planning should start as early as possible, even if you or your child have no idea what career path they want to take. GCSE Options are decided in Year 9 and these decisions will already be affecting the options for A Levels and Undergraduate choices that lay the foundation for career choices.
It can be difficult to have realistic conversations between children and parents as each may have very different ideas and expectations but it is important to support and nurture our children's ideas and ambitions. Download the following parents guide for useful resources on how to discuss the future with your teenager, how to build on their strengths and navigate their limitations, and how to then explore and research different career paths and routes.
Work Experience - Helping You Stand Out From The Crowd
For 12 -14 year olds and 15-16 years: Due to the pandemic many organisations and employers have become very creative in offering, in many cases, free access to virtual work experiences. You might have to register and places might be limited in some cases but these can be invaluable experiences that can help to broaden your child's horizons and make your child stand out from the crowd in an evermore competitive workplace. In this link, you will also be able to access information regarding post-16 routes into education and work.
It is my hope that this post gives you some additional tools for those important conversations with your child and gets them planning something positive for their future.
Any feedback on experiences that you take up will be very useful for me to share with our community. Also if you need any further one to one advice please don't hesitate to contact me.
Mrs LaCroix
World Book Day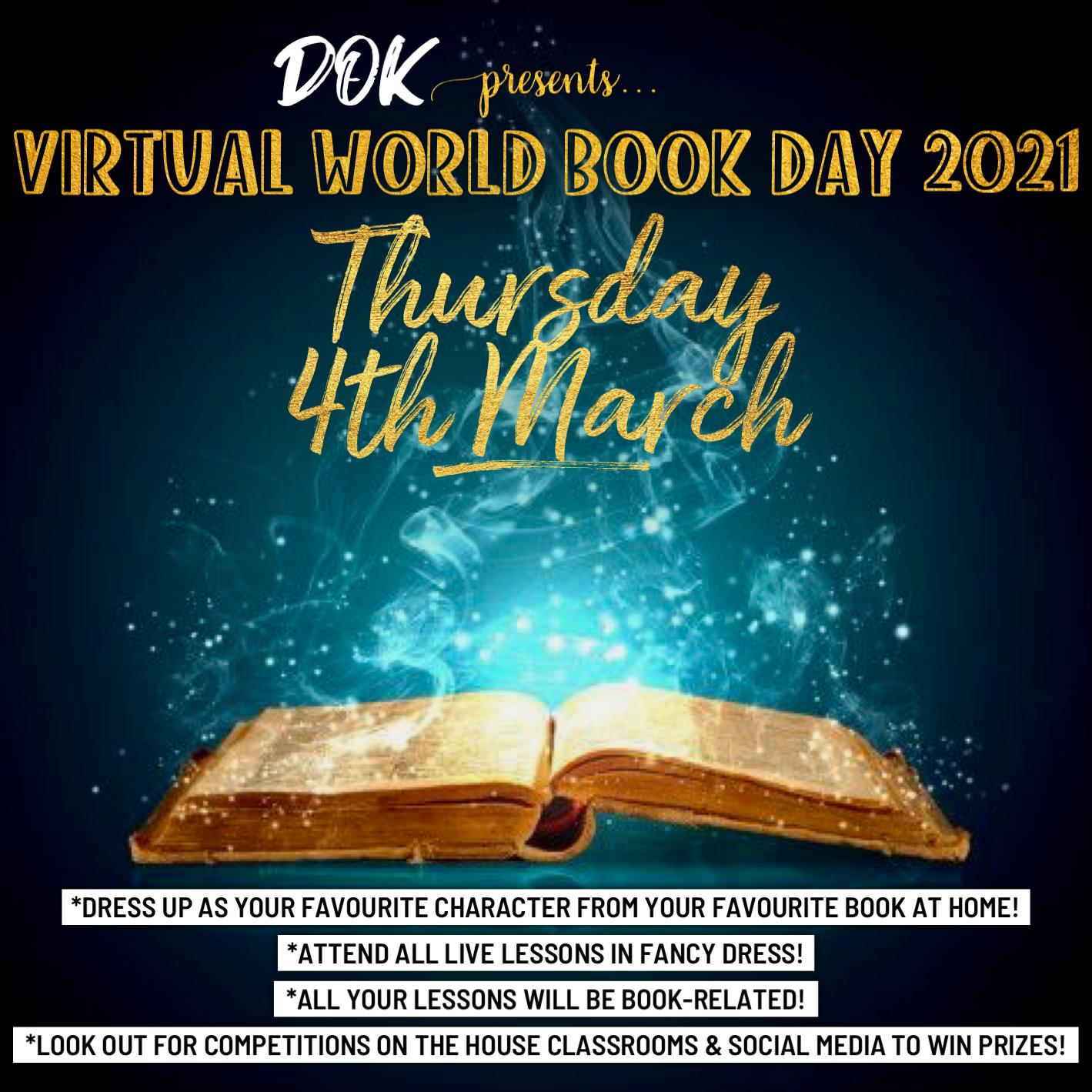 Next Thursday is Virtual World Book Day 2021. All students, staff and parents are invited to dress up as their favourite character from their favourite book and attend all of your lessons in fancy dress. There will be a Virtual World Book Day assembly and House challenges including, 'The Masked Reader' and all lessons will be book-related! There will be an opportunity to win prizes on social media so throughout the day and a 'Book Club Chat' from 1:00pm to 1:30pm. Make sure you get your costumes ready this weekend!
Miss Anand
Travel to Tokyo challenge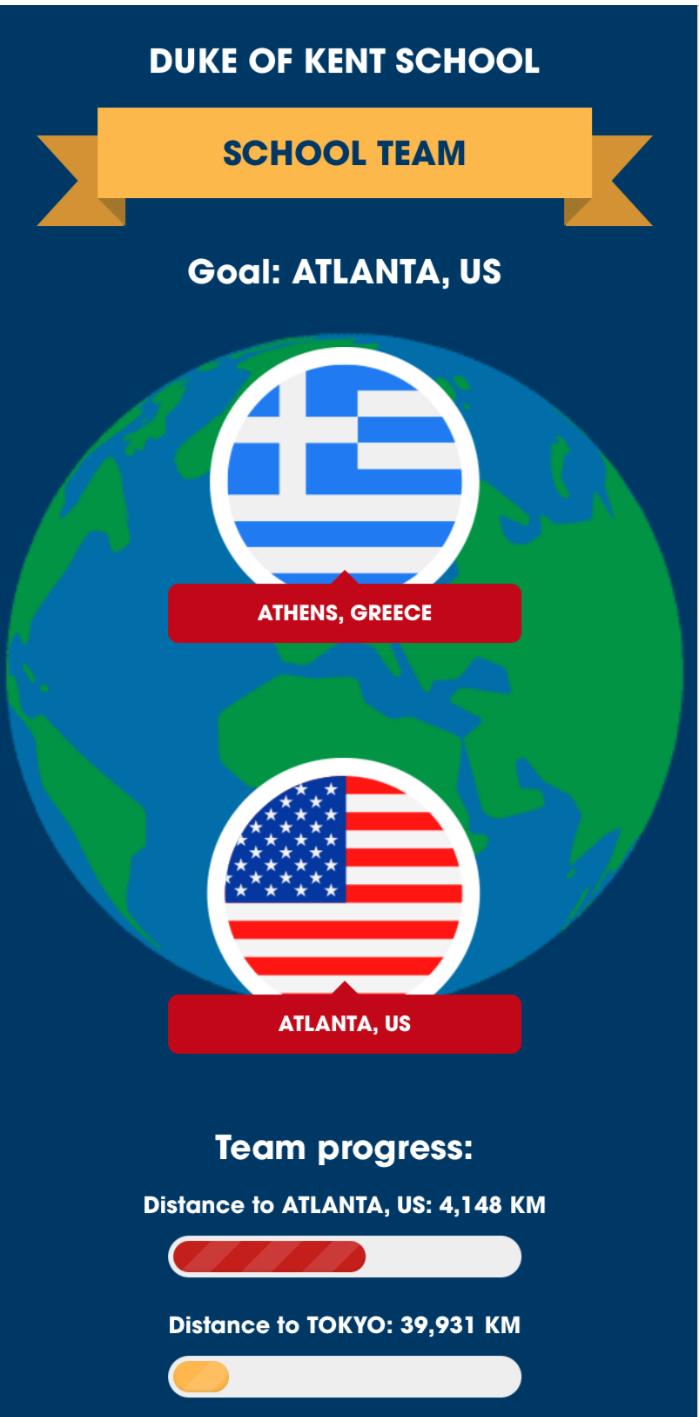 As a whole school, we have launched the "Travel to Tokyo" challenge to help encourage our pupils and school community to be as active as possible. The idea is for pupils and staff to log any activity they complete. This activity will then be converted into kilometres and added together to help us on our whole school challenge to reach Tokyo!
The journey is spilt into smaller segments and takes the scenic route taking in multiple different countries on our virtual journey around the world! Since we launched the challenge on Wednesday, we have already made it to France then Greece and we are now well on our way to Alanta! Keep an eye on our social media for more updates.
Pupils in Pre-prep and Prep should log any activity via the Get Set website (https://www.getset.co.uk/travel-tokyo/log-activity) meanwhile Senior pupils and staff should log their activity via the Google Form on their PE Google Classrooms. Remember, ANY type of exercise counts! Don't forget, you can add multiple submissions each week!
We are aiming to reach Toyko in time for the rescheduled 2020 Olympic and Paralympic games this Summer so the challenge will continue when we are back at school. Keep going team, we are doing brilliantly so far!
Miss Vickers
House Updates
Over the half-term break, the Prep and Senior Students had the opportunity to take part in the House Virtual Crafts Competition. The challenge was to make pieces of art using whatever they could find lying around the house and those that were entered did not disappoint! The level of skill and ingenuity that went into each submission was impressive so everyone that entered should feel proud of their creations. Our esteemed judge (Mr Watson) picked out art that Daisy N (pictured below, left) and Annabelle R (pictured below, right) produced as the winners, due to the variety and complexity of their ideas as well as the high level of skill and patience required to create them. The end of block chopping board, which was created by Johnny McM, was another notable submission as it required significant craftsmanship to create.
Well done to Hillary who have currently collected the most stars in the Prep School and to Chichester who have the most stars in the Senior school (by a significant margin!). Armstrong has a clear lead in the number of Senior Commendations earned so far this term. Whittle still maintain a narrow lead; however, the other Houses have earned more House points this week so that gap is closing. Chichester may soon overtake Armstrong to snatch 3rd place if their progress continues at the same pace. It is all to play for over the next few weeks as the results from House Music and the PE Dance Competition can make a significant difference.
Mr Gritton
Senior School Updates
With just over a week now until the return of pupils to the classroom it is hard not to have a slight spring in the step. I for one cannot wait to welcome students back into school once again and see the place abuzz with activity, something we have all sorely missed. Whilst there have undoubtedly been a number of successes throughout this remote learning period I think we can all agree that replicating the classroom at home is no substitute for the social, intellectual and emotional development that takes place in the classroom. This is not over, and strict guidelines will need to be adhered to, but, as the sun pours in this morning, it is hard not to feel we may be heading towards happier times.
Commendations this week go to four year 11 pupils for completing their Bronze Duke of Edinburgh Award; Daisy M, Grase W, James H and Harvey C. Within the remit of their chosen Volunteering, Physical and Skill activities these four have participated in areas as diverse as ice skating, karate, roller blading, sous-chefing and litter picking. A wonderful achievement rewarding their commitment and hard work. In year 8 we have four more commendations going out to Fleur S, Johnny M, Frankie M and Rufus B. These are for their excellent achievements in Science, most notably their production of a really imaginative and interesting presentation regarding ecosystems. Well done to all of you!
I hope you all have a restful weekend and enjoy the sunshine.
Mr Wilson
Prep and Pre-prep School Updates
The Prep and Pre-prep pupils have returned from their half term break ready and raring to go, getting stuck into this week's Remote Learning tasks.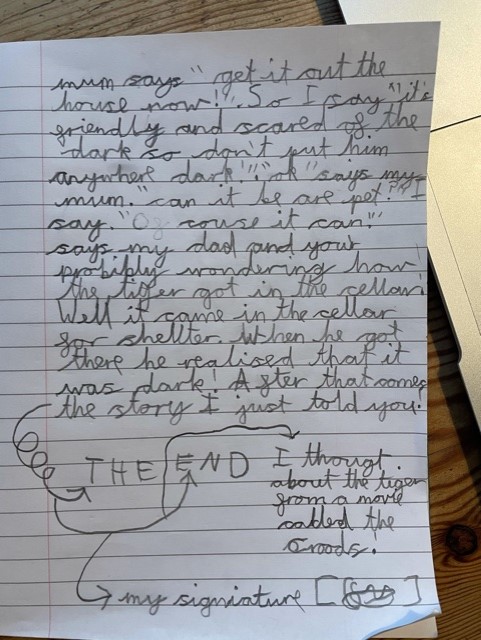 In school, Nursery children have practiced the art of 'shinrin-yoku' ('forest bathing' in Japanese). Year 2 have also been focusing on Japan in their Topic lessons this week, learning how to say hello, goodbye and how to count to three. In Pre-prep English lessons, Year 2 have enjoyed producing some creative writing about what could be looming in their deep, dark cellar and Year 1 have been reading and writing about The Enormous Turnip! Reception have particularly enjoyed trying to achieve a 'full house' with their tricky word bingo.
Science has been a particular highlight for Prep School pupils this week. Year 5 have been learning about levers and pulleys, and John B designed and made a pulley which would transport a load from one side of the river to the other! Year 6 have been investigating reversible and irreversible changes by observing what happens when different powders are mixed with water or vinegar. They utilised this knowledge to make an exploding lunch bag! Year 4 have been searching for organisms in their garden and learning what all living things have in common, whilst Year 3 have discussed the old wives tale whether carrots help you to see in the dark.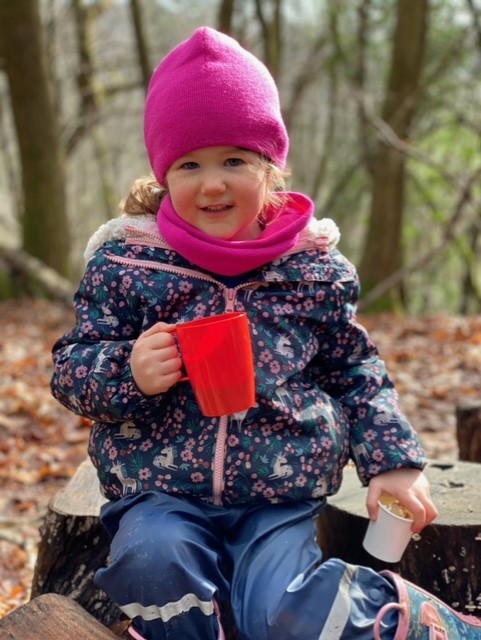 Our Prep School assembly on Wednesday morning revolved around the focus of Patience; something we have all required a great deal of in the past year. The message that patience is not just about waiting but how you wait was emphasised and the need to display patience with ourselves, others, circumstances and nature / our world were all highlighted. Developing patience can help us to be better friends and neighbours and create a more positive and accepting atmosphere in our school, home and local communities. I hope the assembly has prompted the children to take a moment to recognise and reflect upon situations where they have required patience this week.
Also in our assembly, four Sapphire Awards were issued for outstanding Endeavour projects. Congratulations to John B, Jamie C, William M and Tom S for your respective fantastic efforts.
Value Certificates
Effort - Sam P-R, Isabelle S, Myles C
Responsibility - Hope N
Kindness - Arthur D-K
Respect -
Stars of the Week
Nursery - Ottilie H for your positive and enthusiastic attitude.
Reception - Jack M for great attitude throughout 'Key Worker school' and impressive reading.
George F for fantastic and independent creative writing.
Year 1 - Violet W for your really good attitude for learning at home.
Logan N for brilliant handwriting.
Year 2 - Seren G for a great attitude towards your Maths this week and for persevering with fractions.
also to Mrs Branson, who was also awarded 'Star of the Day' from Willow, during some role play activities!
Mrs Green
Thursday 4th March
World Book Day -
Dress up as your favourite character
Friday 5th March
House Music winners announced.
Q&A with judge Pete Honore @ 3:30pm (Livestream)
Weekly Wellbeing

With the government's announcement of our phased return to school beginning on March the 8th, pupils, parents and staff's thoughts will have understandably focused on this date and what it means for us as a whole school community, but also, importantly, as individuals. Most people are delighted that we are returning to school as it marks the beginning of a hopeful return to more normal times.
It is, however, important to acknowledge and recognise that not everybody necessarily feels the same way about the return to school. There are a multitude of individual and often contradictory emotional reactions that you may be processing right now. Some of you will have been away from school for almost 3 months by the time you return (a lot longer than the 3 weeks you and we had planned for) and this has been an uncertain time. Now we are returning, you may be feeling: happy, nervous, pleased, impatient, concerned, joyous, apprehensive, thrilled, confused, indifferent, excited, fearful, relieved, worried or any combination of these and other emotions. It is important to remember that you are an individual and your reaction is yours and therefore as worthy and valuable as anybody else's.
Recognising how you are feeling and considering what you can do to best cope with those feelings, is an important part of preparing yourself for the return to school and building on your own amazing resilience.
Parents may find it helpful to fill out the sheet in this link with their children which helps focus on what the feelings are, addressing concerns and considering coping strategies. https://www.partnershipforchildren.org.uk/uploads/Files/PDFs/Resilience%20Activities/Going%20back%20to%20school.pdf
This website link offers advice and insight for pupils who are anxious about returning to school:
https://youngminds.org.uk/blog/coping-with-anxiety-about-going-back-to-school/
Mrs Douglas, Wellbeing Coordinator
E-Safety Tips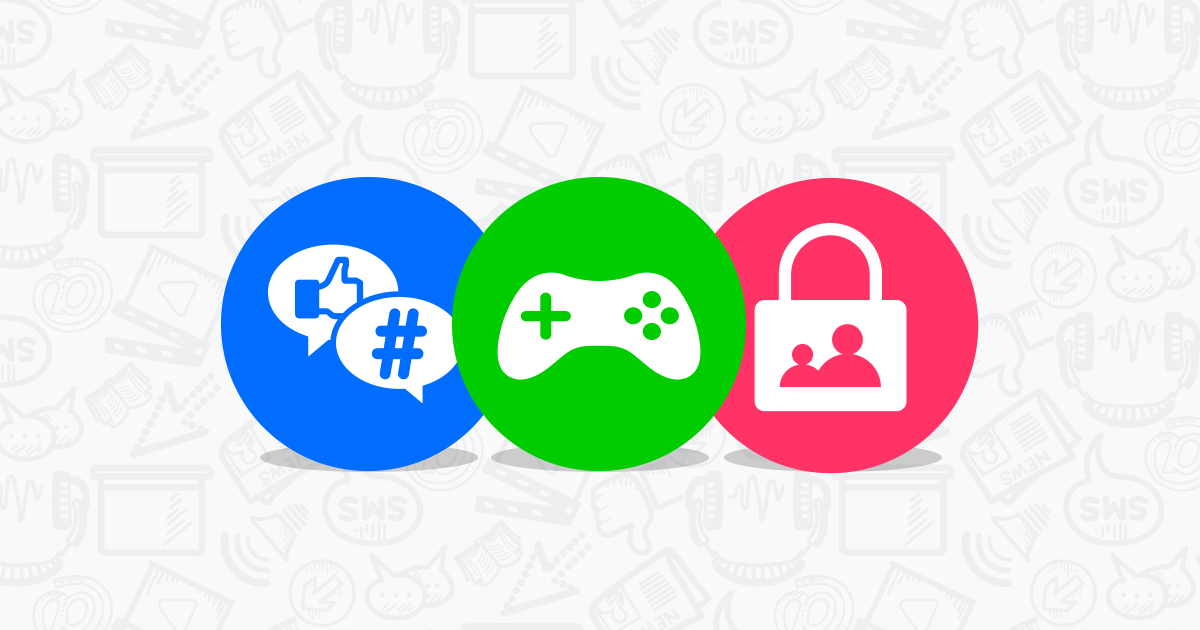 Are YOU smartphone secure?
AUTO-LOCK CHECK:
Is your phone set to auto-lock? Protect your device with a pattern, PIN code, password, or fingerprint.
PASSWORDS CHECK: Are your passwords tough enough? Use upper- and lower-case letters, numerals, and special characters (!*%). Keep them different for each site.
CAMERA CHECK: Do you think about what you snap? Images accidentally shared can can give away private information, such as location (e.g. school uniforms, street signs and door numbers).
Mr Boden
Performing Arts News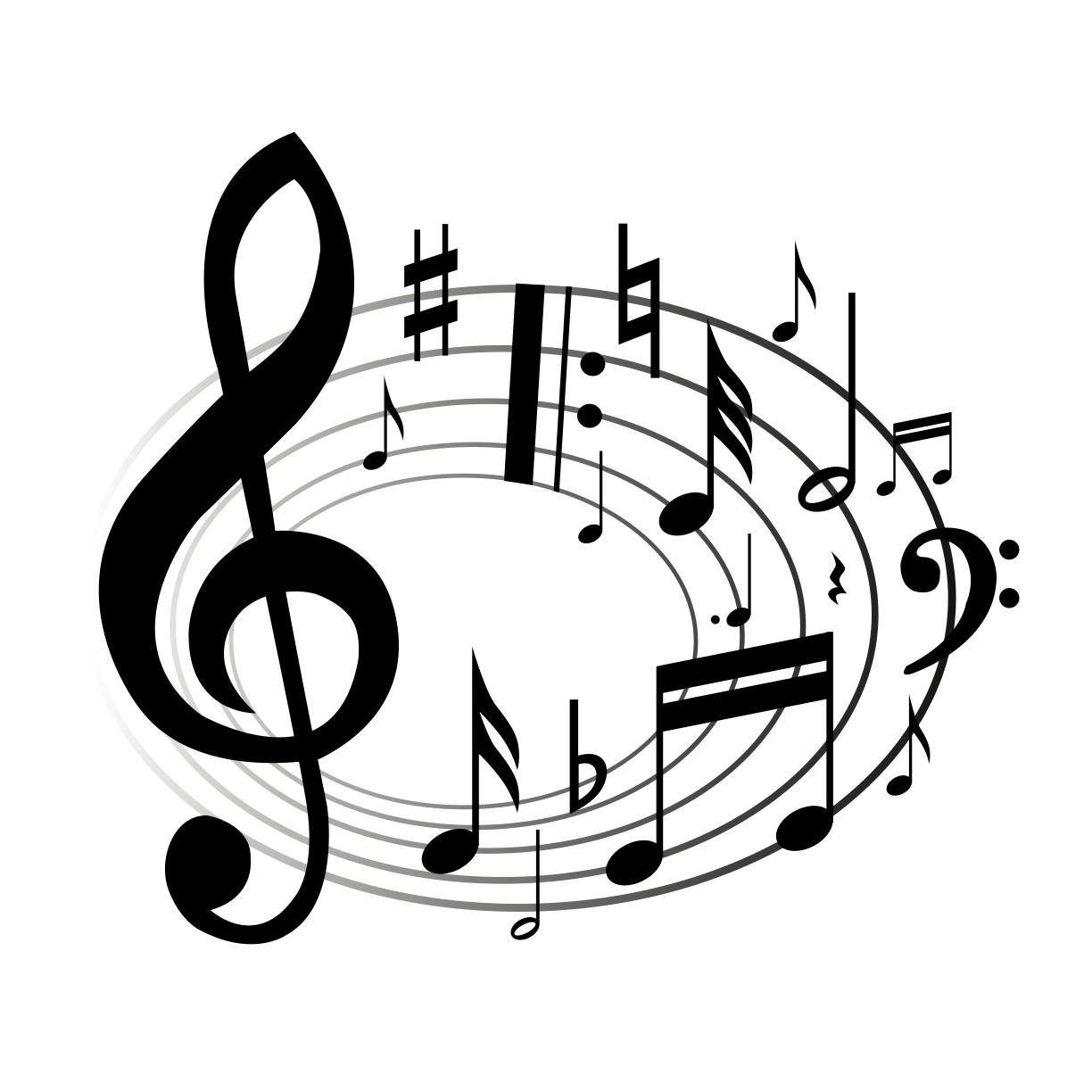 The House Music Finals are next week and the following pupils have made it through. They must remember that the deadline for any new entries is next Wednesday, but they can use the same submission as their semi-final if they wish.
The semi-finals were tough and well-fought, and we had some incredibly creative video editing - there will be a special award for this, chosen from all those who entered, which will be awarded next Friday.
It has been wonderful to see how the children have managed still to be creative in their output without the support of their individual Music Teachers. So a huge well done to all who entered - you should be very proud of yourselves.
The finalists are...
SOLOISTS
Beginners: Eddie C, Paddy W, Lucy Ph
Intermediate: Oliver Y, Jess I, Lucy Pa, James B, Johnny M, Bobby F
Advanced: Martha M, Zara H, Sandy T, Maddie I, Kora W, Kiki B ,Henry W, Harley B, Milly B
GROUPS
Beginners - Pippa and Tom S
Intermediate - Abi W and Ava W, Rose S and Ella S, Daisy N and Maggie B
Advanced - Oscar and Harley B, Maddie and Jess I, Zara and Alannah H
COMPOSITIONS
Kai G , James B, Maddie I, Jess I, Lucy Ph.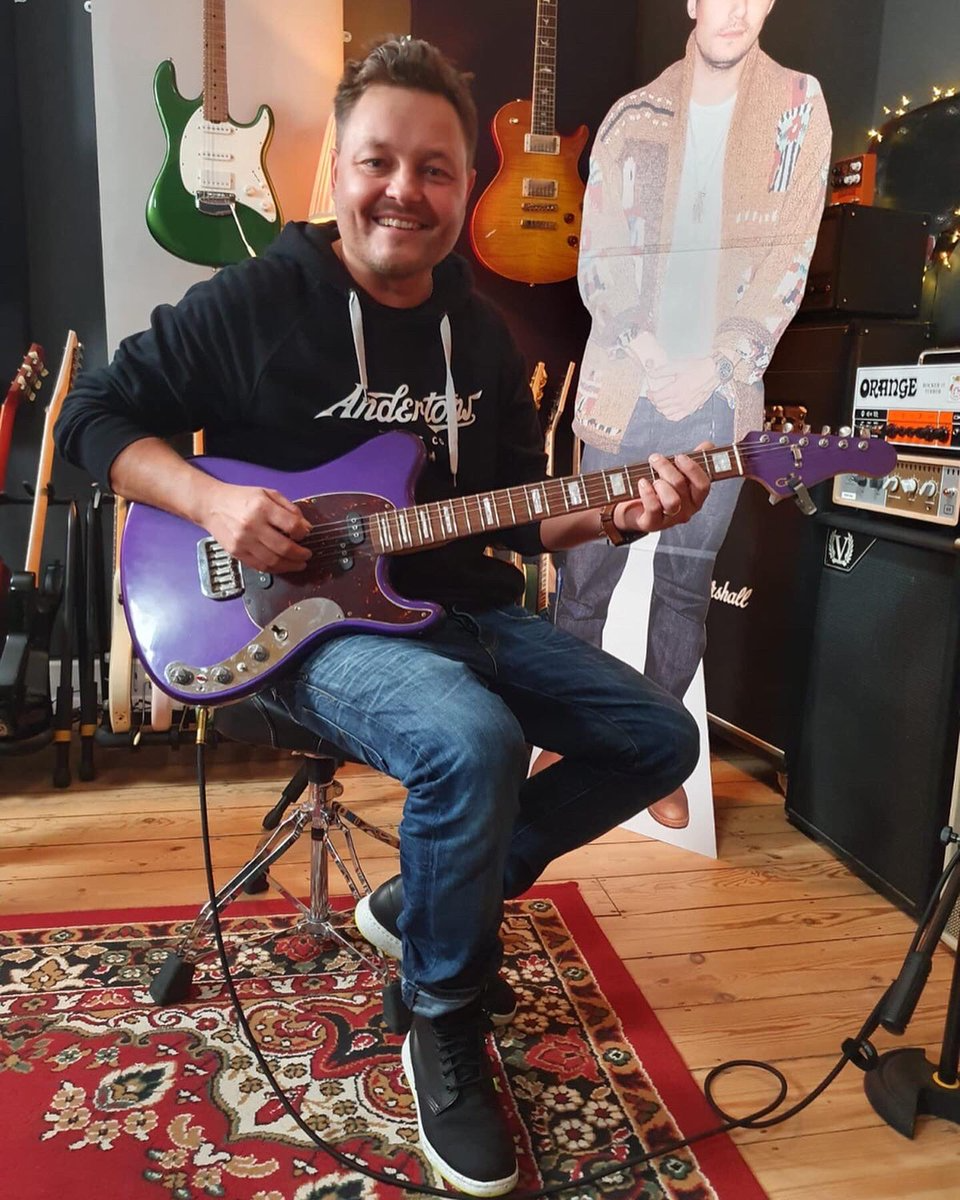 I am delighted to announce that the judge is Internet Music star and session guitarist Pete Honore. Known as 'Danish Pete', with almost 100,00 Instagram followers and just under 1 million YouTube subscribers he is an award-winning guitar player. Pete has played with Tom Jones, Joss Stone, Lionel Richie, Leona Lewis, Olly Murs, Nicole Scherzinger, Will Young, Westlife, Ronan Keating, Paloma Faith, Lionel Richie and many more.
Pete will be holding a Q&A with the finalists next Friday afternoon so watch this space for more info!
Harry Potter Project
The deadline for this is 8th March so keep those videos coming in!
Pre-Prep Singalong
This week we meet Carrie the Conga - She is Barry the Bongo's sister and a wonderful musician and a pretty mean dancer!
Meet Barry's sister Carrie!! She's a conga who loves Cuba and dancing!

youtu.be
Mr Rye's Podcast
This episode is a look at circles and cycles in music - how we hear them everywhere from Handel to Hendrix. Plus we discover why Beethoven is responsible for CDs containing 74 minutes worth of music.
Mr Rye
A Message from the Medical Room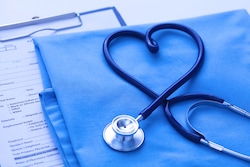 I've been reviewing the local Covid-19 infection figures this week to see how far we've come during lockdown, and the reduction in infections locally is really impressive. For example, on the 8th January 2021, the rate of infection for Guildford borough was 553.7 per 100 000 per week, and for Waverley borough it was 679.2. This compares with a rate of just 54.4 per 100 000 for Guildford borough and 48.3 for Waverley borough on the 24th February 2021.
These figures should give us huge confidence about the children's return to school on the 8th and 9th March, but also clearly indicate how effective social distancing is, and therefore how important it is for all of our community; pupils, staff and family members alike, to continue to follow government guidance as the lockdown is gradually eased.
At school, we are busy making plans for the safe return to school for all staff and pupils, including planning the NHS Test and Trace mass asymptomatic testing of senior pupils as they come back to us, before they transfer to home testing twice a week (after having their first 3 tests at school). More details to follow next week.
Finally, if there are any significant medical updates on any of the pupils as they near the return to school, please do email me directly at csarjant@dokschool.org so I can update medical records and notify relevant members of staff accordingly.
Thanks so much, and enjoy a lovely sunny weekend - it looks like spring might be on the way!
Mrs Sarjant
PADoK News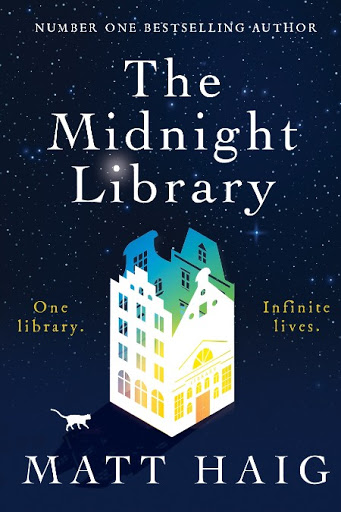 Please join the PADOK Book Club and read this term's PADOK Book Club choice, "The Midnight Library" by Matt Haig. We look forward to getting together again for a glass of wine over a Zoom catch up on Thursday 18th March at 8pm.
Between life and death there is a library, and within that library, the shelves go on forever. Every book provides a chance to try another life you could have lived. To see how things would be if you had made other choices . . . Would you have done anything different, if you had the chance to undo your regrets?"

A dazzling novel about all the choices that go into a life well lived. Somewhere out beyond the edge of the universe there is a library that contains an infinite number of books, each one the story of another reality. One tells the story of your life as it is, along with another book for the other life you could have lived if you had made a different choice at any point in your life. While we all wonder how our lives might have been, what if you had the chance to go to the library and see for yourself? Would any of these other lives truly be better?
The PADoK Team
School Social Media
At Duke of Kent School we have two social media platforms; Instagram (dukeofkentschool) and Twitter (@DoKSchool).
Our Twitter account is public however, our Instagram account is private to keep it strictly for the Duke of Kent School community only. To follow the School Instagram account you will need to request to follow the account.
We recommend following all three accounts to receive push notifications with news, updates, educational articles, interactions with other schools, communities and public figures.

Miss Vernon
@ThisisRudi
@ISAartsUK
@isaschools
Thank you so much! We have a very happy Performing Arts Department and school community!
30 minutes ago
Follow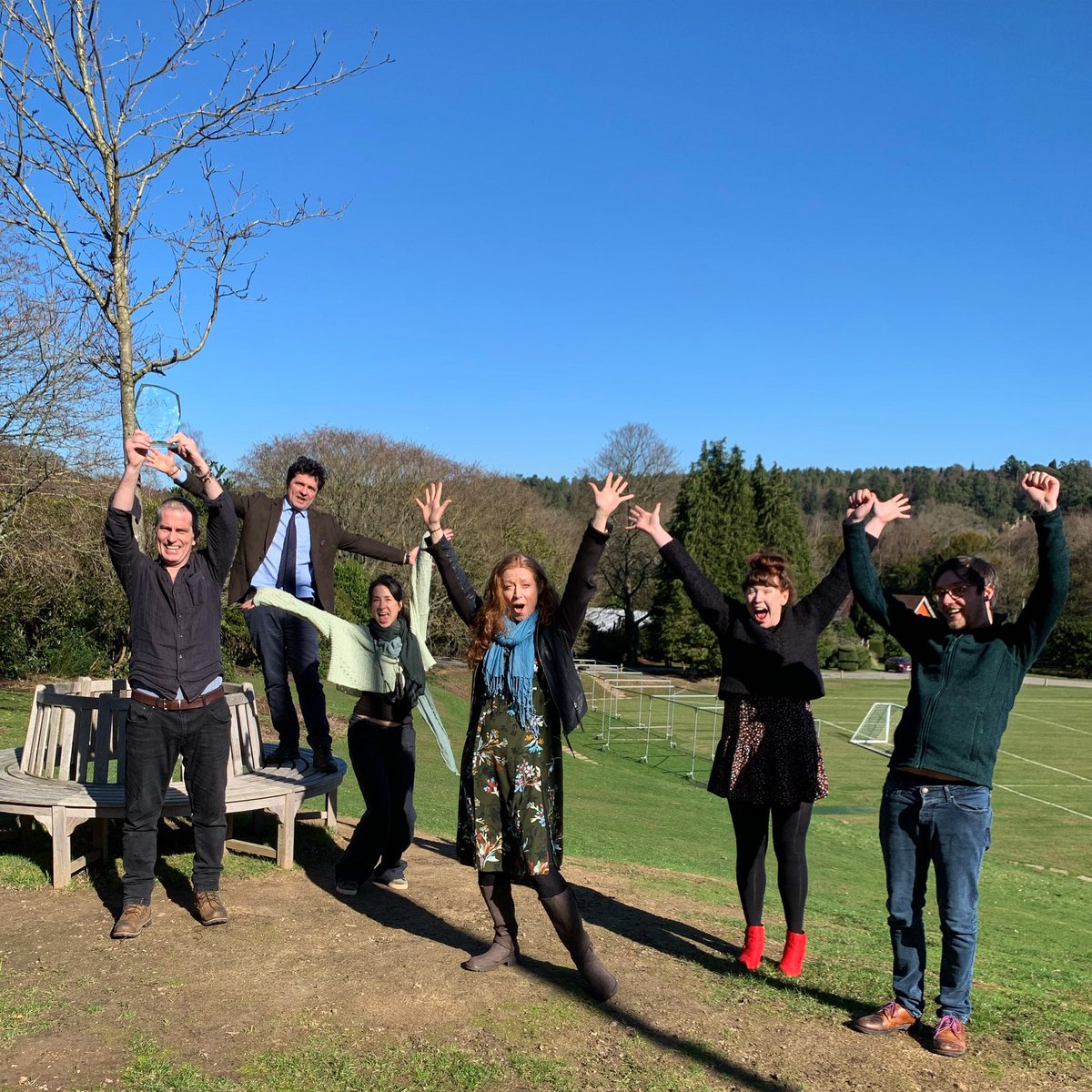 Huge congratulations to our Performing Arts department who have just won the ISA award for Excellence and Innovation in Performing Arts. This is a huge achievement and we are overjoyed and proud! #PerformingArts #Winners
@isaartsuk
#Congratulations #TeamDoK
@isaschools
https://t.co/neBz64CX0Y
2 hours ago
Follow