Prep and Pre-prep School Updates
In Pre-prep this week, pupils have made the most of more opportunities to log on to Google Meet to interact with their teachers, peers and wider staff from our School community. A particular highlight was Mr Macdonald's Joke session on Wednesday afternoon, which featured an array of hats! Year 1 also thoroughly enjoyed their live session with our school nurse, Mrs Sarjant. There is more about this in the 'Message from Matron' piece!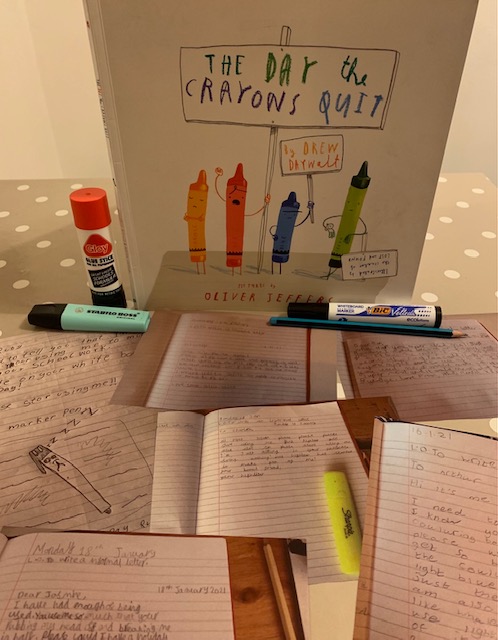 This week Year 3 pupils read one of my favourite books, The Day the Crayons Quit, before writing informal letters from items in their pencil case. Year 4 created some wonderful pyramid projects in Topic and Year 5 have continued their work on advertising, using the tricks that they have learned to create posters to promote their own fictional company and products. Year 6 have in fact been very negative this week - in Maths, working on negative and positive numbers! They've also been very moody - in English, writing descriptive pieces to set and sustain a mood for the reader! A huge well done to all our pupils for another week of fantastic willingness and dedication to their learning.
Our Prep School Council met virtually with Mrs Lock on Thursday morning to feedback pupils' opinions on Remote Learning so far. The teacher's look forward to reviewing their comments this upcoming week. As a result of pupil feedback following the last period of Remote Learning, this week, various classes have tried 'break out' rooms to enable online pair and group work, which the teachers hope you've enjoyed!
Value Certificates
On Wednesday morning, in Prep School Assembly, we awarded a number of Values Certificates. Congratulations again to the following recipients:
Effort - Arthur H, Freddie P, Tansy-Bela T, Poppy F, Eddie C, Rose S, Rhys W, Jude B, Ben K, Chester S.
Responsibility - Jack R, Henry R, Jack M
Staff and parents have been blown away by the independence, resilience and organisation of time and work spaces that has led to many of these awards. It would also be truly wonderful to see some further examples of our other School Values - Honesty, Kindness and Respect - over the coming weeks too, so please keep us updated of any examples that you see at home.
As we look ahead to next week, we eagerly anticipate our No Screen Day scheduled for Tuesday, 26th January. Hopefully this will offer an important break away from devices and screens. You have hopefully received an email from Mr Wright this afternoon containing further details regarding the activities your No Screen Day could involve, should you wish to collect or organise any resources over the weekend in preparation.
Stars of the Week
Nursery - Lottie F for her excellent use of language and new vocabulary.
Reception - Clementine R for sustained effort and progress in handwriting.
Charlie S for wonderful clear reading in our online sessions.
Year 1 - Tombi W for working so hard, being so polite and a great role model in Key Worker school.
Year 2 - Olivia W for a delightfully positive attitude towards every Home Learning task this week. You blow me away every day with the amount of work you do!
After another busy and productive week, we wish you a relaxing and enjoyable weekend. Well done everyone!
Mrs Green