VE (Victory in Europe) Day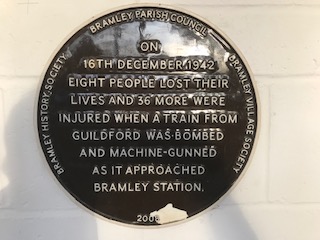 Victory in Europe (VE) day had been hoped for for so long, ever since war had been declared on Nazi Germany on 3rd September 1939. No-one could say when (or if) that day would ever arrive, so, when it did, on 8th May 1945, there was one ENORMOUS party! The attached short YouTube clip of that day combines film, commentary and music to inspire what the narrator calls 'a riot of rejoicing by day and night' where we get an amazing sense of spontaneous celebration - and that is what it was. This moment had finally arrived after nearly 6 years of war, with all the fears, worries and sheer effort that went with that (think COVID but even worse). German air-raids, especially during the Blitz of 1940-41, and the V1 and V2 attacks of 1944-45, killed 70,000 civilians across Great Britain. Yet danger was a daily concern every day. There is a plaque at the old Bramley railway station which commemorates an air raid in December 1942 - I was told of this attack by a lovely lady (now sadly passed away) at the Old Rectory care home in Ewhurst who fortunately missed catching that very train that day. Rationing, hardships and the loss or absence of loved ones involved in land, sea or aerial battles caused enormous stress, day after day, and all through birthdays, Christmases and anniversaries. 400,000 British servicemen and women died and everyone would have their lives shaped by the war. One notable casualty was Prince George, the then Duke of Kent, whose aircraft crashed in Scotland in 1942, and whom our school is named after.

VE Day matters, because our freedoms were at serious risk of being lost during the Second World War. Britain HAD stood alone from June 1940 - December 1941, and although the 'Empire', America and the Soviet Union (Russia), with their huge numbers of soldiers, industrial power and enormous sacrifices also defeated Nazi Germany over those years, British survival gave the world the foundations - and hope - of eventual victory in Europe against a truly evil and terrible threat. This is why VE Day is important, even if 75 years seems so long ago. And spare a thought for Queen Elizabeth II. She features in the film not only as Princess Elizabeth, heir to the throne, but also as a uniformed Army driver and mechanic. On the evening of VE Day she and her sister were allowed to 'escape' the Palace and join the party - the only time she has ever unofficially mingled in public! I am sure she will make references in her speech to her time then, and now, and articulate better than I can what lessons we can learn from those days 75 years ago. In that spirit, enjoy the day, particularly your social distanced 'street' party at home if you have one, but do your conga only with those you share your home with!

I have also attached a presentation about VE Day and a schedule list of commemorative programmes for between 7-8th May. The Queen's address will be broadcast by BBC at 9pm, the exact time her father, King George VI, made his radio announcement declaring the end of the war in Europe 75 years ago. One highlight features 'VE Day: The Lost Films', on Channel 5, 7pm. This collection of clips from amateur film-makers captures the mood in Britain on that historic day in 1945. Moments of fun and elation include fancy dress parades, sports matches, bands playing, piggy-back races and kisses in Trafalgar Square. The immortal Capt (now Colonel) Tom also shares also his wartime story at 8pm on ITV.
https://www.youtube.com/watch?v=fwxL0pk2A6s
https://www.radiotimes.com/news/tv/2020-05-01/ve-day-tv-schedules/
Have a great Victory in Europe weekend.
Mr Lodge